Debuchy arrival shows attacking intent from Pardew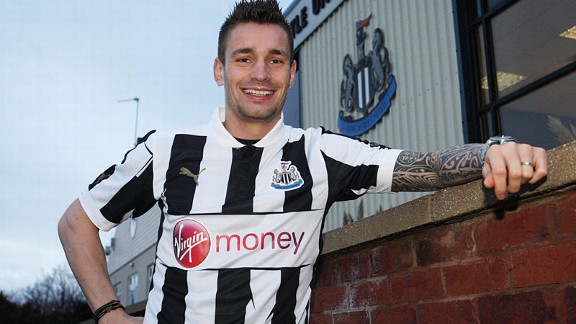 GettyImagesMathieu Debuchy's forward forays could transform Newcastle
"I am an attacking type of player. I have no intention of changing the way I play," said Newcastle's new-signing Mathieu Debuchy in the wake of his move to Tyneside. It was a blunt assessment of how the 27-year-old perceives his style, and one that is likely to perk the faltering morale of those on Tyneside.

- Duffy: Lowdown on new-signing Debuchy

His evaluation also gave insight to just why Alan Pardew urged the club's hierarchy to disregard their 25-and-under transfer policy and relocate Debuchy to the Premier League. The importance of full-backs in football is not understated.

It was a former Newcastle manager, Jack Charlton that first vocalised the idea following the 1994 World Cup, when he proposed that the full-back was the most important attacking player on the field.

Just use Newcastle's last Premier League opponents Everton as a case in point. Leighton Baines may have scored a brilliant free-kick when he visited St James Park last Wednesday evening, but his 33 assists and 14 goals since joining the Toffee's highlight how much of an attacking outlet he has been for the club since joining in July 2007.

An increased creative ability from wide positions is also likely to benefit the club's number nine. Study the first six months of Papiss Cisse's Newcastle career, and you will note that six of his first 13 goals were assisted from wide positions. With good deliveries in rare supply, a striker like Cisse who relies on the creativity of those around him will always struggle.

Playing behind Hatem Ben Arfa, Debuchy's desire to venture forward is also likely to see his countryman afforded the kind of space he has struggled to find this season. Consistently targeted by those visiting St James Park, his full-back's willingness to support him should see an improvement on the right side that will need to be equalled on the left.

Described by some as a 'winger trapped inside a full-back's body', it should come as little surprise that Debuchy is currently in the top three in terms of chances to created for Lille this season (with 20); behind only winger Dimitri Payet (39) and Marvin Martin (28).

Having already received glowing references from those that enjoy Ligue 1, his admirers also include a former Newcastle fullback in compatriot Olivier Bernard.

"He's a fantastic player. He's got a lot of experience and to see him at Newcastle is a surprise," Bernard told ESPN. "I'm excited myself, because he's probably one of the best right backs in Europe. When you're looking for a right back that can turn into a winger and deliver crosses then he's the one."

Set for his debut at Norwich on Saturday, Debuchy is likely to replace Danny Simpson who will miss the game with a broken toe. The former Manchester United player has been a solid signing since arriving at the club in 2009, but it is believed his lack of attacking output has forced manager Alan Pardew's decision.

Surprisingly Simpson registered a 29.3% success rate with crosses last season - the highest of any Newcastle fullback - even surpassing midfielder Yohan Cabaye (28.1%), and placing him in the league's top 75%.

However, the current campaign has seen a considerable drop from the 26-year-old. Down to just 15.1%, Newcastle's recent trip to Arsenal saw just one of his nine attempted deliveries result in success. Ever the optimist, referring back to his most prolific the campaign, Simpson played over thirty games and attempted 92 crosses.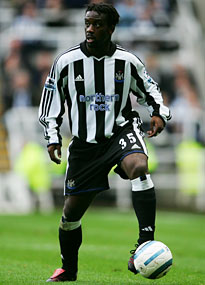 GettyImagesFormer Newcastle full-back Olivier Bernard speaks highly of Debuchy
Contrast that with Debuchy, who has produced 80 crosses in half as many games for Lille this season, and the benefit of purchasing the France international begins to become clearer. His success rate of 28.8% places him in the upper echelons of crossers in the French league and far outstrips both current Newcastle fullbacks (Davide Santon registering just 17%).

Like Charlton before him, Bernard also subscribes to the widely held view that full-backs possess an importance in a team's attacking output.

"When you play against big teams is when you see full-backs making the difference; overlapping, and making a difference in the final third," he said.

However, as Newcastle fans can attest, an attacking full-back may often have frailties when defending. The exciting runs of Santon have garnered positive results at times this season, including the recent home game against Queens Park Rangers, but at times the youngster has been left wanting from a defensive stand point.

But while Santon is just 22-years-old and still learning the game, in many instances, Bernard feels that the Magpies fans should have no reservations about Debuchy's ability to perform at both ends of the pitch.

"He can defend, he is an international player," Bernard explained, "If he couldn't defend he wouldn't be at such a high stage in his career. He's definitely the best right-back at Newcastle, there's no competition."

The certainty in Bernard's evaluation will do little for the confidence of Simpson. Out of contract in the summer, he has been linked Queens Park Rangers and Fulham this week, with a move away from the club more than plausible. The future of the currently injured Ryan Taylor remains even more uncertain.

The signing of Debuchy is hoped by many in Newcastle to be the first of a number of signings in the January transfer window. Struggling in the lower reaches of the Premier League, a striker is expected to be the next recruit following the sale of Demba Ba. However, despite lacking the fanfare of an exciting attacker, expect Debuchy to have a significant impact on Newcastle's season, potentially starting at Carrow Road this weekend.