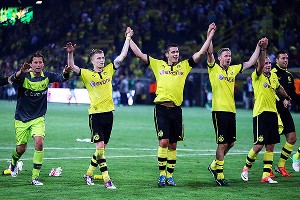 Borussia Dortmund opened the new season with another confident performance to beat Werder Bremen 2-1.
HEIDELBERG, Germany -- Opening days always feel a little uneasy. It doesn't matter whether you're in the United States or Germany, watching football or baseball. I'm not talking about nerves, either. Nerves are obviously part of it: The players look anxious, as do the fans, who have spent the offseason consuming transfer news and carefully calibrating expectations.

I think this uneasiness stems from all the pomp and circumstance. League officials around the world apparently feel compelled to include all manner of pageantry in pre-opener festivities: dancers on the field, serious and operatic music, even video montages. It's too much. After all the hype, when the ball starts to roll around on the field you can't help but wonder if they've overdone it, if the spectacle will fail to live up to the pageantry.

League openers usually involve the reigning champions anyway. Isn't that hoopla enough? I dragged my wife and my brother (in town for a quick visit) down to the local pub to watch Friday's Bundesliga opener between Borussia Dortmund and Werder Bremen.

Primarily I wanted to see BvB's new signing, German starlet Marco Reus, in action. At 23, Reus is one of Die Mannschaft's absurdly talented new generation of attackers. The country revamped its youth football training program in 2002, and he seems to be an early fruit. He moved to BvB from Borussia Monchengladbach after three seasons spent honing his craft under decidedly less pressure-filled conditions, two of those years playing alongside American international Michael Bradley.

When Reus joined the 2011-12 Bundesliga winners, however, he found big shoes to fill given Shinji Kagawa's summer move to Manchester United. I was eager to see how he'd do.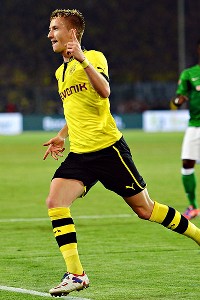 Marco Reus was exactly as expected in his Dortmund league debut: energetic and full of attacking intent, he also scored Borussia's first goal inside the first 15 minutes.

The bar we picked was a local Irish pub; it might not sound traditional, but the manager had advertised a Bundesliga party for the past couple of months and his promise of a free pint of Guinness just for showing up was enough incentive for me. We got there a half-hour before kickoff and managed to find a row of adjacent, empty barstools despite the presence of a small army of Dortmund supporters. We quietly sipped our beers and waited for the dancers to file off down the tunnel and the officials to put away the Bundesliga trophy. "It looks like a hubcap," my wife observed.

Anyway, once the game started, all unease disappeared. The soccer took over. It took only 11 minutes for Reus to score and for Germany to stop wondering how well he'd fit in at his new club. It was all pretty innocuous stuff cued by a simple pass out of midfield, one that Werder's Aleksandar Ignjovski should have cut out but somehow let roll behind him instead. Reus sprang forward, drove it low to the far post, and BvB were up 1-0. Bremen's Czech fullback Theodor Gebre Selassie, who thrived at Euro 2012, made it 1-1 in the 75th minute, nodding in a looping cross.

A draw would have been a fair result, but another young German, Mario Götze, who looked like he'd recently treated himself to one too many spray tans, came on as a substitute and settled things in the 81st. This time, it was a simple through-ball; Götze took one touch and rifled it in. When the final whistle blew, the fans in the bar looked around, clapped and nodded at one another as if to confirm their mutual relief: It's back, baby. And that was a great game.

Not that anybody expected anything less. The Bundesliga is a great product. Europe's other big leagues don't seem as competitive top-to-bottom, but in the Bundesliga, teams at both ends of the table play technical, savvy soccer.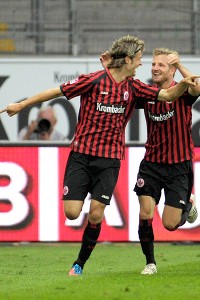 Eintracht Frankfurt showed little fear in its return to the German top flight, stunning Bayer Leverkusen 2-1 with two second-half goals.

On Saturday, newly promoted Eintracht Frankfurt went toe-to-toe with Bayer Leverkusen, a team that finished just outside the Champions League spots last season. Frankfurt won 2-1. It was my favorite game of the weekend, full of attacking soccer, and the type of game in which the underdog creates plenty of chances but can't seem to put them away. Eintracht eventually did, of course, but its profligacy only added to the drama; judging by the number of fluffed chances the Frankfurt players had inside the 6-yard box, they have a flair for it.

I'm a big fan of the league, obviously. The Bundesliga has a number of characteristics that set it apart from the rest of Europe's showpiece leagues: average league attendance is more than 40,000 per game (second only to the NFL); by law, the teams all have grassroots majority ownership; and the league's English-language website is rich with highlights, which means no more going to dodgy Russian sites to see Robben's latest cut in from the right, left-foot curler to the far post.

This all leads me to wonder why the league doesn't seem to export well. Certainly in the United States, the Bundesliga is underrepresented when compared to England or Spain. Language has something to do with it, as Spanish and English are the dominant languages in the United States and the world. But it doesn't seem just, especially given the number of American internationals playing their club football over here.

My job is to try and set this right, to fill in some of these gaps. Things are only beginning to heat up, but I'll do my best. I'm headed up to Wiesbaden for a midweek third division match, and I might even try to catch Hoffenheim versus Frankfurt on the weekend. I hope to have a full report.