Forget sport for a minute and ask yourself the following question: Would whichever country you live in be better off if elections were limited to the 100 cleverest people? The top million? Or the whole "over-18 nation", as is the case in most democracies?

The curious thing is that often the so-called "wisdom of crowds" - giving everyone a vote - yields comparable results to locking a dozen geniuses in a room and having them work it out.

The 2012 FIFA Ballon D'Or is an example of this. Lionel Messi won by a relatively comfortable margin. Cristiano Ronaldo finished second.

- Rigg: Ronaldo suffers more Ballon d'Or misery
- Tomas: Lionel Messi golden again

You can apply whatever metric you like and break it down whichever way you like - Messi wins.

Among coaches, he got 44.3% of the weighted vote (five points for being ranked first, three for second, one for a third) and 57% of first place-votes. Ronaldo finished with 23% of the weighted tally and 15% of first place votes.

Captains? Messi got 39.8% of the weighted count and 67% of the first-place vote. Ronaldo clocked in at 21.7% and 14%.

Media? 40.7% of the weighted votes and 55% of first-place tallies for Messi, with 26.3% and 22% for Ronaldo.

What this means is that Messi won all three of FIFA's voting "constituencies". And he got a majority - not a plurality - of the first-place votes in each, suggesting that, if the Ballon d'Or were a democracy, he'd be voted in as its leader quite handily.

That said, let's not pretend this is anything scientific. Like most elections, it isn't.

"It's not a question of life and death – it's not the end of the world," Ronaldo said after finishing behind Messi. "But I still haven't understood the criteria. One year it's about performance, the next it's about silverware."

He's right. There are no criteria. Some voters judge who they think was the best player in 2012. Others base their vote on who was most important to their team and won the most silverware. And others like to recognise guys who have had great careers but haven't won major individual baubles.

Then throw in the fact that the amount of football that voters get to see, and the degree to which they are actually interested in it, varies tremendously.

Spend any amount of time with professional footballers and you'll notice that, while most love the game, some are nerds who will watch as much as they can at every opportunity while others couldn't care less. So the idea that the national team captains are "choosing their peers" is slightly far-fetched.

A man like Phillip Lahm, the captain of Germany, will have played against all 23 people on the shortlist and will necessarily have different experience to that of, say, Liatama Amisome, the skipper of American Samoa, who, at best, will have seen these guys on television. You can make a similar argument for the coaches.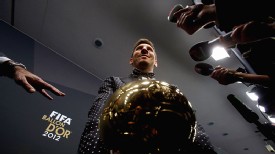 GettyImagesLionel Messi is the centre of attention after winning yet another Ballon d'Or
England boss Roy Hodgson, you would presume, spends a lot of time scouting and watching the world's best players in person; his colleague Olivier Dokunengo, from New Caledonia, will probably focus on teams and players in his neck of the woods.

This doesn't mean one person's opinion is going to be more valid than the other - it can mean, however, that one will be more informed than the other. (Heck, it's not a tragedy. It happens in real elections all the time. One guy watches 24-hour news channels, takes in every debate and hangs out in the political blogosphere, while his neighbour might turn up on election day and vote based on which of the candidates is more handsome.)

There's another quirk to the Ballon d'Or voting. FIFA has 209 member nations. Theoretically, each has three votes: one for the national team coach, one for the national team captain and one for a designated member of the media.

But here's the twist. Add up the number of voters and you'll note that a total of 505 people cast ballots: 170 captains, 170 coaches and 165 members of the media. (Actually, 169 media members cast votes; it's just that four of them were registered as "no votes" because they handed in ballots that were incomplete or voted for people who were ineligible, which doesn't reflect too well on my profession.)

So what about the other 118 people (39 captains, 39 coaches, 40 media types) who did NOT vote? Did they forget to return their ballots? Did the ballots get lost in the post? Who knows?

Scan the list and you'll find no sign of Angola (who, lest we forget, qualified for the 2010 World Cup) and Ivory Coast (finalists in the African Nations Cup and with a player, Didier Drogba, on the shortlist), or a bunch of other nations.

It seems to happen with some regularity. And, no, it's not just African countries that may have more important things to deal with. Look at the 2010 list and you'll find no sign of Argentina and Norway.

At least this time around, to my knowledge, we didn't get a bunch of voters getting confused between Xavi and Xabi Alonso. In 2010, Chris Katongo, the captain of Zambia, said he voted for Xavi, but his vote was counted for Xabi Alonso. The same goes for Mario Yepes and a handful of others. There is no question that Xavi lost a bunch of votes as a result, possibly enough to have seen him finish second (he was third, behind Andres Iniesta), but we'll never know - FIFA never ordered a recount and Xavi is too classy to demand one.

This is Messi's fourth Ballon d'Or, which means he has won more than any other player in history. And, of course, he's still 25, which means he can win even more. Again, though, let's not compare apples and oranges. Until 1995, only European players were eligible, which made it rather difficult for men like Pele and Diego Maradona to win it.

It doesn't mean Messi isn't the greatest ever, and it doesn't mean that he is. It just means this isn't a particularly useful metric in determining whether he is or is not.

The bottom line is that the Ballon d'Or, like most awards of this nature, needs to be taken with a pinch of salt. It's not scientific and it's not even particularly representative of its constituents, and the constituents themselves vary greatly in terms of knowledge and access to information. Throw in the fact that people aren't told on what basis they should vote and it becomes even less accurate.

But, like political elections in the "real" world, when it comes to choosing the top spot the "wisdom of the crowds" often replicates the opinion of experts. That is why Messi, for the fourth year running, deserves to be saluted.

Gabriele Marcotti is a London-based journalist and broadcaster who covers world soccer. He is the author of three books, the world soccer columnist for The Times of London and a correspondent for the Italian daily Corriere dello Sport. You can catch him on ESPN Press Pass and read him here twice a week. Follow him on Twitter: @marcotti.