Does Man United have a youth problem?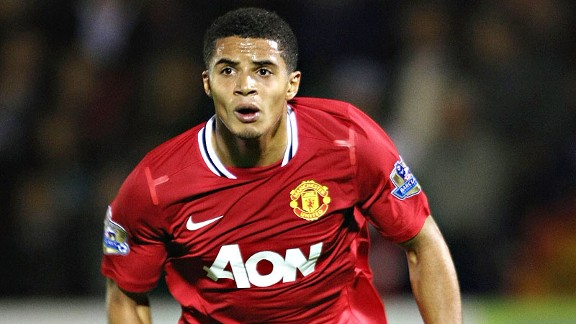 John Peters/Getty ImagesHow Ezekiel Fryers ended up at Spurs isn't the issue. It's whether or not Sir Alex Ferguson is ignoring a worrying trend in United's youth ranks.
When an issue arises at Manchester United, Sir Alex Ferguson tends to take a certain approach. Instead of directly addressing the problem, the Scotsman will often raise another topic of discussion, diverting attention from the real focus of concern.

So when Ferguson made the frankly laughable claim that striker Robin Van Persie "could have been killed" when Swansea defender Ashley Williams kicked a ball at him during a 1-1 draw with United last month, the manager warded off any in-depth analysis of his side's poor display.

When Ferguson labeled Newcastle United "a wee team from the North-East" he diverted focus away from the fact that his side had just conceded its 28th goal, double its tally at the same point last season.

Others also use this verbal sleight of hand to deflect criticism (most notably Jose Mourinho), but nobody has honed the tactic quite like Ferguson has.

Frustrating and infuriating as it often is, few can doubt its effectiveness. Sometimes it's such an innate instinct of Ferguson that it may seem unintentional, but when Ferguson accused Tottenham Hotspur of foul play in the signing of former United defender Ezekiel Fryers last week, many saw the 71-year-old turn to his strategy of distraction once again.

Speaking to the club's official television station on Friday, Ferguson called for the Premier League to investigate Spurs' signing of Fryers from Standard Liege, labeling the move "a blatant manipulation of the situation."

That situation saw Fryers make the move to Belgium during the summer after Spurs refused to pay the 5 million pound compensation fee set by the Premier League. Since the England Under-19 international was making a move abroad and not to another English side, Standard Liege paid just 250,000 pounds. But five months later, having made just a handful of appearances in the Belgian Pro League, Spurs have signed the defender for a figure reported to be around 900,000 pounds.

Fitch: Fryers deal shows Levy the schemer
News: Ferguson demands Fryers investigation

The United manager went on to explicitly accuse Tottenham chairman Daniel Levy of immoral impropriety, adding, "It has his fingerprints all over it," although Spurs has denied any such allegation.

Ferguson's exasperation at the transfer is understandable -- his claim that some form of collusion between Standard Liege and Spurs saw to Fryers' exit from Old Trafford is grounded in logic -- but is his latest outburst designed to keep focus away from United's continued troubles in keeping hold of its best academy graduates?

Fryers is just the latest young prospect to leave the club on his own terms, with fellow academy teammates Ravel Morrison and Paul Pogba forcing moves away from Old Trafford over the past year.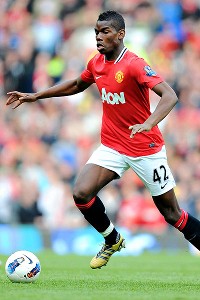 Michael Regan/Getty ImagesPaul Pogba couldn't be persuaded to stick with Manchester United, but he has earned rave reviews at Juventus.

Of course, the case of Morrison's departure differs slightly in that Ferguson eventually grew tired of the youngster's poor attitude and behaviour, offloading him to West Ham to rid United of a negative influence.

But Pogba's exit still sits uneasily with everyone at United, although Ferguson denies this. When it became clear that the French Under-19 captain was stalling on signing a contract extension, Ferguson fast-tracked him into the senior squad, giving Pogba his debut as a substitute against Stoke last season.

Ferguson's efforts to prove to Pogba that he was integral to United's future were ultimately in vain; the midfielder left the club as a free agent to join Juventus in July (although some suggest United never stood a chance of keeping Pogba after his head was turned by super-agent Mino Raiola).

While others of Ferguson's generation have failed to evolve with the times, one of his best qualities has been his willingness to adapt to the demands and conditions of modern football and those who play it. His handling of the Wayne Rooney contract situation two years ago demonstrated the manager's considerable skills, which have afforded him 26 years at the top of the sport.

However, does the Scotsman need to concede some principles and conform even further to the demands of the young footballer in the modern game?

Perhaps Ferguson knew that Fryers and Morrison would never be good enough to command a spot in his first team. Maybe the manager's hand would've been forced, and principles conceded, if he genuinely believed them to be ready-made first team performers-in-waiting.

But just last year Ferguson claimed that United was set for a prolonged period of dominance on the basis of their youth academy. At the time, United's Under-18s had just lifted the 2011 FA Youth Cup with Morrison and Pogba as key figures. Now, such a prediction is arguably in tatters.

So considering his aforementioned assertion, is Ferguson himself somewhat to blame for the loss of his best young talent over the past year? Has the hype that he helped stir up eroded the patience required by any aspiring young player at any big club? Did Ferguson perhaps make players like Fryers, Morrison and Pogba feel they'd achieved excellence before they actually had?

Some might say that Ferguson has been guilty of bleeding youth into his squad too hesitantly in the past, particularly those who still rue the loss of players like Gerard Pique and Giuseppe Rossi. But in the modern era, things have changed; whereas academy graduates were once forced to find first team football elsewhere by virtue of the strength of United's senior squad, now they are actively choosing to make their name elsewhere.

The question hangs not over the productivity of United's academy, but whether Ferguson is handling what it produces in the best interests of the club.

Based at the club's Carrington training ground, United's youth academy produces more players for England's top five leagues than any other. In fact, United was ranked fifth in a recent study of Europe's most productive youth setups -- only Barcelona, Lyon, Real Madrid and Stade Rennais were ranked higher -- developing 24 players for Europe's "Big 5" divisions.

Everyone seems to be thriving on United's youth system. Everyone except United.

Graham Ruthven is a freelance football writer, juggling his work for the New York Times and STV, among others, while displaying an all-consuming crush for Dimitar Berbatov. He believes all football shirts should have sashes and he can be found on Twitter @grahamruthven.