Kevin-Prince Boateng's protest a vital step in fight against racism
Enough was enough.

Backed by his captain Massimo Ambrosini and followed by the rest of his teammates, Milan's Kevin-Prince Boateng left the pitch, leading to the suspension of their friendly with Pro Patria in Busto Arsizio on Thursday afternoon in the 26th minute.

He and the team's other black players, Urby Emanuelson, Sulley Muntari and M'Baye Niang, had been subjected to deplorable racist abuse from a section of the Carlo Speroni stadium. Milan had tried to get the match stopped earlier, asking the referee to take action, but to no avail.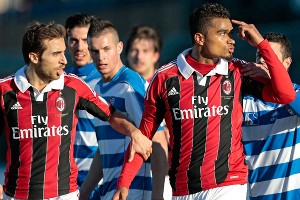 AP Photo/Emilio AndreoliMilan's Kevin-Prince Boateng gestures to the crowd as he walks off in protest with his teammates.
Visibly upset, Boateng took matters into his own hands, grabbing the ball and kicking it against the barrier that separated him from the perpetrators among the crowd, before collecting the rebound and making to leave.

"You should walk off the pitch." That recommendation wasn't made only yesterday, but, as La Gazzetta dello Sport reminds us, as long ago as 1992 by arguably the club's most prominent black player ever, Ruud Gullit.

Two decades ago, Gullit was also fed up with the racist abuse he had received. Milan backed him then as they do Boateng now. The team walked out onto the pitch before one game with a "no to racism" banner. President Silvio Berlusconi wanted the offenders removed from Italy's football grounds and instead, rather curiously, taken to the cinema and made to watch games there under the close supervision of the authorities.

At the time, Milan's stance, paltry as it now looks in hindsight, was seen as a breakthrough and attracted recognition from UEFA. It acknowledged that there was an issue. But was it ever seriously confronted and challenged in a meaningful way? Until one Thursday afternoon 20 or so years later, no.

Maybe that's not entirely fair. After all, a number of initiatives have been launched and provisions made by the Italian Football Federation (the FIGC), Lega Calcio and the Italian Olympic Committee (CONI) in particular following the racist chanting at Cagliari-Inter which was directed towards Mario Balotelli and Samuel Eto'o on Sept. 20, 2009. Since then, match officials have had the power outlined in Article 62, Comma 6 of the FIGC code to suspend games if they see racist banners or hear racist abuse. Yet because the rule wasn't enforced until Thursday (and then more so by Boateng and Ambrosini than referee Gianluca Benassi), an exasperation remains amid the prevailing feeling that no governing body across Europe has yet fought racism in a satisfactory or adequate manner.

That, in part -- together with the sense that if the authorities won't do anything, then the players will -- explains the resonance of Boateng's powerful act of protest and its applause by the majority of the crowd in Busto Arsizio. It felt overdue. Italy coach Cesare Prandelli touched upon this in his reaction to Boateng's walk-off. "Finally," he said.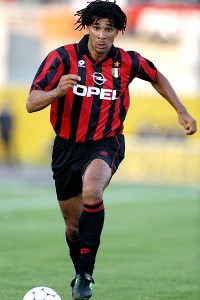 Clive Mason/Getty ImagesTwo decades ago, Milan backed Ruud Gullit in the fight against racism.
"Tired" of it. "Fed up." Prandelli has done much to embrace and promote a new multicultural Italy, the real Italy, with Angelo Ogbonna, Balotelli and Stephan El Shaarawy as its present and its future. A few, unfortunately, are still slowly adjusting to it.

"Italy has to become more civilised and also a little more intelligent," Milan coach Massimiliano Allegri told the media. "I hope this can be an important signal to be followed from the amateur championships up to Serie A."

There's a degree of cynicism as to whether it will in a competitive match rather than in the context of a friendly. On Nov. 27, 2005, Messina defender Marc Zoro picked up the ball and told the referee that he no longer intended to play after he'd been subjected to monkey chants by a section of travelling Inter supporters. He was dissuaded from walking off by Adriano and Obafemi Martins.

"It seemed to me that they cared more about the outcome of the match that I wanted to suspend than a reaction against those fans and their hate-filled chants," Zoro told Il Corriere della Sera a few days later.

Would things be any different in the unfortunate event that it were to happen again? Milan insist it would. "We need zero tolerance on these incidents," board member Barbara Berlusconi said, "and games should be suspended even in Serie A." Niang, one of the victims on Thursday, also asserted that Milan would be "ready to do it again [if racist incidents were to occur] against Barcelona [in the Champions League] next month."

That, of course, remains to be seen, but friendly or not, Boateng has set a precedent of vital importance. By walking off the pitch and suspending the game, the fight against racism has taken a vital step forward.

Not everyone agreed. Former Milan player Clarence Seedorf told the BBC: "I don't feel it's such a fabulous thing. These people [the racists] will feel empowered now. They should just be identified and kicked out of the stadium." Even so, an ally of his in the belief that racism's eradication will only come through education -- "no one is born racist, they become it" -- the former Juventus and Parma defender Lilian Thuram, still feels that "for promoting a hardline on this delicate theme" Milan's gesture "is very important."

For a hard line is exactly what's required in tackling racism. For instance, on seeing a swastika in the crowd before a game when in charge of Valencia back in the early `90s, Guus Hiddink, whose father Gert was a Dutch resistance fighter in the Second World War, insisted that if it weren't gone by kick-off, the team wouldn't play, and if it were to reappear during the match, he'd lead his players off the pitch.

Stuttgart also fired a player on grounds of racism in 1999 after a slur was found written on a poster in the gym featuring Guinean midfielder Pablo Thiam, advertising a soft drink. When each member of the squad denied responsibility, the club called in a handwriting expert, identified a suspect and confronted him with the evidence. He confessed and, after an immediate suspension, was dismissed.

So precedents for acting on and dealing adequately with racism do exist in football. There are case studies to follow. Yet they're either ignored, forgotten or don't receive the publicity they merit. Boateng and Milan's walk-off has made headlines around the world, and make no mistake, today's La Gazzetta dello Sport takes Thursday's events against Pro Patria very seriously. There's an editorial entitled: "We are all Boateng," which goes on to say "We are black like him," a good-intentioned if rather clumsy show of solidarity that calls to mind when Treviso's players painted their faces black in a show of support for Nigerian teammate Omolade Akeem after he suffered racist abuse at the hands of his own fans in 2001.

But why the story doesn't deserve the entire front page to itself and instead has to share it with the Manchester City training ground bust-up between Balotelli and Roberto Mancini is (while from a certain perspective understandable) ultimately quite disappointing. In the grand scheme of things, Boateng and Milan's walk-off has a much greater significance around the globe than the latest trivial tiff between a hot-tempered player and manager. It can bring change. It can influence others on a major social issue.

"Shame that these things still happen," Boateng tweeted afterwards. Yet while it's lamentable that it did and the road may still be long, thanks to his and Milan's actions, the fight against racism around the world has a new front and does at least appear to be headed in the right direction. Progress has been made, and for that it's once again worth saying: "Bravo, Boateng. Bravo, Milan"