Sturridge deal could shape Rodgers' reign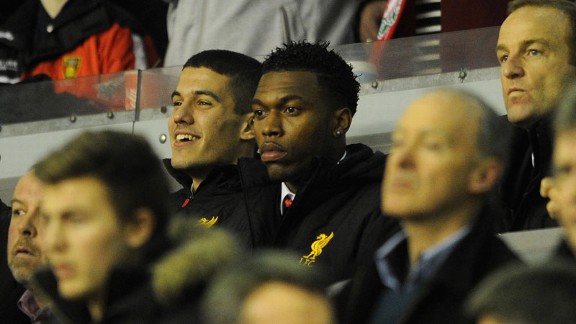 GettyImagesDaniel Sturridge takes a seat at Anfield to watch Liverpool take on Sunderland
Most newcomers receive a welcome. Daniel Sturridge's introduction to life at Liverpool came with not one but two warnings: From Brendan Rodgers came the message that, at 23, the £12 million striker is already on his last chance at a major club; from Steven Gerrard, the advice that there would be no excuse for failure. It was tough love on day one.

Yet it is not merely Sturridge on trial, but Liverpool Football Club. Theirs is a tale of missed chances of transfer market; they have a recent history of offering excuses for underachievement when recruiting. The more pessimistic at Anfield could be forgiven for feeling the optimism an arrival generates will swiftly give way to disappointment.

It has not escaped attention that Liverpool, with their track record of paying over the odds, enabled Chelsea to make a £5 million profit on a striking swap while bringing in Demba Ba, scorer of more league goals in 18 months at Newcastle than Sturridge has managed in his entire career. The Senegalese's chronic knee problems reduced his fee and will curtail his career but in the short term, Chelsea will have the better deal once it all goes through.

With typical eloquence, Rodgers cited Sturridge's lack of game time in his preferred role as a striker, highlighted the ability that meant he had tracked the former Manchester City forward for a decade and painted a picture of fluid interchanging in the forward line. Sturridge, he hinted, could be the beneficiary of Luis Suarez's wanderlust, occupying the space freed up by the top scorer's willingness to take up deeper and wider positions to get the ball and, presumably afforded more room because defenders are drawn to, and beaten by, the exhilarating Uruguayan.

It was the role Rodgers envisaged for Fabio Borini, tactically better but less clinical in front of goal than Sturridge. Whether a player known for his selfish streak can dovetail effectively with Suarez is one test of the England international; the promise that whoever is the nominal winger will spend as much time in the centre does not free him of defensive responsibilities. Moreover, while Rodgers' conviction is that the team is the star, Suarez is the shining light and the Uruguayan tends to pass most to those he rates highest, Raheem Sterling and Gerrard in particular. Earning his respect must be a priority for Sturridge, who requires service: he may be Liverpool's greediest forward since Fernando Torres but that is no bad thing in a team where only Gerrard and Suarez have scored more than two league goals.

The lack of firepower explains the patience that Rodgers has been afforded, which irritates the minority who see him as a false prophet, an evangelist for pointless passing to the detriment of results. The combination of the summer losses of Craig Bellamy, Dirk Kuyt and Maxi Rodriguez, the incompetent inability to sign a striker on August's deadline day and the difficulty of inheriting a team that took 18 points from the final 19 games last season (and, despite claims to the contrary, deserved little better) means a degree of understanding was required.

Having spent the majority of the current campaign in the wrong half of the table, Liverpool now sit eighth. With the chequebook opened, their horizons could be expanded. The indications are that Sturridge will be joined by Blackpool winger Thomas Ince - Paris Saint-Germain's Kevin Gameiro and Birmingham goalkeeper Jack Butland are other reported targets.

Yet if a £12 million fee puts the striker under scrutiny, it heightens the focus on the manager. Rodgers' record in the transfer market is mixed, despite his fondness for familiar faces. The injured Borini has a solitary goal, Nuri Sahin appears to be at the back of the queue for midfield places and Oussama Assaidi and Samed Yesil have been anonymous, though both were signed for the future and there are questions how much input Rodgers had into their arrivals. Joe Allen, the flagship buy, began well but faded. Despite his bright cameo against Sunderland and his status as the embodiment of Rodgers' ethos, Liverpool may be best served with Gerrard and Lucas Leiva as their two deeper midfielders. Allen remains a talent but at the moment he is a £15 million substitute.

While principal owner John W Henry admitted, in an open letter to fans in September, that Liverpool had paid over the odds in the past, one task is to prove lessons are learned. The reported £3 million pay-off Joe Cole is receiving is one indictment; the £80 million investment in Charlie Adam, Andy Carroll, Stewart Downing and Jordan Henderson, despite the remaining duo's recent improved form, another. The suggestion Kenny Dalglish and Damien Comolli pursued Henderson instead of Mario Gotze is, depending upon your persuasion, amusing or depressing.

The same could be said for Liverpool's overall record in recruitment. Since the summer of 2009, there have only been two unqualified successes: Sterling and Suarez. Others, like Glen Johnson and Jose Enrique, emerge with some credit and, in time, Jonjo Shelvey and Suso should do likewise. Yet if individuals are in the black, the Reds are very much in the red, losing money with mistakes.

Millions have been written off on the balance sheet and the majority of the team remain either academy graduates or Rafa Benitez's buys. Now Rodgers has both the budget and the opportunity to shape his side. This is not just about Sturridge taking his final chance. It is about the direction of Rodgers' reign and the question if Liverpool have turned a corner or whether they remain trapped in a world of managerial misjudgements and mid-table finishes.