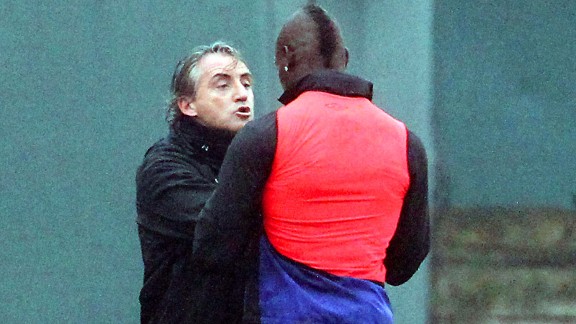 Eamonn Clarke
Fistfights happen all the time at football training grounds. Professional athletes are renowned for the power of their bodies rather than their minds, and a fist is often considered to be the most articulate response to a misplaced hard tackle, locker-room snub or a nightclub beef.

But Mario Balotelli has had more than the odd fistfight. The combustible Italian appears to treat training like an open audition for FX's "Ultimate Fighter." In past seasons we have been treated to Balotelli-Jerome Boateng, Balotelli-Yaya Toure, Balotelli-Micah Richards.

- Mancini, Balotelli in 'bust-up'

-Video: Press Pass on Mario v Mancini

We can now add Thursday morning's Balotelli-Roberto Mancini rumble to his fight history. The coach, 48, was reported to have taken exception to a Balotelli tackle on Scott Sinclair in training and charged at the controversial 22-year-old Italian, grabbing him by the bib in an attempt to throw him to the turf.

Assistant coaches struggled to separate the two, yet a determined Mancini kept breaking free to rekindle the struggle. Journalists on the scene gleefully reported that Balotelli drove off within 10 minutes of the incident "in his camouflage Bentley."

The spat comes with Manchester City languishing seven points behind rivals Manchester United and at the very time Mancini was hoping Balotelli would demonstrate a newfound maturity after Sergio Aguero suffered a knock and Yaya Toure departs for the African Cup of Nations.

The coach had been eager to talk up his striker. Just last week he told the media that club owner Sheikh Mansour "likes Balotelli because he recognises the talent and he exports the name of City over the world." Whether this is the kind of branding he had in mind remains to be seen.

While Twitter is abuzz with prognostications over who would have won the fight had it been allowed to go (Mancini for my money -- fists like nails) once the smoke clears many will begin to ask a more medium-term question: Which of the combatants will be at City next season?

Balotelli's time at City has become a parody of a career, devolving into a revolving scenario of fresh chances, great expectations and feckless disappointment. Mancini's management style is to goad and irritate his charges, but he has always treated Balotelli like a man-child with kid gloves. On Thursday, those gloves came off.

But Sheik Mansour's regime has been marked by a preference for clear-headed strategy in the pursuit of victory. Mancini will know he is not the first manager to have a fight with a player. Sir Alex Ferguson kicked a boot at David Beckham's head in 2003. But Mancini will be painfully aware that United proceeded to overcome the distractions and win the league that year.