A friendly rivalry: The rise of Bale and Walcott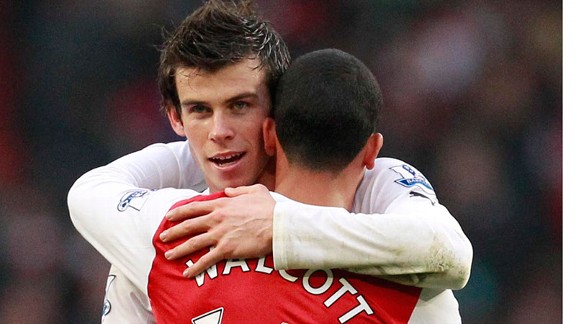 GettyImagesFormer team-mates Gareth Bale and Theo Walcott embrace
As Gareth Bale and Theo Walcott lay awake at night dreaming of stardom in the comfort of the modest digs they shared as Southampton academy hopefuls some eight years ago, the duo could never have believed that the football world would be bowing at their feet as 2013 dawned.

Injury woes, alarming dips in form and a sprinkling of ridicule from an unforgiving media pack and their own club's supporters have been features of joint stories that have boasted remarkable similarities, but the turbulence appears to be behind them now as these 23-year-olds ponder futures certain to be as lucrative as it will be triumphant.

Tottenham star Bale boasts a most precious stock market value at present, as rumours persist about a possible £50m move to Real Madrid, yet Walcott's emergence as a central striker of genuine quality at Arsenal has given him a sheen that has rarely been applied to his talents during his seven years as a high profile performer. A bumper new contract will be the reward for his efforts in this January transfer window, either with his current employer or elsewhere.

While Walcott's status as a star has rarely been in doubt since those formative days on the south coast, Bale's coronation as a Premier League star has rarely been quite so secure and back in January 2005, he was faced with a fixture that had the potential to make or break his career.

Bale's parents Frank and Debbie drove from their Cardiff home to Norwich's training ground to support their son for a youth team game that was as big as he would face in his career, with Southampton academy director Malcolm Elias set to make a decision on the future of a leggy, fragile kid once the final whistle had sounded.

A Saints line-up featuring Bale playing on the left flank and Walcott on the right ran out thumping 5-1 winners, with the latter bagging a hat-trick and his young friend doing enough to secure the contract which had threatened to elude him. It was a day that was to have a profound effect on the future of the British game.

"I understood why Southampton were unsure about me because I had a lot of fitness problems when I was a kid," Bale reflects. "My bones were growing too quickly and my hamstrings could not keep up with them, so it was a big worry.

"That game at Norwich was important because they were going to let me know whether I would get a scholarship shortly afterwards, so it was nice to set up a goal and play well. I remember Theo had a great game that day as well. It all seems a long time ago now."

The doubts over Bale's ability to handle the pressure of the big-time stemmed from his unusually placid nature, with his shyness identified as a weakness as he emerged through the ranks at Southampton and tried to establish himself as a first team star.

As it turns out, this particular character trait has helped him to develop a grounded personality, allowing him to keep his feet firmly planted once his career exploded into life with stunning displays in the Champions League back in 2010.

Few would argue that Bale is now one of the game's leading lights, with Walcott leading the applause as he lives out a fantasy his old pal once fantasised about. "Gareth was an Arsenal fan when he was growing up, so he could have been playing for us over the last few years," Walcott explains, revealing a part of Bale's past he may rather keep under wraps these days.

"He has done great and I'm sure he will say the education we both got at Southampton was vital in what we have both achieved. I remember Gareth being a very thin kid when he first came to Southampton, but he was always so quick.

"He's built himself up and has done fantastically well and the main problem playing against Gareth is he is so hard to stop. When he gets up to top speed, he is so quick and he has taken his game to the next level. I'm so pleased for him."

The fearsome Bale, who can be seen performing heroics for Spurs in the Premier League every week, is a different beast to the timid hopeful Walcott sparred a little under a decade ago, admitting the presence of another rising star eased his progress to the top.

"Having someone like Theo pushing me on when we were trying to make our way in the game at Southampton was good for me and I'm sure he would say the same about me," he says. "We both had big ambition and there was a lot of talk of us both going a long way. It was pressure for us when we were so young.

"Theo was quicker than me at the time and he probably still is now. I remember that I could do the 100m in around eleven seconds when I was at school and I've always been quick, but Theo was a step ahead of me in running speed.

"It has been great to see how Theo and I have managed to come from the same Southampton youth team and get to the point where we are playing Champions League football and international football because we both know the hard work we put in to get here."

The closest Bale has come to a brush with controversy is the ongoing debate over his persistent bookings for 'diving' and yet Walcott is not immune to such accusations either, as he was forced to apologise for taking an unnecessary tumble in an FA Cup tie against Leeds last year. But these two players have little to be ashamed about after reaching this stage of their flourishing careers in glorious tandem.

In reality, neither should be condemned to be among the game's more notable exponents of the contagious epidemic of falling down syndrome and in an era notable for the plethora of flawed superstars, these two offer a polite, dignified reminder that there is still space for wholesome homegrown role models after all.

Would you rather have Bale or Walcott in your dream team right now? The truth is, most Premier League sides would jump at the chance to have either in their line-up and that alone is a tribute to their achievements.