Robin van Persie is proving that Sir Alex was right (again)
When Robin van Persie moved to Manchester United in a whopping $39 million deal this past summer, many -- including yours truly -- were skeptical. And there were plenty of reasons to be.

For a start, we were talking big money. Throw in his wages and it's a commitment of some $110 million over four years for a guy who is unlikely to have any resale value, as he turns 33 just after the end of his contract.

That's a lot of cash, even for a striker as prolific as van Persie, especially when you throw in his injury record. While he was fit all of the previous season, before that he had made more than 19 league starts in a season only once in his professional career (that was in 2008-09, when he managed 24, hardly iron-man stuff). Talented as he is, RvP certainly hadn't been durable over his career.

- RvP delivers vs. Wigan

Then there was the issue of whether United really needed him. Sir Alex could count on Wayne Rooney, Javier Hernandez and Danny Welbeck, plus a range of wingers and attacking midfielder types: Ashley Young, Nani, Shinji Kagawa, Antonio Valencia. The manager already had seven quality players -- many of whom were versatile -- for four spots in the lineup, which meant there was a whole range of combinations.

Furthermore, it was fair to wonder whether van Persie's arrival could present a problem in terms of flexibility and man management. Other players, particularly younger ones like Welbeck and Hernandez, would inevitably see their minutes cut, which could affect their development or even desire to stay in the long term. Plus, van Persie had just endured a poor European championship in which the foremost accusation leveled against him by the Dutch press --perhaps unfairly, but still -- was that he was not a team player. Many wanted Klaas-Jan Huntelaar up front for the Oranje, arguing that he was less selfish and a better fit for the likes of Wesley Sneijder and Arjen Robben. If van Persie couldn't compromise with the Netherlands, how was he going to do so at Manchester United?

Those were all fair concerns at the time. And they may yet turn out to be issues over the life of his contract, which is when you should ultimately judge the wisdom of the signing.

But for now, two things appear abundantly clear: Those of us who were skeptical have been proved wrong thus far. And Sir Alex, not for the first time, was right.

Roberto Mancini has said van Persie is the difference between Manchester City and Manchester United. He's being slightly self-serving when he says that -- he wanted to sign the player, and it's no secret that he blames Brian Marwood for not delivering him -- but it's pretty clear that if the Dutchman were wearing blue instead of red, the top of the table would look different.

Van Persie's 16 league goals are the most by a United striker at this stage of a season in the Premier League era. His contribution, though, goes beyond scoring. His presence and threat up front mean that Rooney won't have to rush back from his injury. RvP's movement creates space for other strikers and wingers. And while United are playing well now, earlier in the season when they were sputtering it was his attacking contribution which helped paper over the cracks.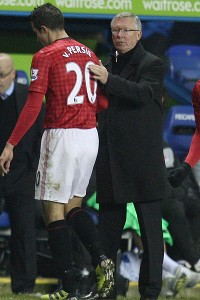 John Peters/Getty ImagesIn bringing RvP to Old Trafford, Sir Alex Ferguson has been rewarded for his typical bold thinking.
As we said, the deal needs to be judged in the long term. But what's interesting is how often, over the years, Sir Alex has made bold moves like the van Persie signing.

It's one of the things that set him apart from most as a manager. Aberdeen fans can no doubt cite examples from his time there, but, limiting ourselves to Manchester United, you saw it with the cull of Paul McGrath and Norman Whiteside in 1990.

Acquiring the wayward genius of Eric Cantona a few years later.

Selling Andrei Kanchelskis, Paul Ince and Mark Hughes in one fell swoop.

Allowing Roy Keane to let his contract run down.

Buying Ruud van Nistelrooy after his injury.

Spending big on Juan Sebastian Veron.

Cutting Jaap Stam loose.

Breaking the world record for a defender to sign Rio Ferdinand.

Letting David Beckham go.

Taking a hard-line stance with Rooney when he said he wanted to leave amid his contract dispute.

Time and again Ferguson has made big, courageous decisions. Some of them backfired. Had he managed to wrap up the Keane deal sooner, he might have saved the club some money. Veron never worked out. Both Stam and Beckham proved elsewhere that they still had plenty to give at the highest level.

But the point is that, while most clubs tend to be conservative when making choices like these, Sir Alex has been bold. You can say it's been easy for him to do so, since he's omnipotent at United, one of the biggest and richest clubs in the world, where his authority has been unquestioned. But in fact, that's not the case. His early years before winning the FA Cup were extremely difficult. Under Martin Edwards, he had to deal with a tight wage structure. When J.P. McManus and John Magnier owned a big slice of the club, they went to war with him (remember the 99 questions?). And now that he has to deal with the Glazers, he walks a fine line every time he opens his mouth.

Playing safe would have been the easy thing for him to do all these years. It's what many managers do -- you take it one step at a time and opt for risk aversion rather than rolling the dice. Ferguson has gone down a different path.

Sometimes it has worked. Sometimes it hasn't. And sure, van Persie could yet blow up in his face.

But the fact is that Sir Alex is still successful in his fourth decade at Old Trafford because, more than most, he's been willing to put his reputation on the line with the kind of major decisions some of his colleagues prefer not to make.

Gabriele Marcotti is a London-based journalist and broadcaster who covers world soccer. He is the author of three books, the world soccer columnist for The Times of London and a correspondent for the Italian daily Corriere dello Sport. You can catch him on ESPN Press Pass and read him here twice a week. Follow him on Twitter: @marcotti.