Ba can find solace at St James's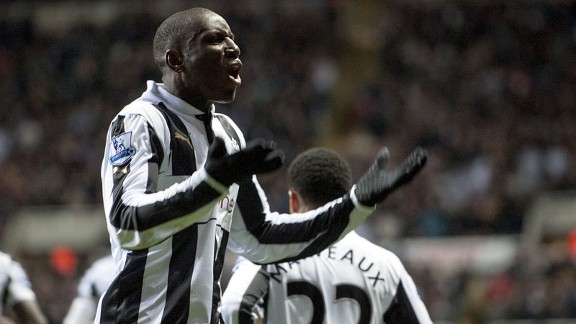 PA PhotosDemba Ba
There have been a number of indelible moments in Newcastle's history. One, in January 1995, saw Kevin Keegan stand on the steps of St James' Park and explain why he had accepted an offer from Manchester United for prolific striker Andrew Cole. Two years ago, it was a £35 million bid that persuaded Andy Carroll to board a helicopter and move to Liverpool.

Eighteen years on from that mid-January evening when they lost Cole, there are elements of deja vu to the current situation the Magpies find themselves in with Demba Ba. Admittedly the club have far less say in whether Ba leaves in the transfer window - the by-product of a release clause in his contract - but when a big club comes in it is hard to keep their star players and the club have often suffered as a result.

This time, however, Toon fans seem far less saddened at the thought of their star forward departing. Perhaps it stems from the experience that, like those before him, he will be replaced. It is important to remember that football clubs are like ships, with players just the passengers entering and exiting in equal measure and Newcastle have seen more than most.

Alan Pardew's men face Everton face on Wednesday and it was after the teams first met that signs of an issue with Ba appeared. Surprisingly benched, his second half brace may have earned Newcastle a 2-2 draw but it also saw vocal displeasure via one of Ba's agents at him not being named in the starting XI. Pardew quickly rebuffed it, saying: "I spoke to his agent, who sent me an email saying he got misquoted and I actually believe him. I'm not usually one to believe agents that much, but I do believe him on this occasion."

It was either admirable diplomacy or blissful ignorance on Pardew's part, but it quelled the conjecture at least for a few weeks. Now the Senegal international reportedly held discussions with Chelsea there will be no stopping the January rumour mill.

Ba's desire to leave for a top club is far from lamentable, but while talks with the Blues were seemingly 'unproductive' it now begs the question: what to do with Demba if he stays? Should he be played through the centre as he wishes? On the left to complement Papiss Demba Cisse? Should he be playing at all while these negotiations are going on?

The Magpies are threadbare at present, now is not the time to take bullish moralistic stands. Instead, they should use the asset that has 13 league goals to his name and avoid ostracising him completely. It will do little good if, come the end of January, his talks with suitors remain 'unproductive'; thus a level of diplomacy is required.

Citing the last six months of the season as evidence, moving Ba to the left wing seems the smartest idea in the short-term. At their counter-attacking best, Ba was playing out wide. He didn't appreciate it, but given the potential for an instantaneous departure, it's time to give that preference to the Demba with a guaranteed future at Newcastle.

In the long-term, who can say what will happen? Despite the attentions of those spearheading the bid to relocate Ba, he may not get the chance to move anyway. With his knee described by Stoke City manager Tony Pulis as 'a ticking timebomb', its fragility will already have dissuaded suitors and there is the issue of personal terms as well, which seems to have muddied the waters yet further.

Credit to Ba that his few injury issues at St James's have always related to other parts of his leg, still, the chance of collapse is the same reason Newcastle offered him a three-year deal when he joined the club, whereas others (including the injury prone Sylvain Marveaux) received five-year agreements.

But the fact that Ba has not broken down since first moving to England with West Ham United may persuade his suitors his goalscoring record makes the transfer a calculated gamble at £7.5 million.

The consistency Newcastle affords also seems a safer option. Universally adored on Tyneside, why give up a good thing? Pardew confirmed on Monday that there is a contract offer still on the table for the player to accept; Ba would do well to heed the words of Sophocles that "No enemy is worse than bad advice".