Narrow-minded Mancini frustrated by compact O'Neill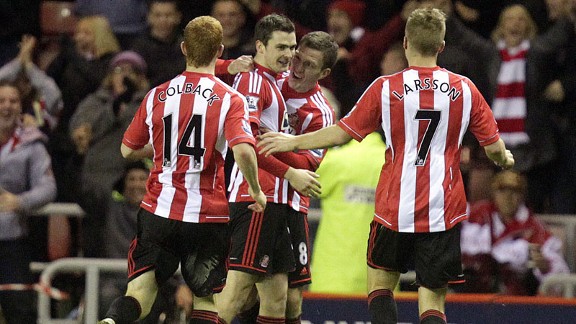 GettyImagesAdam Johnson returned to haunt his former side Man City and earn Sunderland three much-needed Premier League points
Variety in life is important, especially in football. The modern team needs options, both tactically and in terms of the type of player it may call upon to fit a particular situation. Amplify that requirement when that side wishes to challenge for a league title. Unfortunately for Manchester City, a propensity to play one routine has begun to cause problems.

It is an issue that has not gone unnoticed by the playing staff, most recently Yaya Toure: "Whereas perhaps we caught a lot of teams by surprise last season, this year our opponents know how we play," he said earlier this week, before adding: "Sometimes we have to change our system to try to break teams down. The other teams and players can analyse how we play, study our systems and styles and work out ways to stop us. Even sides who are near the bottom of the table are more than capable of making it difficult."

It was a sickeningly accurate evaluation from the former Barcelona midfielder, and it would come home to roost less than 24 hours after it had been published. The standard dimensions for a Premier League pitch are 105 metres by 68 metres. Watch Manchester City and you'll note that rarely in attack does their unit of players exceed 44 metres in width. Taking Wednesday as a case study, fullbacks don't overlap, and in David Silva and James Milner neither wideman comes close to delivering a cross in the traditional sense of a wide player.

Yet like so many finely laid plans, when it works it's fantastic. Regress to a fortnight ago and Mancini's tactic seems masterful. Against sides that are keen to attack wider as a back four, the space is there for intelligent players like Samir Nasri and Silva to exploit. For a narrow counter-attacking side like Sunderland, space was absorbed by a red and white wall.

Couple that with the absence of Frenchman Nasri and City were set to struggle regardless of any hex that the Stadium of Light could cast upon them. James Milner did little to suggest he is the long term replacement for Nasri. A pass completion rate of 79% (Opta) saw him sit bottom of the attackers pile by a considerable distance, with just two attempted dribbles making it difficult to understand what he offers the side in terms of attacking output.

Stylistically more of a defensive winger, the decision to select him was confusing given that City dominated possession (70%) and had their opponents pinned back for much of the first half. Summer signing Scott Sinclair has played just five times for the club and remained on the bench when his inclusion seemed the obvious answer. As the heat-map shows, with Silva preferring to play the pitch horizontally and Milner hugging the right touchline, fluency and balance as a unit was never likely to be achieved. The former Leeds man doesn't like to drift in the same way as Nasri, disrupting the harmony.

Of course, because the script was written, it was a former City player that would haunt the club. Ironically, City could probably have done with someone like Johnson when trying to break down a stern Sunderland back-line.

While unwilling to get down the outside of players, Johnson alone attempted as many dribbles (5-Opta) as Milner and Silva combined. With a below average success rate of 40%, it was from one of those runs that his game-winning strike would spring, thus justifying his attempts.

The replacement of Johnson by Sinclair in the context of City's squad seemed a sensible idea and is something David Platt has previously alluded too. Younger, and with potential to grow, Sinclair is a quicker version of the same assets Johnson previously offered. This is highlighted by the fact that when playing for Swansea last year, Sinclair attempted 8 dribbles against City - impressively completing 6 of them.

Although Mancini attempted to mitigate defeat with ill-fortune, this is the third time his City side have been beaten narrowly on Wearside - twice under O'Neill. "Lucky? I think Roberto Mancini said we were were lucky when we beat them last year and also when they fought back to get an unlikely 3-3 draw at their place last season too. But I really don't pay too much attention to what he says, really I don't. I have had experienced that before from other managers," O'Neill said after the game.

Preferring to operate a narrow, compact, counter-attacking unit, Sunderland in defence operate in the same maximum 44 metre boundary that City like to attack in. Against bigger sides eager to dominate and control games, Sunderland's tactical plan has the potential to flourish. Last season it was directly from a Manchester City surge that Sunderland carved out their game winning chance, finished by Ji Dong-Won. The pace and trickery of Stephane Sessegnon provided the ideal out ball, and as City chased the game, Sunderland's plan became far easier to force on them - thus why they were able to fashion more chances after Johnson's goal.

Similar to their European campaign, a lack of team cohesion also caused Manchester City problems. Too often, the ball was shuffled around the edge of the penalty area. Like a sluggish game of basketball, its slow and cumbersome manner allowed Sunderland to readjust each time, making penetration more difficult.

In a bid to rectify the issue, Mancini threw on super sub Edin Dzeko. However the Bosnian's inclusion in no way changed the side tactically. Still, they attempted to find a difficult pass in behind Sunderland. Even Dzeko was guilty of it. In one instance, he stood on the edge of the Black Cat's box waiting for a path to spontaneously appear. As desperation set in, Joeleon Lescott was included with Milner and Pablo Zabaleta frantically attempting poorly angeled crosses, but it was too late.

Despite claims to the contrary, credit must go to Sunderland for their ability to enact a fitting game plan that stagnated and nullified their opponents. However for City, evolution and variety of attack is now vital - their greatest strength also being their greatest weakness.