Manchester United win thriller over Newcastle
Manchester United's 4-3 win against Newcastle at Old Trafford was a microcosm of the Red Devils' season: Shocking defending, goals galore, uncertain goalkeeping and an irate Sir Alex Ferguson. For the 11th time this season, United went behind, but for the 15th time this season they notched a win to stay atop the table. What's more, Ferguson & Co. received a belated Christmas gift after lowly Sunderland surprised Manchester City with a 1-0 win (presumably, SAF will be sending a thank-you card to Adam Johnson), allowing United to expand their lead to seven points.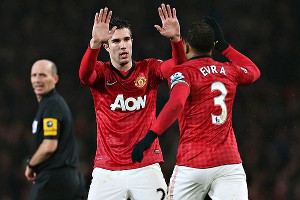 John Peters/Getty ImagesIn a topsy-turvy match, Manchester United edged Newcastle 4-3 at Old Trafford to go seven points clear atop the table.
This was a nerve-shredding, attack-at-almost-all-costs sort of match, one that may go down as a definitive result in the title race. After United dropped two points at Swansea this past weekend to allow Manchester City to creep to within four, the Red Devils have put themselves in a stronger position as the holiday fixtures come fast and thick.

-Video: Analysis with Ian, Macca
-Okwonga: Crazy United win again
-Jolly at Old Trafford

There will be plenty to pick over from this match, but a few talking points will include the following:

David de Gea poor again
It has become a broken record, but De Gea showed his vulnerability again and again. In the fourth minute, he parried Demba Ba's shot on goal right to James Perch for the easy goal. Yes, the conditions were classic doom-and-gloom Manchester, with a driving rain causing all sorts of errors from many players, but De Gea should have caught the ball. At times, the six-yard box was more crowded than a liquor store on New Year's Eve -- teams know the young keeper can be easily rattled -- and in the 72nd minute, instead of catching the ball, De Gea meekly punched it away for a corner even though Papiss Cisse wasn't going up for the ball and challenging the keeper.

Shot-stopper or not, De Gea continues to make a meal out of the basic plays. If not for United's relentless attack, Ferguson's men would have paid for the mistakes.

Then again, the defense was poor all around. Jonny Evans, scorer of United's first goal, also committed an own goal in the 28th minute. Originally, the goal was disallowed by the linesman -- Papiss Cisse was offside but never touched the ball, so presumably the decision was made based on the notion that Cisse interfered with Evans and blocked De Gea's sightline of the ball. But referee Mike Dean overruled the call. However you call it, United's defending was poor throughout, including on Newcastle's final goal. It started after a wayward Rio Ferdinand pass failed to connect with Chris Smalling. A simple throw-in, a virtually unfettered run by Gabriel Obertan and a one-touch finish by Cisse had Newcastle back in the lead 3-2.

Expect FA action
The match was high intensity from start to finish, so high that Ferguson had stormed onto the pitch before the start of the second half to berate the officials. He continued to vent his anger at assistant referee Jake Collin throughout the second half. The fourth official also got an earful. There's no question Ferguson is a master motivator, but his critics will be wondering why he wasn't sent to the stands for any one of these rather unsavory acts of anger and intimidation. Or why Antonio Valencia, already on a yellow card, wasn't sent off for his incredibly poor tackle on the ankle of Vurnon Anita that saw him stretchered off in stoppage time -- a sequence that sent Newcastle's staff into apoplexy toward the officials.

Of course, being seven points clear of City, Ferguson would surely accept whatever punishment comes his way.

"I was a bit upset with that tackle," Alan Pardew told the media after the match. "Our whole midfield from last year are out."

Great spirit
In all, it was a sensational match, with both sides going for the win. Before kickoff, the talk was about how this could be a "professional" and "cagey" game. In the end, as Ian Darke said, it resembled an NBA match -- fast break after fast break, chance after chance. Both sides showed tremendous spirit and United, not for the first time this season and certainly not for the last time, overcame their poor defensive showing with some terrific play going forward. You don't always get a sense there's much of a game plan, and there were plenty of chances wasted, including Chicarito blowing a sitter of a header. But once again, attack -- Chicharito getting on the end of a beautiful Michael Carrick pass in the 90th minute -- proved the best sort of defending.

But only just.