Benitez starting to settle in at Stamford Bridge
In one of the quieter moments during all the recent chaos at Chelsea, one of the club's employees let out a sigh of exasperation: "It never ends at this club. In the last three years, there's always been something."

Something extreme. Take the past week.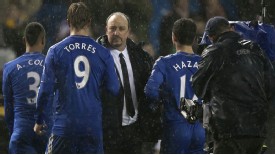 PA PhotosRafael Benitez: has yet to endear himself to the Chelsea faithful
After returning from Japan with no Club World Cup trophy, little sleep, an awful lot of jet lag and even more questions about whether the club - and Fernando Torres - had taken another backward step, Rafa Benitez was genuinely concerned about the Leeds United game in the League Cup. Another defeat, after all, would have only seen all the anxiety escalate - regardless of any caveats like fitness.

"I was really worried," Benitez admitted. "I hadn't slept much and felt the same would be for the players so it could be a dangerous game."

By Friday, though, Chelsea had won 5-1, moved closer to another trophy and even seen Torres score again. As a consequence, too, Benitez found that a few supporters had started to become a bit more welcoming to him.

"I guarantee you a lot of fans are positive when I see them. I went to the staff party, I was there 15 minutes talking to people and they were very positive. Scoring a lot of goals will help!"

After the five hit against Leeds, in fact, there was a potentially symbolic moment. Frank Lampard appeared to make a point of clasping the manager's hands in front of the travelling Chelsea supporters at the end.

"The team went to thank the fans," Benitez said. "I went with them. We have to be together."

And, also, consistent. It has been one of the main elements missing from two months that have seen an awful lot.

Because, should a week in which Chelsea have been pushed to the extremes end with a win over Aston Villa on Sunday, it will - remarkably - represent the team's first home victory since October 6 against Norwich City. Even more notably, it will be the first time the side have recorded successive wins in the league since the next match after that Norwich game, against Tottenham Hotspur on October 20.

As a manager renowned for preaching about "control," this is exactly what Benitez wants to restore. And despite the unrest supposedly caused by the trip to Japan, the Spaniard believes some of the downtime there may have actually helped that process.

"It was really positive because we had time to watch, talk and analyse things we can improve. It is difficult in the short-term but fantastic in the longer term."

Not to mention in terms of bonding.

"I won the bowling, but I'm not the best. To be fair, it wasn't too difficult in my lane."

Despite certain perceptions of an overly serious or even difficult character, it is notable how amicable - and jokey - Benitez is. At one point during his Friday news conference when he was asked what the game can do to get rid of grappling in the box and diving, he made a joke at his own expense: "Maybe zonal marking."

That's one of the conspicuous differences between Benitez and his predecessor too. Whereas Roberto Di Matteo seemed so - in the end, justifiably - insecure about his position that his default response was defensiveness, the Spaniard almost seems to have been freed by the fact he has absolutely no guarantees about his job beyond this season.

For one thing, he can effectively deflect any question about player contracts, sales or signings because, well, they have nothing to do with him. As such, he can almost completely concentrate on getting that consistency.

"It's a broken record! The answer is always the same ... I can only watch players in training. They are working hard and fully committed. That's all I can do. My priority is to get the best from them. Other than that, I can't say too much."

Benitez couldn't deny, however, that the team are out for a striker, given the fact Torres is likely to be the only one left after Daniel Sturridge goes to Liverpool in January.

"Everyone knows, more or less, what we are looking for and what's happening."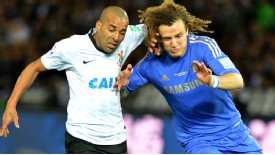 GettyImagesDavid Luiz could be a temporary solution to Chelsea's midfield dilemmas
It mightn't be the only area that requires reinforcements, though. Because at the moment, the paucity of players at the back and in central midfield is one of those "short-term" issues Benitez mentioned that will potentially affect that consistency.

Over the last few games, he's had to greatly improvise in his central spine due to injuries and suspensions, not least by placing David Luiz in midfield - a selection that actually intrigues Benitez.

Indeed, the defender's surges and passes forward - which his manager openly encourages - have the potential to add a greater degree of fluidity to the Chelsea attack.

"I would be really worried if players were not trying things in the final third. He's a player who likes to play and wants to help and win. He likes to be seen, to take a risk where it's necessary. I encourage him to try things ... to do the easy things as well but there are times when he has to try things."

Benitez's team, of course, will be able to execute those things to a superior degree when they're that bit less fatigued.

"I can't quantify [their fitness]. But we are trying to bring players who can manage tiredness better. It's getting better for the majority of them."

Getting consistent is the next step. The club could do without the extremes.