The Premier League's Best XI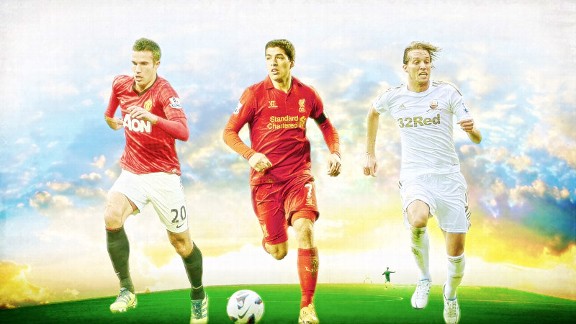 ESPN.com IllustrationJust because we're only halfway through the season doesn't mean we can't go all the way out on a limb to name our A-Team.
Holiday traditions matter, especially the more quaint ones. Like spit-polishing your andirons to impress Santa, sampling grandma's latest adobe brick fruitcake or trimming the mustache with the kids.

But few measure up to our annual, festive period unveiling of the Premier League's best and worst XIs to date. Normally, we use our richly deserved pulpit to exhibit a subtle (but maniacal) Arsenal and Liverpool bias. After all, as a Gooner and Red, respectively, we're entitled to the occasional spasms of pleasure since our teams seem to be incapable of delivering them against anyone except Reading and er, Reading.

All the other selections went through our usual rigorous scientific regimen, meaning we sat around the bar of the Football Factory and threw darts at team sheets -- and the occasional Spurs fan.

Goalkeeper -- Asmir Begovic, Stoke City

Given that Joe Hart, Petr Cech & Co. have looked more Rob Green-in-Rustenburg than top-flight international keepers, the door lies open for a more offbeat choice with a much higher Scrabble score value. Who better than the Bosnian stone wall currently presiding over the Prem's stingiest defense? Built like a brick outhouse and with a face Tony Pulis might want to cover with one of his baseball caps, Begovic is the reason that the Prem's lowest-scoring team is sitting in ninth place and not the relegation zone.

Right Back -- Pablo Zabaleta, Manchester City

While Sheikh Mansour has tossed away gazillions on seldom-used players like Joleon Lescott, Scott Sinclair and Mario Balotelli, Zabaleta was a comparable Groupon purchase, plucked from Espanyol for $11 million in 2008. In four years, he has evolved from a confused, unpolished defender to become one of the most influential names on Roberto Mancini's marquee-studded lineup sheet.

The Argentine is a slightly less photogenic Dirk Kuyt, willing to sprint to all corners of the Etihad without complaint and frequently popping up in crucial moments -- to wit, his thudding low rocket that should have earned City a point in the Manchester derby -- while also forming a dynamic relationship with David Silva, Sergio Aguero and Carlos Tevez down the right flank. Also, his last name is fun to shout while drunk.

Center Back -- Sebastien Bassong, Norwich City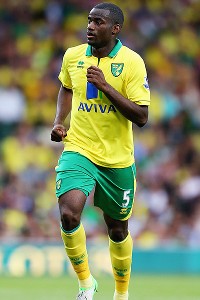 Matthew Lewis/Getty ImagesSebastien Bassong's prowess this season at Norwich City will likely earn him a contract at a bigger club very soon.
A Canary on a "best" anything list that didn't involve "Top Ten Yellow Birds" might seem heretical, but the ex-Spurs defender has earned his corn. In Bassong's 14 Premier League starts, Norwich has conceded 14 goals. In the three he missed, the Canaries coughed up 11. Not only that, but he's been instrumental in a 10-game unbeaten run that's seen Chris Hughton's side knock the smug expressions off the faces of both Manchester United and Arsenal fans.

Dominant in the air, adept at manning an offside trap and not shy about throwing around his hefty thorax in the area, Bassong's playing so well, he probably won't be playing for Norwich much longer.

Center Back -- Jan Vertonghen, Tottenham

It pains us to compliment any Spurs player, but there's no way around this one. Arsene Wenger wanted the lithe, angular Belgian badly, but as with most things about players that "Le Tightwad" wants, he didn't get his way. Meanwhile, Spurs' new man-at-the-back has not only quickly assimilated himself into the EPL mayhem, he has come to personify the "modern" defender, coveted as much for his zen-like composure in possession -- his 712 completed passes in 16 games dwarfs classic midfield metronomes like Juan Mata, David Silva and Eden Hazard -- as for his astute reading of the game (his 50 interceptions currently leads the Premier League).

Comfortable in the center or at left back alongside the frantic, rapidly decomposing William Gallas, Vertonghen's a multifaceted gem. And unlike Ryan Shawcross, the man he narrowly beat out for this spot, he hasn't crippled any Arsenal players. Yet.

Left Back -- Leighton Baines, Everton

Now that Ashley Cole's health, speed and Twitter account are fading, Baines is finally able to assume the mantle of best lefty in the land. The mop-topped Toffee is a relative relic in the Premier League: a man, unlike most fullbacks or indeed, most wingers, capable of accurately crossing the ball (a skill that automatically precludes his ever playing for Liverpool).

Everton's box-to-box sprite is a constant menace down the flank for David Moyes' side, even leading the EPL in passes that led directly to shots on goal (62 in 17 games). Every time Gunners fans see Theo Walcott guide an intended cross into the nearby Underground entrance while four attackers wait coiled in the box, it's hard not to appreciate the brilliance of Baines.

Midfielder -- Yaya Toure, Manchester City

Yaya is a monster, a human Hummer with a 400 horsepower engine and a remarkable ability to bail out one of the most mercurial league champions in the Premier League's history. Though deployed deeper in midfield this season by Mancini, Yaya only ever needs to glimpse a sliver of open turf in order to maraud into it.

Leading the league in pass attempts (1,377 in 17 games) and sitting comfortably in the top 10 percent for completions (1,213), shots (33) and minutes, the Ivorian is simply the most dominant midfielder in the EPL.

Midfielder -- Michu, Swansea

What can 2 million pounds buy you these days? Four days of Joe Cole's services? One relevant Fernando Torres goal? Or the best value purchase since we got the Sears lifetime warranty nose hair trimmer? Michael Laudrup used his La Liga connections to prise the Rayo Vallecano attacking midfielder for 1/8th what it cost for Liverpool to land Joe Allen and the impact's been 81 times more significant.

Sitting behind the main forward -- or as he did against Man United, being the main forward -- Michu's permanent mandate in the opposing half has been dramatic: his 12 goals leads the Premier League and has kept the Swans afloat after many expected a post-Brendan Rodgers regression. Maybe Liverpool will thrive like Michu after Rodgers leaves as well.

Midfielder -- Santi Cazorla, Arsenal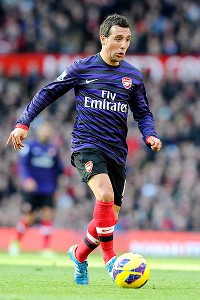 David Price/Arsenal FC via Getty ImagesWest Brom dive aside, Arsenal's Santi Cazorla has dazzled in his first Premier League season.
Arsenal fans might be divided as to whether they still trust Wenger, but they are unanimous in their belief that the elfin Spaniard is the biggest reason their team hasn't fallen permanently into the abyss of angst and misery. Not since Cesc Fabregas has Arsenal had someone whose blend of skill, movement, and vision can pick the lock of the most bus-parked defense. His seven goals and four assists are almost enough to make us forgive his three-and-a-half-twist pike in the box against West Brom.

Forward -- Luis Suarez, Liverpool

Consider the Uruguayan's tumultuous 2012: an ugly racism firestorm coupled with a nasty lingering reputation as a diver and the distinction of being the least likable Premier League player since Joey Barton. (Merci Marseille, by the way.)

Yet none of the above -- nor even the unenviable yoke of being the beleaguered Reds' sole goal provider -- has conspired to make him beg for a move to La Liga. At least, not yet. Instead, Suarez continues his villainous wizardry around opponents' penalty areas to devastating effect -- consider the sumptuous, Bergkamp-ian take-down, seamless pivot and soft side-footer against Newcastle. A goal so beautiful, it reminded you how truly inspired he could be if he cut out all the histrionics.

Forwards -- Wayne Rooney, Robin van Persie, Manchester United

Let's get this over with as quickly as possible. The Scouse man-child has never lacked for transcendent strike partners while at Old Trafford: the preening genius of Cristiano Ronaldo, the silky elegance of Dimitar Berbatov and the cheeky hustle of Javier Hernandez, to name just three. Yet in van Persie, Rooney appears to have finally found his muse in the attacking third, a man who understands best how to complement his guile and bravado.

Meanwhile, all those years of rubbing horse placenta in his limbs while recuperating on the Arsenal sidelines appear to have paid off for the now-flying Dutchman. Depressingly free of injury for the second consecutive season, van Persie has scored 15 times for his new club in all competitions, including in seven of the 11 games in which United have fallen behind.

Like Dwight Yorke and Andy Cole before them at United, Rooney and RvP are strike partners whose movements and speed of thought are eerily in sync. While RvP has been the dominant finisher of the current pair (12 goals to Wazza's seven), it is Rooney's Law of Constant Motion (seven assists) that grants RvP that extra yard of space in which to operate.

Overall, the whole thing is sickening.

Manager -- Michael Laudrup, Swansea
Supposedly everyone on his team hates him, yet they continue to win and out-Arsenal Arsenal as the EPL's most stylish team. In short, the Dane is the anti-Mark Hughes except Laudrup with much better hair. What more do you need to know?

Our Second XI, for your consideration:

Goalkeeper: Tim Howard (Everton)

Defenders: Rafael (Manchester United), Ryan Shawcross (Stoke City), Ashley Williams (Swansea City), Patrice Evra (Manchester United)

Midfielders: James Morrison (West Brom), Anthony Pilkington (Norwich City), Marouane Fellaini (Everton), Juan Mata (Chelsea)

Forwards: Christian Benteke (Aston Villa), Dimitar Berbatov (Fulham)

Manager: Steve Clarke (West Brom)

David Hirshey has been covering soccer for more than 30 years and has written about the sport for The New York Times, Time, ESPN The Magazine and Deadspin. He is the co-author of "The ESPN World Cup Companion" and played himself (almost convincingly) in the acclaimed soccer documentary "Once in a Lifetime."

James Tyler is an editor for ESPNFC.