Premier League gift ideas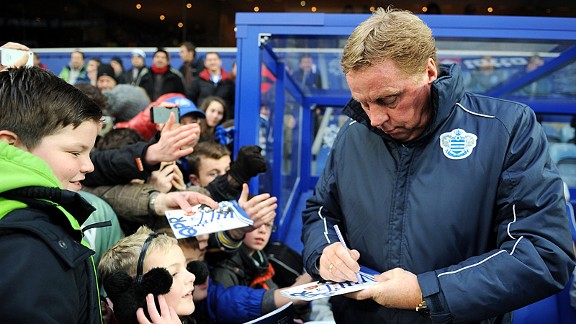 Christopher Lee/Getty ImagesHarry Redknapp's arrival to Loftus Road was an early Christmas present to QPR fans, but the man himself could also use a nice gift to climb out of the EPL cellar.
What has Santa got on his sleigh for the English Premier League teams this Christmas?

And what can you buy for multi-millionaires anyway?

Here are a few tongue-in-cheek gift ideas.

Arsenal -- New spectacles to re-focus on winning trophies, not just keeping the bank manager happy.

Aston Villa -- Some cuddly toys for a team of increasingly confident and impressive kids.

Chelsea -- A gold watch so it can keep a manager for more than five minutes, and a new CD because the anti-Benitez campaign is sounding like a broken record.

Everton -- A new wardrobe where it can put all those draw(er)s that are hurting an otherwise excellent season.

Fulham -- A megaphone to help the stylishly laconic Dimitar Berbatov make himself heard as the sorcerer shouts instructions to his willing apprentices.

Liverpool -- A romantic comedy starring Warren Beattie to remind them that all those passes can get results.

Manchester City -- The autobiography of General Patton might give Colonel Mancini a few clues about how to succeed in Europe.

Manchester United -- A packet of washing powder to help produce a few more clean sheets to go with all those goals.

Newcastle -- A medical journal for all those injuries and a memo pad to remind themselves to stop talking about them.

Norwich -- A chemistry set so that Chris Hughton can keep on turning base metal into gold for the league's most improved team.

QPR -- Mountain boots and ropes for the very steep climb facing Harry Redknapp and Co.

Reading -- A Bible. They may need prayer and divine intervention to stay up based on recent evidence.

Southampton -- Tickets for a cruise from the local port to celebrate what I think will be a successful bid to stay afloat in the big league.

Stoke City -- A Christmas book would be apt for, surprisingly, the league's most Scrooge-like defence.

Sunderland -- Anything will do. Martin O'Neill will take any gifts going after a horrid first few months.

Swansea -- Nothing needed. It already has the bargain of the season in the prolific Spaniard Michu.

Tottenham Hotspur -- A book on psychology to make a talented squad believe anything is possible.

West Bromwich Albion -- A compass. The team has lost its way after that great start.

West Ham -- How about a DVD of that great Woody Allen movie, "Play It Again Sam." No doubts the promoted Hammers will be "playing again" for Big Sam in next season's EPL.

Wigan -- A high wire for Roberto Martinez to walk as he again dices with danger but survives.