Breaking down the Champions League round of 16
The Champions League round of 16 draw was settled Thursday. Here are the highlights of an intriguing start to the knockout rounds.

STORYLINES GALORE: Real Madrid v Manchester United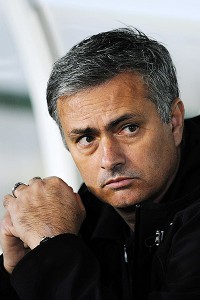 Denis Doyle/Getty ImagesIf Jose Mourinho can't find a way to beat Manchester United, the Special One could very well lose his job at Real Madrid.
I'm not sure you could ask for any more subplots. Sir Alex Ferguson, nearing the end of the line (supposedly, but how many times have we said that?) takes on Jose Mourinho, the heir apparent. Or rather, the heir apparent in the minds of many who see the Special One walking into Old Trafford when Sir Alex steps aside, though it's a lot less likely than some believe.

The way Real Madrid are going this season, elimination in the round of 16 could end up costing Mourinho his job. And let's face it, along with Bayern, United is the worst possible opponent Real could have faced.

Cristiano Ronaldo returns to face his old club for the first time, which is another neat twist. But this will also be the first time these two teams go up against each other since that legendary quarterfinal in 2002-03, the one in which the original Ronaldo scored a hat trick at Old Trafford, United won 4-3 and was still eliminated. (It was also the game which -- legend has it -- made Roman Abramovich fall in love with football and decide he wanted a club of his very own.)

ALL IN: Arsenal v Bayern
Having lost last year's final in the most heartbreaking way, Bayern put all their chips on the table this summer, spending big to assemble one of the deepest squads in Europe in what will be Jupp Heynckes' final year in charge. The result is a side second only to Barcelona, one whose second-string front three is arguably better than Arsenal's first-choice front trio.

The flip side is that this is a classic trap game. Arsenal may have had an indifferent start domestically, but their style makes them tricky to play against, especially in Europe. Lukas Podolski has a point to prove against his old club and there's a reason that, over the years, the Bavarian giants have pursued Arsene Wenger.

The message to Heynckes? Handle with care.

EUROPE'S ARISTOCRACY: Milan v Barcelona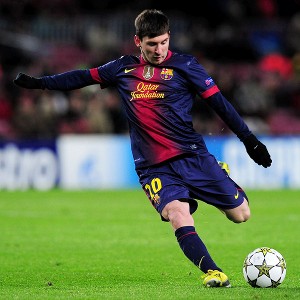 Lluis Gene/AFP/Getty ImagesThe prospect of Lionel Messi against Philippe Mexes and Mario Yepes is a terrifying one ... for Milan.
Between them, these two clubs have won five of the past 10 European Cups. In other words, this clash is as drenched in history as they come. Of course, these are also two clubs going in different directions. Barcelona are off to their greatest-ever start in La Liga; Milan are rebuilding on a relative shoestring. On paper, the prospect of unleashing Lionel Messi against Philippe Mexes and Mario Yepes is a terrifying one ... for Milan.

But there is such a thing as "European DNA" and, as the Rossoneri remind us, they have plenty. Enough to derail Barca? Probably not, though Stephan El Shaarawy's heroics offer a glimmer of hope.

Especially if, as we hope and expect, Barca will be buoyed by the return of Tito Vilanova to their bench.

SLEEPERS FACE OFF: Shakhtar Donetsk v Borussia Dortmund
These two teams arguably played the best football seen in the group stage, and both are legitimate dark horses. It feels a bit weird to describe them as upstarts when Shakhtar have won four straight Ukrainian titles and the spine of this team has been together for years, and when Borussia play in front of 80,000 every week and have won two Bundesliga titles on the bounce.

But both these sides are ready for their coming-out party among Europe's elite. They have a statement to make and it's all about subverting the established order. It's also the clash between one of the greatest veteran minds in the game, Mircea Lucescu of Shakhtar, and one of the most innovative tacticians around, Dortmund's Jurgen Klopp. Think of it as the great sage against the mad scientist.

TIME TO DELIVER: Valencia v Paris St. Germain
This is where Carlo Ancelotti is in his element: Europe's big stage.

This is where he can wipe out PSG's domestic stutters in one fell swoop.

The man who reached three Champions League finals as manager of AC Milan was brought in precisely for the task of leading PSG where it matters most. And Valencia, having changed managers a few weeks ago and stuck in mid-table in La Liga, is about as kind a draw as he could have hoped for. Screw up here and, regardless of what happens in Ligue 1, it could be curtains for Carlo come the end of the season.

Valencia's manager, Ernesto Valverde, has plenty on his plate and is unlikely to get much help from the January transfer window. If anything, there are one or two stars who could be on the move. But this is a team that has tripped up wealthier, more hyped opponents in the very recent past -- heck, in the group stage, they came within a hair of beating Bayern -- and one to be treated with kid gloves.

DOES LIGHTNING STRIKE TWICE? Celtic v Juventus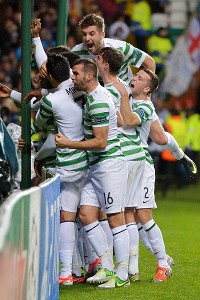 Jeff J Mitchell/Getty ImagesCan Celtic keep their much-celebrated run in Europe alive when they face Juve?
The Hoops' underdog status isn't quite as dramatic this time around as it was against Barcelona in the group stage, and we all know what happened there. Had the two Barca games been in the knockout round we would have gone into extra time and maybe penalties and, at that point, there's no legislating for what can happen. That's the key thing to bear in mind here. Celtic may have won only 10 of 17 games in the Rangers-less SPL, they may operate on a tiny budget (not just relative to Juventus, but relative to recent Celtic sides as well), yet they've already stalemated none other than Barca.

For their part, Juventus will feel they match up well. This is one of the mentally toughest, most intense teams in Europe and one that seems cut out for this format. Oh, and if you believe in numbers, their unbeaten streak in European games stands at 16. And the last time they lost a Champions League game was way back in March 2006.

CLASH OF THE STRIKERS: Galatasaray v Schalke 04
Talk about teams going in different directions. Galatasaray sit atop the Turkish Super Lig, having just dispatched archrival Fenerbahce. Schalke are in free-fall in the Bundesliga and have just said "auf wiedersehen" to coach Huub Stevens. The fear among Schalke fans is that this could end up being a repeat of two years ago, when they reached the semifinals of the Champions League while battling to avoid relegation.

The subplot here, though, is Burak Yilmaz versus Klaas-Jan Huntelaar. Both are old-school center forwards supposedly at the peak of their careers. Between them, they scored 81 goals last season in all club competitions. This year, the Galatasaray forward has kept up his pace after moving from Trabzonspor -- he's at nearly a goal a game -- while the Dutchman has been on the slide. His contract is up in June, so what better chance to impress prospective employers? And what better opportunity for the Turkish forward to show that all those sides who passed on him in the summer made a mistake?

BEHOLD, THE FUTURE: Porto v Malaga
On paper, this one's easy. It's the perennial Portuguese giants, the kings of third-party ownership and clever scouting who always manage to stand toe-to-toe with the elites -- at least until this phase of the competition -- versus the plucky club who thought they were Manchester City or PSG, but found out the hard way they were not.

Malaga's Gulf owners have gone from one financial hiccup to the other, which is why, after some big spending 18 months ago, they've had to ditch some of their pricier components (Santi Cazorla above all) and work within a budget. Yet despite that, Malaga excelled in the group stage and remains in a Champions League spot in La Liga. It's a testament to how Manuel Pellegrini has managed to keep the squad united in difficult times.

But beyond that, this is the clash between two of the most crystal-clear young talents in Europe, Malaga's Isco and Porto's James Rodriguez. They're 20 and 21 years old, respectively, and you simply can't imagine them staying at their clubs much longer. This could be the start of a rivalry we'll enjoy for years to come.

Gabriele Marcotti is a London-based journalist and broadcaster who covers world soccer. He is the author of three books, the world soccer columnist for The Times of London and a correspondent for the Italian daily Corriere dello Sport. You can catch him on ESPN Press Pass and read him here twice a week. Follow him on Twitter: @marcotti.