Portuguese giants fight over 'new Di Maria'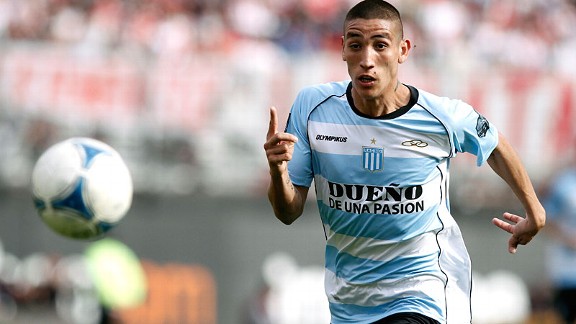 GettyImagesRicardo Centurion is likened to Madrid-based compatriot Angel di Maria
Name: Adrian Ricardo (Ricky) Centurion
Age: 19
Club: Racing Club
Position: Left wing
Nationality: Argentine

---

For Portuguese giants Porto and Benfica, harnessing the potential of the Latin American market is integral to their business plan. When a new talent emerges anywhere across the region, you can guarantee it won't be long before either of the Liga Sagres giants are on the case - it can be a highly profitable business.

Only on Monday, in fact, Porto announced the capture of Mexican defender Diego Reyes for a fee in the region of €7 million. How much of that is subsidised by third-party owners remains to be seen, but those investors, like Porto, no doubt see a sizeable future profit in the centre-back.

Reyes will arrive next summer and could, if reports are correct, be joined by 19-year-old Argentine winger Ricardo Centurion - the man frequently likened to Madrid-based compatriot Angel di Maria.

"Ricky" made his senior debut only six months ago in the final rounds of Racing's 2011-12 Clausura campaign, earning his opportunity following the departure of first-team star Lucas Castro to Catania. However, the self-assured youngster has not once looked back since.

It is this confidence that defines his play. Normally, but not exclusively, starting on the left-flank, Centurion lives for one-on-one battles with his opposite number. It has been the defining feature of his play since youth levels and it terrifies defenders. In turn, it is this love of individual combat that made him the most fouled player of the recent Apertura championship.

Comfortable with the ball on either side, fleet of foot and able to change direction at a moment's notice, there have been few defenders in the Primera Division able to live with his abilities this year. The one frustration is that the youngster can attempt to overplay, when the easier option may suffice.

Improved decision making should come with experience and, no doubt, the brutal treatment he has suffered at the hands of some of Argentina's more robust defenders will play a part in him become more selective about when to take on his opponent. Make those changes and his side should reap the rewards.

His talents have caused palpitations for defenders across Argentina and there will no doubt be mass celebration among full-backs at the news that there are sides already looking to extricate him from his homeland and offer him a shot in European football. First, though, he will be put through his paces at the South American Under-20 Championships that will kick off 9 January.

The vultures are circling ever closer, though, and only this week, Racing sporting director and Argentine football icon Roberto Ayala was compelled to admit that the club may be powerless to prevent Centurion departing in the near future.

"We would like to keep Centurion for another two or three years, but that does not guarantee his value will increase," he told the Deportivo Telam radio show. "For that reason, we listened to the offers of Porto's people yesterday and, today, Benfica."

Ayala was clear. If an offer were to arrive that was considered financially rewarding for both club and player, the deal would be done and, although club president Gaston Cogorno later insisted that Centurion would remain for "at least six more months", he too openly conceded that Racing were happy to consider offers for their star.

For both Porto and Benfica, the aim will be to quickly secure their potential asset. Both sides are fully aware of the other's interest, but also fully cognisant that they could quickly become priced out the market should he take on a starring role in January's tournament.

Di Maria remains the continual reference point for Centurion and El Angelito, too, trod the well-worn path from South America to Portuguese football en-route to his eventual home at the Estadio Santiago Bernabeu. The 24-year-old's three-year sojourn in Lisbon eventually pocketed Benfica a profit of nearly €30 million.

Neither Porto nor Benfica will be keen on passing up a second such opportunity. In European football's cash-rich modern age, such opportunities are their financial lifeline. They must consistently gamble to survive among Europe's elite and Centurion could be the goldmine they have been searching for.