Looking through the transfer window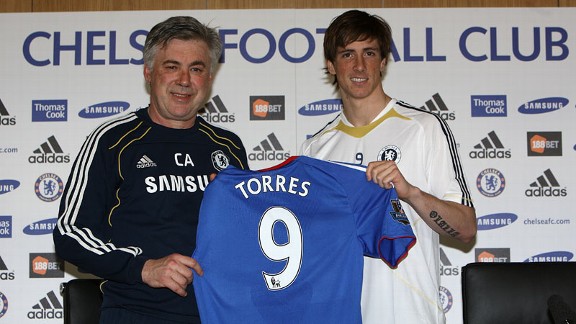 PA PhotosFernando Torres has still yet to find his feet at Chelsea, to the cost of several managers
"Spend some money... get the cheque book out."

These are common refrains when fans get frustrated. In modern football, the transfer market is seen as a cure to all ills. We have become conditioned to think as much.

Daniel Sturridge is set for Anfield, where Thomas Ince is also due to return. Falcao's boarding the Bridge. Jimmy Kebe thinks Reading must spend to survive. Harry Redknapp says he'll only be involved if he gets better results first. David Moyes is waiting to see what happens before he'll sign a new contract. Sir Alex Ferguson closed the door before it even opened. The transfer window is coming and the speculation is getting fat.

January can be the cruellest month for a football journalist. The heavy Christmas schedule is followed by very little respite. The whispers begin well before a fresh year even dawns and continue until that dark night of the soul on January 31 when we again close for business and can get back on with the game.

This is the tenth year since FIFA introduced the compulsory transfer window for the 2002-03 season. It has become an industry in itself. The internet is filled with spurious 'net spend' tables, and transfer indexes with skewed algorithms to prove that clubs actually are better than others even if they did not beat them on the field of play. Twitter burns brightest on the big transfer nights. Major deals crash the servers as everyone tries to be first, and rumours catch fire. The first casualty of transfer deadline day is always the truth.

Back in 2002, there were few self-proclaimed transfer experts. Rolling news channels had yet to devise their nights of hysterical crescendo. Nowadays, earnest-looking reporters transmit news of Danny Higginbotham's loan move with the gravitas of the Gettysburg Address while excitable anchors remind us that 'anything can happen'. Fans with presumably nothing better to do act as chorus lines as they herd around reporters and cheer the latest addition to Tony Pulis' Stoke squad.

During the months of August and January, it is almost as if the transfer window outstrips the importance of football itself. The Premier League in August saw several teams begin the season with incomplete squads. Tottenham Hotspur waited until the final hours available to add Mousa Dembele and Clint Dempsey. Liverpool missed out on the latter, and have soldiered on with one fit striker almost ever since.

Even the slickest of operators find themselves caught out by the madness. Spurs chairman Daniel Levy is a master of getting a good price for his players, but has sometimes left his club short. Having hoicked Dimitar Berbatov for over £30 million to Manchester United in August 2008, Spurs were to be found offering silly money for Carlton Cole as they realised they had just Darren Bent to call on as a striker.

That happened on the silliest night of a decade of looking through a transfer window. It was the day Abu Dhabi bought Manchester City and then tried to buy every footballer too. Ferguson, a rarely seen figure on deadline day, was forced to take evasive action when he himself drove to meet Berbatov at Manchester Airport to head off City's agreement to sign the Bulgarian. An apocryphal image of Ferguson sweeping copies of the Daily Express and Racing Post off the passenger seat of his Audi as he sat waiting in short-stay parking is irresistible.

Berbatov chose red, and City signed Robinho instead as they launched on an irresponsible splurge. But that was an August window signing, as opposed to January. Ferguson repeats ad infinitum that there is 'no value' available in January. He has rarely made moves in mid-winter. Those players he has signed in January took too much time to settle. Nemanja Vidic, Patrice Evra and more briefly Louis Saha may have become key United players but they were signed in seasons - 2003-04 and 2005-06 - when their new club was losing the race for the Premier League.

January moves often have a whiff of desperation about them. The biggest turkeys of all happened two years ago. Step forward Fernando Torres and Andy Carroll, an outlay of £85 million that has done few favours to anyone, save for agents, of course. The twinned white elephants continue to cast long shadows. Torres has done for three managers, going on four. Carroll has done for one, and is now banished from Anfield.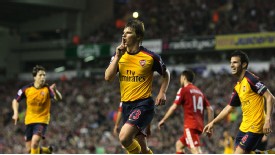 PA PhotosAndrei Arshavin briefly flourished at Arsenal but ultimately failed to live up to his price tag
Arsenal rarely deal in January, possibly after the tale of diminishing returns that Andrei Arshavin became - from record signing to four goals at Anfield to not being considered for a fateful trip to Bradford City.

January is usually reserved for those clubs and managers who must deal themselves out of trouble yet the successful signings often turn out to be flashes in the pan. Steve Bruce rescued Birmingham City in January 2002 when taking a risk on Christophe Dugarry. Redknapp saved Portsmouth in 2005-06 by signing no less a legend than Benjani. Last season saw QPR barely stay up after adding Djibril Cisse and Bobby Zamora. Neither is likely to be remembered as a long-serving Loftus Road legend.

Bad business can be contagious. One poor buy often follows another. Manchester City's largely useless quintuplet of Scott Sinclair, Jack Rodwell, Matija Nastasic, Javi Garcia and Maicon contributed to eventual Champions League embarrassment. At Liverpool, Stewart Downing, Jordan Henderson, Charlie Adam joined Carroll in sealing Kenny Dalglish's fate and henceforth tying Rodgers' hands.

Even the best get it wrong. Eric Djemba-Djemba, Kleberson and David Bellion's signings in the summer of 2003 are offset by Cristiano Ronaldo but helped blow Ferguson's title-winners off course for four long years of drought. Liam Miller followed the next year. Jose Mourinho once signed Steve Sidwell, Claudio Pizarro, Asier Del Horno and Khalid Boulharouz for Chelsea. Pep Guardiola, everyone's heir apparent, paid over £20 million for Dmytro Chigrinsky.

There are only two types of transfer deals - good or bad. Spending money and opening the chequebook can never guarantee footballing success. The best managers are those who make the fewest transfer mistakes. An expensive purchase can still be a great buy. A budget buy can still go bad. Like the game itself, football transfers are a simple business made far more complicated than they should be.