No rest for Benitez's Blues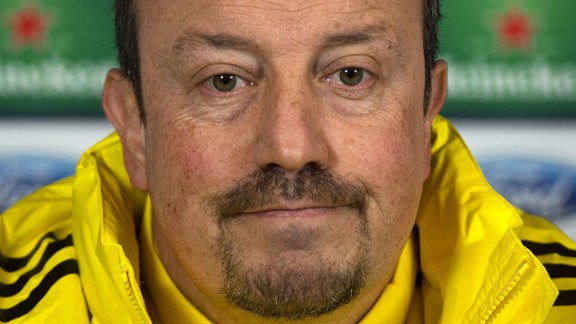 PA PhotosRafa Benitez and his Chelsea side face a tough schedule
After almost two years out of the game, Rafa Benitez is certainly making up for lost time at the moment.

In fact, as he walks into the Cobham press conference a little bleary-eyed after only arriving back from Japan the day before, it seems there's absolutely no rest for him right now. There aren't even any truly meaningless games to allow a breather.

Take Wednesday night against Leeds United. Although it's 'only' a League Cup match, it means so much more for Benitez on a multitude of levels.

For one thing, there is the fact it is suddenly a very good chance of a trophy for a chairman who absolutely craves them and a manager who still badly needs to boost his image among the supporters. An elimination here would feel particularly wasteful given that only Aston Villa, Swansea City and Bradford are left in the competition.

Added to that, there is Chelsea's historically aggressive rivalry with Leeds, as well as Benitez's personal one with opposing manager Neil Warnock, which has only been rekindled this week.

Finally, of course, there is all the escalating pressure after that Club World Cup defeat. In fact, that tournament pretty much proved the point. An almost no-win situation given the general perception of the tournament in England ended with Benitez losing the key match, losing momentum and losing a number of players for Wednesday through suspension and fitness.

The Club World Cup has further complicated for this League Cup match, not least with the general readiness of the first team.

If Benitez looks a little bleary-eyed facing the media, how do they feel attempting to play through the jet-lag? Weary legs in such a game can be fairly dangerous when you have a spiky lower-league side just waiting to get at you.

"We had to train," the Spaniard insisted. "That's the best way to recover. The players said they were fine but we will have to see tomorrow.

"We have played eight games in 24 days. It's not easy when you have a new manager and no time to prepare and go to Japan and back. You have to manage the situation. We just went and came back and have another game now."

The effects, however, may not just be physical. Benitez admitted it was tough to rouse some of the players after Sunday's defeat 1-0 defeat to Corinthians, with many having come off the Yokohama pitch looking particularly dejected.

"It was difficult with some of them, especially when back in the hotel. I said I was really proud of them. We lost to South American champions who were there 15 days and thinking about the game for months. We couldn't won easily if we scored first because we had four clear chances. [Petr] Cech made one save.

"I was really proud as they worked really hard in a tough situation. I told them that was important but we have to move forward."

That very act, however, might be an issue. One of the main worries from the Club World Cup final may well be that Chelsea lose the momentum they built up after their win against Sunderland.

"I hope not. We were doing well. We had so many clear chances - proof of that was that Cassio [the Corinthians goalkeeper] was man of the match."

On a similar note, though, there was the very sudden regression of Fernando Torres after scoring in each of his previous three games.

"We were talking with all the players after the game and analysing what we did," Benitez explained. "You try to analyse the effort of all the players. Everything we were talking about was there. We attached behind defenders and got in. Fernando had five attempts, more than anyone. As a striker, it has to be like that. Obviously, we could've been happier if he had scored one of the chances. but at least he had five chances. Some games in the past, he had no chances and he couldn't score goals. If we continue playing well, if we continue making chances for him, he will score."

The biggest issue Benitez may have against Leeds, though, could be in the middle. Chelsea are already missing Oriol Romeu, John Obi Mikel and Ramires but Gary Cahill's suspension from that match against Corinthians means that David Luiz won't even be able to fill in here.

It summed up the problem that Benitez jokingly asked whether any of the assembled press could play.

Much more realistically, though, Frank Lampard may finally return to the starting XI. It would be symbolic given that, although the midfielder has recently started to doubt his future at Chelsea, he now looks set to stay at least until the end of the season.

"If you analyse our team, we don't have too many options in the middle of the park. The fact he [Lampard] was playing some minutes against Monterrey and, after, against Corinthians, he is coming back and he will be OK... Frank at his top level would be fantastic."

It is for such reasons, meanwhile, that Benitez insists it was essential to rest Oscar for the Club World Cup final. Given how much the match evidently means to Brazilians, and how publicly irritated Oscar was, it does lead to fair questions about the Spaniard's man-management in this instance. Benitez, however, believes that managing a surprisingly thin squad's energy is much more important.

"I asked him later on and was asking David Luiz whether something was lost in translation [regarding Oscar's unhappiness], but it was fine. Oscar is a very good lad and a professional. His reaction has been very positive.

"If you analyse, the problem we had is playing with 11 players in the majority of games and we had to change this. We can't carry on playing the same players. Oscar is a new player in the Premier League and we are trying to manage these players because we have a lot like [Juan] Mata, [Eden] Hazard to do the same job. It's good for me to have this. No issues, no problems. He will have lots of minutes. I'm sure he will have a great future at this club."

It's also an issue that completely spins the old idea of putting out younger players and second choices in the League Cup.

"It's an interesting thing," Benitez says. "What is the strongest team and who knows? People might say 'not the strongest team' but a manger watches every session and knows how they are."

He also knows not to lose. Not that he is even contemplating that prospect.

"I'm not thinking about losing. My idea is that we will win. I'm sure they will think the same. You have to approach every game with belief that you will do it, especially now we are progressing and you can see the players understand what we are trying to do and they agree with what we're trying to do. But it's football, 90 minutes, anything can happen but for sure, we have the conviction that we can win. After the game, if we win, maybe the question has no sense. If we can't, then we will see. But we will be thinking about the next challenge. Football is about nine months and you have to carry on. We can't stop and complain because we have another game quickly."

That, however, has been part of the problem for Chelsea.