Tite: 'Happiness I'm feeling is immeasurable'
Soon after Corinthians defeated Chelsea 1-0 to nab its second FIFA Club World Cup title, ESPN Brasil reporter Andre Plihal and football analyst Paulo Vinicius Coelho talked with winning coach Adenor Leonardo Bacchi, otherwise known as Tite. The following is a transcript of their conversation from Yokohama, Japan.

PLIHAL - Oswaldo Brandao, Vanderlei Luxerburgo, Carlos Alberto Parreira. These names always appear when someone discusses who's the greatest coach in Sport Club Corinthians Paulista history. In fact, they appeared. In numbers, there is no doubt anymore. We are in front of the greatest coach of Corinthians history - the first to win Libertadores and FIFA Club World Cup. Corinthians already won the FIFA Club World Cup but not one like this one outside Brazil, against such a strong opponent, like Chelsea, and in a categorical way in such a huge game, like that. What do you have to say about all of this?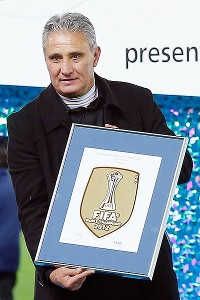 Lintao Zhang/Getty ImagesTite will get a hero's welcome when Corinthians return to Brazl
TITE – First of all, I need to say thank you. Then I must say: I don't feel this way. The biggest merit of Corinthians is that we won like a team, like a group. Of course the individuality always appears and I'm getting credit for it now. But we've shown that it is the entire team that wins, that a 'game idea' wins. And this was represented by the way we celebrated winning the cup at the end of the game.

PAULO VINICIUS COELHO– A detail about unbeaten champions: there were only Red Star, Manchester United twice, Ajax twice and Corinthians in 2000 - this time getting through the continental tournament. Corinthians is the only South American [side]. I want you to talk about respect versus admiration. This word was mentioned at the press conference and you used [Monterrey's goalkeeper Jonathan] Orozco's interview to explain that. Was all of this part of the talk before the game?

TITE – When the press conference ended, I knew about Orozco interview, but I didn't know who had spoken. A word that I used a lot and it characterizes us is courage. You spend two days without sleeping, you have stomach aches and the anxiety comes because of the importance of the game. But you have to have courage so the ball does not burn in your foot and you can make triangulations that Danilo and Fabio Santos made like they were at practice. Or to have the aggressiveness to play pushed up, forcing mistakes and creating opportunities to score. I liked the term you used first and I'll keep it for me: a categorical win. Corinthians was better. In my language, we deserved this. And this gave us a special taste for all we did. The team was strong, deserved the title for what they did in the game.

PLIHAL – Despite having dominated Chelsea, mainly in the second half, your goalkeeper played very well. Have you already bought a Christmas present for Cassio?

TITE – I started my career at Veranopolis and Cassio was a 10-year-old who was a ball boy. And fate has it that this boy would be with me at the beginning of my career and then with me in a world title. There were three real good goal chances for them. One on a Victor Moses kick. When he kicked, I swore. The other ones (weren't) until the end of the game when they were pressuring us.

PLIHAL – [Chelsea's Gary] Cahill, in the beginning...

TITE – That was outstanding too. We knew that the ball could be there. I even changed the defense and talked with Paulo Andre, Ralf and Paulinho. But they have this move very well rehearsed. But we had a lot of opportunities to score more goals, too.

PVC – Their team was taller. But you made two important decisions. [Paolo] Guerrero was one, and many said that Corinthians won Libertadores without a centre forward. And Jorge Henrique, who forced Chelsea to play with long balls throughout the game.

TITE – [Rafa] Benitez changed the team style. He changed a team which was strong physically to a team that has more transition. He had two flexible centre-backs, one who passes the ball very well and another one who attacks a lot. He wanted the creativity of both centre-backs so he used two wingers to have more speed. Moses and [Eden] Hazard are very fast. Jorge would only stay on Hazard's side because Hazard is better at one-on-one. With Moses I thought they would be reversing the ball and it would be difficult for Fabio. Then I put Danilo on that side with Emerson centered. I wanted to keep [Frank] Lampard out of the game. We could give space to Ramires, but we had to take their playmaker out of the game. This change let Emerson get closer to Guerrero and gave us those quick attacks.

PLIHAL: You're definitely a main character of this story and this interview will probably be reproduced several times. And sometime, when they will be reproducing it, Corinthians will be flying back home, having an eight-hour connection in Germany, until arriving in Sao Paulo on Tuesday morning. Can you imagine what will happen once you get there?

TITE: No. The happiness I'm feeling is immeasurable. I had all my family here, you have to be brave to bring all your family, because if you get beaten, they will all be frustrated. I was with my children, with my wife, my brother, my brother-in-law . . . I couldn't handle it when they were close to me, at the bleachers, I shared my happiness with them. I had already here what all the supporters and all the players wanted to have and will have with their family in Brazil.