Toon must invest to avoid winter of discontent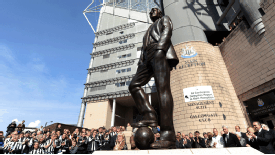 PA PhotosAlan Pardew is Newcastle's longest serving manager since Bobby Robson
'It's not about blame, we are all accountable,' - reads a sign at Newcastle United's training ground. It's an apt mantra given their current situation. Few can contest it has been difficult thus far for last season's surprise top-four contenders.

Despite their struggles in 2012-13, this week saw Alan Pardew become a record holder on Tyneside. Celebrating the two-year anniversary of his St James' Park appointment makes him the club's longest serving manager since the late Sir Bobby Robson - a man he describes as "a bit of a hero of mine".

The news afforded him a brief moment of celebration amid a campaign that has had more troughs than peaks. Last season's success was undoubtedly forged on talent, but also momentum and sprinkles of good fortune at well-timed intervals.

Queens Park Rangers travel to Tyneside next Saturday, with Pardew already noting the significance of the fixture as well as taking the positives from his side's latest loss against Manchester City. While it might sound insincere to claim a beneficial element to defeat, Pardew will have learned more about his players and their personalities during the club's poor half a season than in the 12 months that came before it.

Harry Redknapp's visit to the club he once turned down is followed by games against Manchester United (a), Arsenal (a), and Everton (h) - the last of which falls on January 2. Given their current position, a return of six points would be taken by acceptable to many at the Magpies, with the main priority being to survive a Christmas of potential discontent.

January marks the next important milestone for Newcastle, both chronologically and figuratively. Their flirtation with the lower reaches of the Premier League has seen the brief invoking of memories circa May 2009. The club and team of that period pale in comparison to the current crop in a number of ways. Bereft of consistency on and off the pitch back in 08-09, the eight-year contract given to Alan Pardew was a show of faith and one that proved that the lesson was promptly learned.

Now comes the time for the club to prove that a previous failing will not be repeated. The summer required investment, and a galvanising of the squad that didn't happen. Last season's blip in form during December highlighted the lack of depth - most notably when full-back Danny Simpson was asked to play in the middle of defence away to Norwich City.

An impressive starting XI is still supplemented by very little behind it, the deputising youth players still not ready to fill the role of first-teamers. When trying to mitigate why the club did not need to purchase a centre-back, managing director Derek Llambias said in October: "We've made it quite clear to everyone. We have 11 positions that are grade A players or 'purples', as we call them. Where we are now is that we have, in effect, 11 purples if you count Anita - he can play midfield, right-back, left-back. You can't have two purples per position because the club can't afford it. You have to be realistic."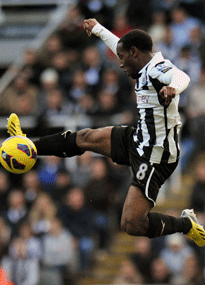 GettyImagesVurnon Anita is one of Newcastle's 'purple' players - a key first-teamer
The issue with Llambias' rationale is the distribution of Vurnon Anita to three different positions. A versatile squad does not always breed a competitive one. While 25 'purple players' is the utopian dream, it is also unrealistic for a club operating with the parsimonious approach of Newcastle. Regardless, more than a starting XI of strong individuals is required if the club are to be able to cope with the robust nature of the Premier League and a Europa League campaign.

Alan Pardew has been surprisingly open when stating his desire to add one or two players to his squad. The consistent links with Toulouse midfielder Moussa Sissoko and Lille full-back Mathieu Debuchy refuse to disappear. However, under Mike Ashley it tends to be the target you were least expecting that actually arrives. The fact both are out of contract in the summer would make them more plausible, but in the mind of the club's owner - why pay money when patience will secure them for free?

Surprises have been both bad and good at Newcastle in the last 18 months, however. Papiss Demba Cisse was linked briefly with the club in the summer of 2011, with his arrival last January as spontaneous as the majority of his 13 goals that followed last season. Add to that the news that Yohan Cabaye and Steven Taylor will not return until the second month of 2013 and Cheick Tiote will miss January because of the African Nations Cup, and the desire for new players becomes evident and vital.

A need for a more limber transfer strategy is matched by a requirement for tactical diversity. In the same way Swansea have evolved (albeit in small ways) from their first season in the Premier League, Newcastle must do the same.

As Pardew stood next to Roberto Mancini on Saturday, his constant urging for his defenders to 'hit Demba' garnered little in return. The absence of Cabaye and Hatem Ben Arfa was always bound to reduce the collective creativity, but now holding the unfortunate record of playing the most long-balls in the league this season, Newcastle must show more faith in the aforementioned Anita and Frenchman Sylvain Marveaux, who have shown glimpses of creative ability.

The void of ambition in the final third is a deficiency that Pardew is aware of. Using his programme notes on Saturday to outline his intentions, he said: "We need to rediscover the balance between our ambition to attack and the need to stay tight at the back."

Warmth is an intrinsic requirement to surviving any cold spell, and it is something Newcastle United have in abundance. While Pardew may also have urged his fans to wrap up in cosy clothes in his bi-monthly address, he also reminded them of how tight-knit the squad is.

It's the kind of bond that was missing when they were relegated and is shared in a number of ways - be it Jonas Gutierrez and Fabricio Coloccini sharing a morning cup of Yerba Mate tea before training, or the club's French contingent organising a card game for players and their wives at the home of Cabaye, as a recent Canal+ documentary showed.

Now they just require reinforcements, because if their relegated predecessors of three years ago proved anything, it is that no side is too good to go down.