Paulinho passes audition at Club World Cup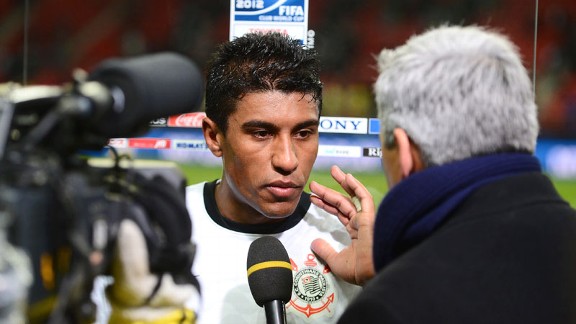 Mike Hewitt - FIFA/FIFA via Getty ImagesPaulinho's panache as a box-to-box midfielder has drawn plenty of interest from European clubs -- including Chelsea.


Chelsea will come away from their 1-0 loss to Corinthians in the Club World Cup final with far more questions than answers in their pursuit of both glory and beauty. The Blues were comfortably matched by their Brazilian opponents in Yokohama and offered only a somewhat anemic display for a team so expensively compiled over recent transfer windows.

The Blues played into Corinthians' hands with their performance as the Brazilians looked to press high and congest the midfield areas, with Chelsea offering little width in their attack. Quite simply, they were stifled and it should have come as little surprise -- this has been the Brazilians' strength for some time.

Paulo Guerrero will be lavished with deserved praise in Monday's papers for his goal scoring, but as is so often the case for Corinthians, it was the understated work of defensive midfielders Ralf and Paulinho that set the tone for the encounter and enabled their game plan to succeed.


---
Name: Jose Paulo Bezerra Maciel Junior (Paulinho)
Age: 24
Club: Corinthians
Position: Central midfield
Nationality: Brazilian

---

Ralf is very much a holding midfielder -- and a very good one at that. But it is Paulinho who is attracting greater interest both at international level and from European football. Linked with Inter Milan for some time now, his abilities are no secret and recently it has been Premier League giants Chelsea and Manchester City most heavily linked.

So what of the Chelsea link? Well, with John Obi Mikel heading to the Africa Cup of Nations, Oriol Romeu injured and Frank Lampard aging, it is clear that the West London club will be in the market for a central midfielder if available.

There are also several factors playing in Paulinho's favour in this respect. His familiarity with Ramires from the national team will be of interest to Chelsea, while his age and rising profile suggest that the values quoted can only rise in the coming months. Besides all that, his recent international appearances should also help with the occasionally troublesome task of procuring a work permit.

Though with Mikel and Romeu unavailable, it is likely Chelsea is looking for a holding player, and in that case, Paulinho is not the answer.

He has indeed played his entire career from deep in midfield, but in a very different tactical role known as a segundo volante in Brazil -- effectively a box-to-box midfielder. He could partner Ramires in a double pivot, as he has recently done for Brazil, but that is unlikely to be seen as an ideal solution in the Premier League.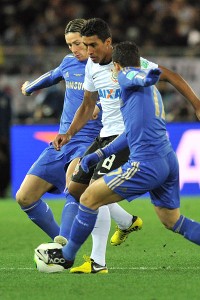 KAZUHIRO NOGI/AFP/Getty ImagesPaulinho (in white) was more subdued vs. Chelsea than he was in the CWC semi final but still performed admirably in a more deep-lying role.
What Paulinho could offer Chelsea, though, is a possible long-term replacement for Lampard. Like the Chelsea player, he is a strong and powerful runner, pushing his side forward from midfield to supplement his fine defensive work. Paulinho also offers a useful presence in set piece situations at both ends of the pitch.

Perhaps their most important commonality, however, is the ability to time a run from deep into the area. With Chelsea having been criticised for playing too horizontally this campaign, Paulinho's bursts into the box past his centre forward are surely an appealing quality. He has proved himself a consistent scorer, and more importantly, a man who scores goals on big occasions.

In Sunday's final in Japan, Paulinho was a more subdued figure in attacking areas than he normally would be -- his main responsibility being to aid Ralf in subduing Chelsea's attacking threat. Yet it would have been notable to any Chelsea official tracking his performance that one of his few bursts forward in the entire encounter eventually led to the winning goal.

It all comes back to those attributes of discipline and timing -- areas in which Lampard has traditionally excelled.

Whether Chelsea choose to follow through with their interest or not, it is clear that Paulinho will soon figure for one of Europe's leading sides. His talents are simply too good not to. Indeed, he has come a long way since brief spells in Poland and Lithuania as a teenager.

With the current trend of the game's elite sides abandoning wingers in favour of more delicate playmakers in attacking areas, players of Paulinho's directness from deeper positions are becoming an ever-more valuable commodity.

Fitness permitting, it is these attributes that will make him a key player for Brazil when they host the World Cup in 18 months and, certainly for new national team manager Luiz Felipe Scolari, the idea of Oscar, Ramires and Paulinho linking up in the same midfield is an intriguing possibility. (Who knows, it may even involve an all-Brazilian diamond with David Luiz turning out in a holding role!)

For the moment, though, the player himself has both expressed an interest in remaining in Brazil and in exploring his options abroad. With that in mind, an offer from a big club would surely tempt him to depart from Corinthians in January or possibly next summer.

Brazilians have been a greatly sought-after bunch at Stamford Bridge in recent years and may once more play a role as Chelsea search for greater core strength for their new vision of the club as a bastion of attacking football.

Having passed his Japan audition with flying colours, Paulinho could well be that man for them. If he isn't, then he could well make Chelsea regret that decision greatly further down the line.