Waspish Wenger hits back at critics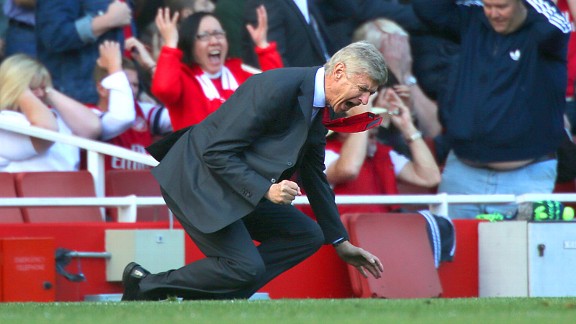 APArsene Wenger is under fire following a spate of poor results
At the end of a concerning week, Arsene Wenger game out with a pretty curious comment.

During an increasingly fractious Friday press conference, the Arsenal manager was finally asked whether it was time to stop defending his players, whether they were actually bothered enough.

"You think they don't care and they go home and think they had a fantastic game? They do care. Don't worry," he explained.

"I have had groups who had fantastic results who were less serious than these players, believe me; players who were less focused than this team. Of course these players are hurting."

If that's the case, though, then it's an answer that gives rise to an array of other questions: was he admitting that they aren't as good as previous sides? Is this training suited to them, then? Most troublingly, if other Arsenal teams effectively coasted, was he saying this was the best the current team have to offer?

That in itself encapsulated the entire press conference. Every time Wenger attempted to close out one issue, he simply opened up another. Usually such a skilful media operator who is adept at deflecting any difficult story with a cleverly angled line, here he was just fudging responses and irritably picking issue with minor details like the exact price of players.

By the end, only two things were clear. One, that Arsenal have an awful lot of problems at present. Two, that Wenger was sticking to one particular line.

"I am responsible for the results."

That, though, is ultimately what it all comes down to; or, rather, what all the debate about his future and the direction of the club comes down to. How much of the recent poor situation is specifically down to a manager there for 16 years? It is the question driving all the discussion. And it is worth properly assessing the various facets.

Of course, you can't even begin to question Wenger's input without considering the shadow over it all: the Emirates Stadium. There is no denying that the construction of Arsenal's home has had an impact on the team. Tellingly, the last game while the club still called Highbury home was the 2006 Champions League final. What's more, there is that net spend record: Arsenal are one of the few clubs in the positive. From that, there is even an argument that they are overachieving - even if they are only within touching distance of the top four at the moment because of the flaws of others.

Transfers are still only one side of the finances, though. Another is the wage bill, and this paints a different picture.

Arsenal currently have the fourth highest in the Premier League, and are only about £200,000 behind Manchester United. Of course, many might cite that as the difference between having a player of Robin van Persie's quality and not.

"[Manchester] City, Man United and Chelsea pay three times more the highest wages than us," Wenger complained on Friday.

That's all undeniably true, but it also omits the fact that those clubs appear to have much more efficient payment structures that allow their top earners to receive more. It is unlikely, for example, that United have players of the mediocre quality of Gervinho, Sebastien Squillaci, Marouane Chamakh, Andre Santos, Johan Djorou and Ju Young Park on wages of between £40,000 and £70,000 a week - as Arsenal do. If even three were gone, it might allow them to better compete for a higher-quality player. And that might make a disproportionate difference.

When this was put to Wenger on Friday, it was if he wilfully missed the point.

"First of all, you don't know their wages. Secondly, you accuse us of not paying the wages the players want and, on the other hand, you accuse of giving them the money they want."

Although the debate continues to rage over whether Wenger has the money and won't spend it or simply doesn't have enough, there appears to be an even more fundamental issue.

When he first came to England, he had three distinct advantages which immediately allowed him to excel: his sports science which accentuated the quality of his existing players; his scouting which brought in even better ones and his philosophy that provided the framework for them all.

Now, virtually every other club has caught up with the first two and arguably even surpassed Arsenal, and that has started to have a distinct effect on the latter.

It only emphasised Wenger's irritability and evasiveness that, when he was asked about the lower quality of his squad, he requested to be given specific "names". Yet, when those names were given to him - like Gervinho, Chamakh, Santos, Park and Squillaci - he said he didn't "want to go into individual assessments".

"Gervinho is a good player... Chamakh was free. Squillaci nearly free. You cannot say that we have a squad of no quality. They are international players."

Arsenal, however, no longer seem to play with with a discernible international style. Whereas once they were sleek, quick and exciting, now they are stagnant, laboured and unimaginative. In two of their biggest games this season - away to Manchester United and at home to Schalke - they didn't even have a shot on target until stoppage time. In short, they've become dull.

Of course, the constant exodus of established players further hinders this process. But, even then, the reasons for their departures are not completely down to finances; they are somewhere between that and the unbreakable cycle of flattery and failure that the club finds itself in.

There's an interesting anecdote from Old Trafford that illustrates the stagnation at Arsenal.

Apparently, Alex Ferguson no longer even considers the game a true challenge because he knows exactly how Wenger will line up his team, regardless of personnel, and has a template for how to beat them: intimidate them physically and then eviscerate them with pace. So much for the philosophy.

Similarly, top-level finances and the Emirates Stadium don't explain why Arsenal continue to offer flat or underwhelming performances against lesser-resourced teams. Already this season, Arsenal have failed to beat Sunderland, Stoke, Norwich City, Fulham, Aston Villa, Swansea and - of course - Bradford.

On Friday, Wenger again complained about how it has "become the modern way" to "criticise when the results are not as expected". The thing is, results have not been as expected for six years now. In fact, a troubling symmetry is beginning to take shape. Wenger's trophy-winning spell at Arsenal lasted eight seasons. After Bradford, this now looks set to be his eighth without one.

In saying all of that, there is still the feeling that - for once - Arsenal can immediately fix a fair few issues with one or two statement signings. As Everton found on a slightly lesser scale last January with the purchases of Darron Gibson and Nikica Jelavic, sometimes you can speculate to accumulate without threatening the financial welfare of your club.

There is talk Wenger will be giving anything between £40 million and £60 million to spend in January, to make a big signing.

When this was put to him, he merely asked "what do you call big?"

Then he cracked a joke.

"We will buy Lionel Messi in January and we will surprise you."

The problem was no-one was even smiling. Least of all Wenger himself.

Of course, he remains a historic football figure who has brought so much joy to this club and even so many neutrals. And, in many ways it is sad to see him under such pressure.

Equally, though, it can't be argued that the club's current problems are completely down to the stadium. Sadly, Wenger may have exacerbated the issue.