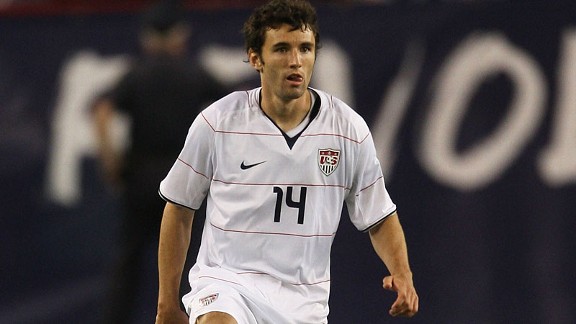 GettyImagesMichael Parkhurst wants a move that will also benefit his international career
These are exciting, yet anxious, times for US international Michael Parkhurst.

The defender's contract with Nordsjaelland in Denmark expires at the end of the month, and Parkhurst is keen on making a move away from the Superliga to a more prestigious European league when the winter transfer window opens in January. He's currently mulling an offer from a side in the Bundesliga.

A rarity for Americans, Parkhurst can say he has played in the Champions League, and the 28-year-old acquitted himself well in the world's top club competition, even landing in the team of the week following Nordsjaelland's 1-1 draw with Italian behemoth Juventus.

Although Nordsjaelland, dubbed the 'Danish Barcelona' by some, lost its five other games in a group that also featured Chelsea and Shakhtar Donetsk, lopsided results didn't match performances. And Parkhurst was on the pitch when Luiz Adriano controversially scored for Shakhtar against Nordsjaelland in November.

ESPN chatted with the Rhode Island native, who is married with two young children, in a telephone interview from Denmark.

Q: Mike, what are you up to at the moment with the Superliga on winter break?

A: Right now I'm still in Denmark and looking at options. We're going to stay here for December and try to get our new contract sorted out. We visited a club a couple of days ago and there's an offer on the table from a team in the Bundesliga, so we're deciding whether to take that now or wait and see what else comes up.

How much interest has there been from clubs around Europe?

There has definitely been some interest throughout Europe but there's a difference between interest and having an offer on the table. It's really early in terms of the transfer window and teams are taking their time. We don't have offers from the teams that are interested for a variety of reasons, but the thing we're looking at now is, 'How interested are these teams?' Are they just waiting for other things to sort themselves out? Will there be offers from these teams in a couple of weeks, couple of days or is interest just farfetched? We're trying to sort our way through all the political BS out there and sort out what's real and what's not.

Until there are offers I don't really care who is interested. It doesn't matter if Manchester United is interested; if there's no offer, yeah, it doesn't matter.

Obviously if you turn down the team in Germany, there's no guarantee that another offer will come. A bit of a tricky situation, isn't it?

Absolutely. That's the risk you run by waiting. For sure once they put something on the table they don't want to wait forever. Obviously I'm their priority, but they have other backup plans. They want to make a move, so there's definitely a timeline. The clock starts ticking. It's nice to have the option there for sure but we're debating whether it's the best move for me, my playing career and my family.

The Bundesliga is a top league. What has stopped you from saying 'yes' immediately?

It's not a top team, so that's what we're dealing with. It's a situation where maybe relegation is going to be a factor, so is that a situation we want to be in? Germany, of course, is a fantastic league and I'd love to play there, so that's definitely the positive about it. Everything about it is better than what I've had in the past. We're discussing things. But it's a stressful time right now.

Do you have a preference in terms of country or league?

Somewhat. It's difficult because each country has its pros and cons. I think as far as playing style and lifestyle, Spain and Italy offer a lot of good options. I guess you also have to be careful in those countries about getting into a financially sound club and making sure you get paid every month. I don't want to get my family in the type of situation where you aren't getting paid for a couple of months and you have to worry about that. That's an issue there.

England, obviously, would be an easy transition with the language. I still think maybe my style fits better elsewhere, but we'd listen to offers from there. Germany maybe has a bit of everything and it wouldn't hurt with the national team. It's tough to put one country in front of another. I would seriously look at all four of them.

This could be your last European contract. That's another reason to be prudent, I imagine.

It's one of the big things we've been talking about. Yeah, this could be my final contract in Europe and we want to make sure that it's the best one possible for us to enjoy ourselves and for me to play at the highest level possible and give myself a good chance to play with the national team in the next two years leading up to the World Cup. That's why we want the situation to be perfect. Of course perfect doesn't always happen. You have to give and take on certain things. But we want to make sure we get it right.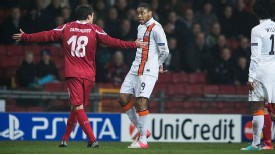 GettyImagesMichael Parkhurst remonstrates with Shakhtar Donetsk's Brazilian striker Luiz Adriano after their controversial goal
Playing in the Champions League must have been great, and it also put you in the shop window.

Definitely. I thought I had a couple of good performances that will hopefully help me out right now. We played three top teams, and it was a fantastic experience, one I'll never forget. I might never get the chance to play there again. I'm glad I got that experience that a lot of pros never get.

What was the highlight?

Definitely getting a point against Juventus at home. We were nine minutes away from getting the victory. Yes they had their chances and our keeper played fantastic and they deserved to have the draw, but you don't always get what you deserve in football, so we would have taken the victory and celebrated! Taking a point for our team was a great accomplishment. I'll always remember that.

Interesting you mentioning teams not always getting what they deserve. Nordsjaelland controlled play for most of the game at home against Chelsea, Chelsea's opener at Stamford Bridge came courtesy of a harsh penalty and you guys also led Shakhtar at home.

Overall I thought we had a very good tournament. No one in our team had ever played in the Champions League. We had an extremely difficult group. The game we were most disappointed about was Chelsea at home. We had them at 0-1 and (Chelsea keeper) Petr Cech made an amazing save. It could have been 1-1. Instead we gave up a second and then they pour on two more. It ended 4-0 and you think we got crushed but the game was very tight for the first 80 minutes. But we were taught a couple of lessons away to Juventus and Chelsea in must-wins for them.

What are your recollections of the incident against Shakhtar? [Note: Adriano scored when Nordsjaelland thought it was due to get the ball back and then Nordsjaelland wasn't allowed to score from the ensuing kickoff]

There was a lot of confusion and no one knew what to do. We had some conversations with some of the guys on their team and our captain and their captain had spoken a bit. It seemed their team was divided and their coach took no leadership on the issue. I think a couple of their players were going to let us put the ball into their net and let us start over. But the whole team didn't feel like that. We decided to give it a shot and walk it down there and see what happens knowing they might or might not let us. Obviously they didn't.

How will you look back on your time with Nordsjaelland, which went from minnow to first-time league winner?

It's been a crazy four years. Our first two years we fought relegation and my last two seasons we were fighting for the title so it's quite a turnaround for the club. It's nice that I was a part of that. We brought the team its first trophies ever in the cup and league. It was a really successful four years and I'll look back on my time here with fondness.