Jose Mourinho's deadly third-season boredom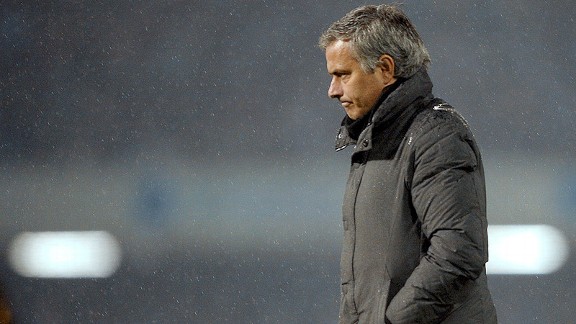 Miguel Riopa/AFP/Getty ImagesJose Mourinho's ennui at Real this season hints he may not be a "Special One" for the long term.
Dissect any manager and you'll find a weakness. Arsene Wenger is achingly stubborn, Alex Ferguson has secretly forgotten what central midfielders are and Roberto Mancini is actually Steve Bruce wearing a wig, with the scarf to cover the double chin -- allegedly.

There used to be one exception. Only Jose Mourinho seemed to evade the trend -- he'd always won, always been loved by his players and always had a rapport with his team's fans that other managers (Rafael Benitez) can only construct in their own heads. Dissect away, officer! You'll find nothing here! No, that's not my underwear, it's my wife's!

But eventually something's cracked -- as it always does -- in Mourinho, because perfection, like happiness, is a painful illusion. And you'd be naive to think otherwise.

Eleven points behind Barcelona in La Liga, second in its Champions League group behind Borussia Dortmund having failed to win either game against them and now defeated by Celta Vigo in the first leg of its Copa del Rey matchup, Mourinho's Real Madrid currently looks like a sort of football club version of Ricky Hatton: punch-drunk, tired and perhaps in need of a renewed sense of dignity.

Mourinho blasts players for Copa defeat

If reports are true, the closest thing to a direction the club has had all season was last week when it decided its manager wouldn't stay on after June. The Man For All Seasons has turned out to be The Man For About Two And A Bit Seasons -- a manager only for the short term.

There have of course been rumours about this flaw all along -- at Porto, Chelsea and Inter Milan, only once did Mourinho finish a third season as manager, and it certainly didn't go to plan either -- but there had never been proof until now that "flaw" was really the right word for it. He left two of those clubs on his own terms to move on to bigger jobs, both times after two seasons, so we never glimpsed how the third campaign would look. At Chelsea, on the other hand, the world was quite rightly ready to blame tireless anti-self-awareness campaigner and owner Roman Abramovich for Mourinho's departure after a poor finish to his third and final full season at the club.

After this season, though, those exits ought to be framed differently. What had begun to happen at Chelsea five years ago has been played out in full in Madrid this season, finally giving non-rubber ammunition to those who have shouted all along that Mourinho would never be able to sustain success in any one place. The intensity has dropped off, the consistency of results has gone and cliques within the squad have begun to emerge. We're left to assume that had Mourinho stayed at Porto or Inter any longer, Sergio Ramos and his Alice band would have openly questioned his authority there too.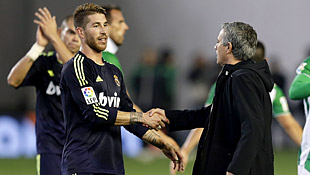 Angel Martinez/Getty ImagesIf Mourinho was truly tuned in this season, would Sergio Ramos' insubordination be rewarded with as much playing time as the defender is getting?
Now, undoubtedly part of Mourinho's genius has been in covering up -- or negating entirely -- this problem. Just as Alex Ferguson has worked around not knowing what a central midfielder is by simply deploying dozens of players -- often at the same time -- in that position, Mourinho has always got out of clubs at the right time, just before the magic wore off. But you're left asking why the magic has to wear off at all. The fact that Mourinho doesn't last well after two seasons is a symptom of failure, not an explanation for it. So what's the deal? Why does this keep happening? Is it something I said?

One unifying theory might explain it. Quite simply, it's hard to care once you don't have something to fight against directly anymore. And if your name is Jose, this seems to be a particular problem.

Look back at Mourinho's career and you see the pattern: invent the point, prove the point, then move on. At Porto he won the Champions League with a team that everyone would have said could never do it (as if there had ever even been a question of them doing it) and then left for Chelsea. At Stamford Bridge he knocked Wenger and Ferguson off their half-constructed perches with two league titles straight away when consensus said that it would take time; then he spent an entire season fizzling out until he simultaneously quit and got sacked at the beginning of that fourth season there. At Inter he won the Champions League treble after people had said he couldn't repeat what he'd achieved at Porto, only to immediately walk away.

Now he's at Real. In his first season there he won nothing except the Copa del Rey, which obviously left work to be done last season. But the point wasn't just to win; the point was to prove that one of football's greatest ever teams, Barcelona, could be beaten. How did Mourinho do it? Knowing he'd probably lose on the pitch, he went postmodern and worked outside the genre, going after the Barcelona coaching staff -- introducing Tito Vilanova's eye to his index finger, using press conferences exclusively to provoke Pep Guardiola and turning conspiracy theories into cliche -- and then proved his point not when he captured the league title for Real, but when he forced Pep into taking a break from football. Bye-bye, Pep!

Mourinho didn't just force Pep into changing jobs, he forced him into putting his career into hibernation. And when Guardiola quit, he didn't just move away from Spain, he moved continents -- the footballing equivalent of knocking someone out and then pushing them out of the ring. Into a different continent. Guardiola has since spent nearly a year without a job in football, and the natural assumption (if not the only assumption) to make is that he's waiting to see where Mourinho goes next so he can avoid him.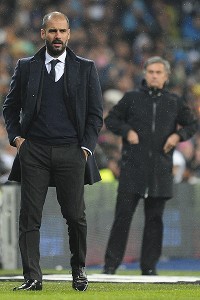 Javier Soriano/AFP/Getty ImagesRivals Pep Guardiola and Jose Mourinho are both desperate to taste Champions League success at their new clubs.
Mourinho beat Barcelona mentally and then also on points as an apparent afterthought. The point does not get more thoroughly proved than that. But it leaves nothing else to be done at Real. We can probably say that Mourinho doesn't love football -- he may even despise it -- but he loves winning, and that means finding new people to beat all the time. With Guardiola vanquished there's nothing left for him in Spain. Vilanova, of course, was beaten even before he was appointed as Barcelona's new leading man.

These days Mourinho simply doesn't seem interested. After last night's defeat to Celta Vigo he said he was "disappointed" in his players -- despite the headlines, that hardly sounds like a "blast," it sounds like grim acceptance of the status quo. Look at last summer's signings: Luka Modric and Michael Essien. Real didn't need them; they're Ballack and Shevchenko Mark II, players brought in perhaps without Mourinho's consent but definitely without his giving a damn. It goes like this: If Modric wasn't his signing, it's perfect proof that he's lost interest, and if he was... it's also perfect proof that he's lost interest.

If Mourinho still really wanted to win at Real this season, Sergio Ramos' efforts at insubordination would surely have been treated far more harshly. Ramos has been dropped a couple of times for shooting his mouth off but he hasn't been banished from the first team or even publicly bad-mouthed -- it stinks of a lack of effort on Mourinho's part.

The list goes on. Think about it: If Mourinho was trying, would Vilanova have any eyes left at this point? Would he not, at the very least, have given him a bit of a shove at the last Clasico?

Mourinho needs a new enemy to accuse of having the referees in his pocket. The reasonable guess, therefore, is that his eyes are on Manchester already. Either that or he's just planning to go after Pep again for laughs, a superior pursuit in both intellectual and emotional terms. The sooner he has a new point to prove, however, the better. Losing to Celta Vigo, first leg of a two-legged tie or otherwise, is not befitting of a man of Mourinho's managerial genius.

Ethan Dean-Richards is an editor of Surreal Football. Find him on Twitter @surrealfootball.