Blatter, Platini must team up on goal-line tech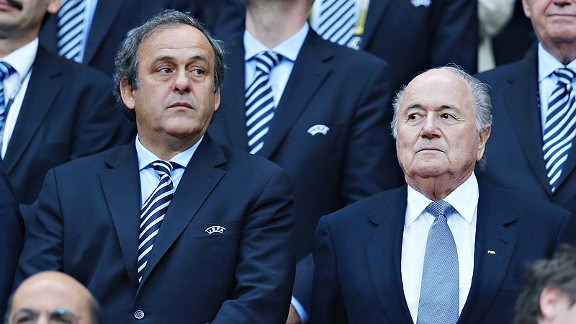 Alex Grimm/Getty ImagesIf Michel Platini and Sepp Blatter care about the good of the game, they'd be best served putting aside differences and sorting goal-line technology together.
So now it has become an "either/or" debate: Either the game implements goal-line technology to determine when the ball crosses the line. Or it puts real live human assistant referees behind the goal -- additional assistant referees (AARs), as UEFA likes to call them -- and they make the call.

The former system is undergoing trials right now at the FIFA Club World Cup in Japan. In fact, two different technologies are being used.

One, called GoalRef, is German and uses magnetic fields and a microchip. The other, Hawk-Eye, is British and employs cameras in the goalmouth. The latter has been used by UEFA in the Champions League and Europa League since 2010 and was employed at the European championships as well. Officially, it's also on trial, though you suspect that as long as Michel Platini is running the European game we'll have AARs hanging around behind the goals.

Platini, an avowed opponent of technology in the game, favors AARs. Sepp Blatter, the FIFA supremo, wants goal-line technology. Me? I'd be very happy to have both. And I'll gladly explain why in a minute, but first let us lament why this debate has been framed as something mutually exclusive.

Humans or machines. Platini or Blatter. UEFA or FIFA.

For a long time, Platini and Blatter were broadly in agreement on technology. They didn't want it in the game. However, Platini, with a bit of input from some senior UEFA referees, noted that the modern game was becoming difficult to officiate. One guy and two assistants (who were relegated to the side of the pitch) were being asked to supervise 22 men who were quicker and stronger than ever before. There are very few team sports in which one man has to cover so much ground and patrol so many people, so the idea of having additional assistants came up and, with some hefty lobbying, was adopted.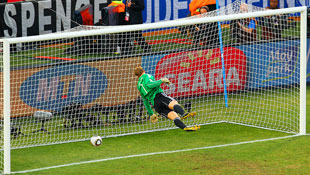 Cameron Spencer/Getty ImagesFrank Lampard's "goal" versus Germany at the 2010 World Cup was a major tipping point for goal-line tech. How could FIFA let this happen on its biggest stage?
Initially it wasn't about goal/no goal situations; rather, about having an extra set of eyes with a different sightline to help the referee. It was thought this would help with difficult decisions, especially when the referee was far away or when his view was obstructed. Furthermore, it would act as a deterrent against shirt-pulling and other underhanded tricks on set pieces.

When Frank Lampard scored his "ghost goal" against Germany at the 2010 World Cup, UEFA types -- somewhat smugly, but you can't really blame them -- reminded everyone that with AARs, the goal would have been given. Non-football fans were left to deride the sport for the fact that, in 2010, it could allow such an egregious mistake to take place in the world's biggest sporting event.

Blatter got his own back at Euro 2012. When Ukraine played England, Marko Devic's shot clearly crossed the line before it was cleared by John Terry. The referee was far away, yet the AAR judged it incorrectly.

Blatter -- whose usual tweets are milquetoast fare like "Looking forward to some enthralling football!" or "Deeply honoured to again meet HH Sheikh Hamad bin Khalifa Al Thani, The Emir of Qatar" -- hit Twitter (or perhaps advised one of his servants to do so) and stated: "[Goal-line technology] is no longer an alternative but a necessity."

The issue isn't really whether Sepp is right or wrong. The issue is what he was doing. Rubbing Platini's face in it. See? Your guys behind the goal don't work!

And on we went. Blatter pushed goal-line technology at the international board's meeting the following month, which is why it's now being put on trial in Japan. Platini fired back this week, saying it would cost UEFA alone some $65 million over five years to implement the technology and that he prefers spending that cash on "grassroots" because such "ghost goal" incidents are so rare.

I don't doubt that Platini's opposition to goal-line technology is genuine, though in my opinion, it's not very well thought out. His main objection isn't about cost -- it's the old "slippery slope" argument whereby if you allow this, soon you'll have video referees and instant replays and all that jazz. It's an argument I don't buy; if enough people favor something, it will happen. After all, it's not as if Hawk-Eye or GoalRef are gateway drugs to some kind of technological binge.

As for Blatter, heck, maybe he's genuine too. Maybe he did suddenly see the light, prompting him to make a 180-degree turn after 50-odd years in the game.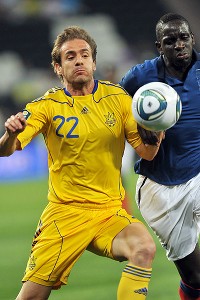 Franck Fife/AFP/Getty ImagesMarko Devic's phantom goal versus England at Euro 2012 gave Sepp Blatter ample ammunition with which to mock Michel Platini's "AAR" system.
Yet I can't help but fear that their own personal interests -- and the fact that these two are, after all, rivals within the game's power structure -- have somehow solidified their opinions. Politics shouldn't play a part in this but, sadly, you get the impression it does. There are huge contracts at stake for Hawk-Eye and/or GoalRef should goal-line technology be adopted. And with a FIFA presidential election coming up in 2015 -- Blatter has said he won't run again, but if he "changes his mind" it sure as hell won't be the first time -- nobody wants to be seen as a "loser" going into it.

The sad part is that there is no reason both can't be adopted (assuming goal-line technology proves to be reliable). Blatter and Platini are effectively forcing us to chose one or the other when in fact both would be good for the game.

UEFA claims that the AAR in that Ukraine-versus-England game would have made the right decision if only he had been correctly positioned. That's great, but the fact is that he wasn't. He's human. Humans make mistakes. Hawk-Eye and GoalRef, presumably, would have caught that.

By the same token, it's a no-brainer that AARs do much more than simply adjudicate goals. They do things that goal-line technology simply can't do, like spotting infractions the referee can't see and helping him make decisions.

People think they "don't do anything" because they don't wave their arms or make any obvious signals. Well that's because under the terms stipulated by FIFA, they're not allowed to. (Why not? Goodness knows, but you'd be excused for thinking it was some kind of Blatter power play.) But they do communicate continually with the referee via
radio and they've caught plenty of decisions that would otherwise have been missed. They also act as a huge deterrent, as evidenced by the greater number of headed goals and goals from set pieces.

It's time for Platini and Blatter to put this "either/or" mentality to one side. If they're worth having, there is no reason we can't have both. They don't interfere with each other; they complement each other. Whatever political beefs may or may not exist between the two men, leave them out of this discussion.

For the good of the game -- which, funnily enough, happens to be FIFA's slogan.

P.S.

In March, FIFA also approved the use of what it calls "vanishing spray." You may have seen it in South America and elsewhere. The referee has a little can of white spray that he uses to draw a line 10 yards from the spot of a free kick to ensure there is no encroachment from the wall. After a minute or so, the line vanishes.

This one is an absolute no-brainer but it has been sort of lost in the shuffle. In UEFA competitions and indeed in most European leagues, the 10-yard distance is rarely observed. The referee pushes the wall back and the second his back is turned, the players advance. With a white line, this wouldn't be happening, and with the wall consistently 10 yards back, we'd likely see more goals.

I know it's not Platini's pet project but -- guess what? -- occasionally FIFA comes up with common-sense solutions too. There is no reason this shouldn't be adopted tomorrow at every level of the game.