AVB continues steep learning curve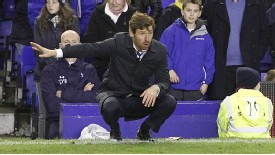 PA PhotosAndre Villas-Boas: Reportedly being considered by PSG
Andre Villas-Boas came within touching distance of claiming the credibility he has long craved as his Tottenham side closed in on victory at Goodison Park last Sunday, yet there remain as many questions as there are answers hovering over this compellingly divisive coach.

With Tottenham winning 1-0 and on course for a fourth successive league win against one of their chief rivals in the race for a Champions League spot, Villas-Boas must have sensed that his moment of vindication was imminent, with the critics who have long suspected he is out of his depth in the Premier League apparently about to be silenced by a coach coming of age at last.

In the end, though, late goals from Steven Pienaar and Nikica Jelavic burst the latest Tottenham bubble just as it was showing signs of promising inflation, leaving Villas-Boas to continue his pursuit of vindication in a country that remains as bemused by his presence as ever.

However, the coach who was humiliated in brutal fashion at Stamford Bridge last season appears to have learned plenty of lessons from his chastening experience in west London and for that reason, he has proved himself to be worthy of the second chance he fortunately received.

Villas-Boas is in considerably better shape now than he was this time last year, when unnamed Chelsea players were openly criticising their manager in the media, with those writing the stories only too happy to shoot down the coach whose naivety was evident on the touchline and in the media room before and after games.

This newcomer created enemies aplenty during his short time at Chelsea, with the likes of Frank Lampard and Didier Drogba among those who rejected his coaching ideals and those of us forced to deal with him on a weekly basis in his painful press briefings left frustrated by his refusal to offer even a morsel of useful information.

AVB MK1 was very much the young pup trying to make his mark in the only way he knew how, yet the bullyboy tactics he employed with players and the media didn't suit him and backfired in horrible fashion.

To his credit, AVB MK2 is a little more humble on and off the pitch. Where once he got rid of big-name players Alex and Nicolas Anelka and refused to offer them any route back into his team at Chelsea, he has shown more flexibility in reintroducing Tom Huddlestone and Michael Dawson into his Spurs set-up despite trying to sell the duo in August.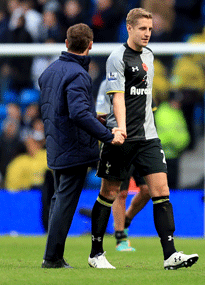 PA PhotosAndre Villas-Boas has shown with Michael Dawson that he is willing to give players the sort of second chance he has had himself
His public image has also improved. The new Villas-Boas smiles more, he is more eager to answer questions in press conferences and he seems to have got his head around the role of being a Premier League boss now. He seems more comfortable in his role than he was at Chelsea a year ago, with the slightly less pressurised Spurs job a better fit for his novice talents.

However, the doubts about his abilities refuse to disperse and the statistic that his side have conceded more goals (10) in the last 15 minutes of games than any other Premier League club this season is enough to create a 'what might have been' story for Spurs already.

Dropped home points in games against West Bromwich Albion, Norwich and Wigan were typical of a club who have wallowed in too many false dawns down the years and if fatigue is a factor in their late concessions, the manager could be targeted as the architect of their demise.

Villas-Boas' decision to use his star names in Europa League matches bucked a trend most Premier League coaches have followed in recent years, with the tendency to use the second-string European competition to blood young players ensuring domestic ambitions have not been jeopardised. That was Harry Redknapp's plan during his time as Spurs boss, but his successor has adopted an alternative approach.

So the latest comments from the Tottenham boss suggesting his side are flagging physically just four months into the season leaves him open to criticism, with this rare week of inactivity coming at an opportune moment for Villas-Boas' battle-scarred squad.

"Finally, we have a breather this week," said Villas-Boas, as he looked forward to a lengthy preparation for Sunday's game against Swansea. "We now have a week to prepare and that's important for us because we haven't stopped for a month or so. I don't agree that the Europa League has affected us physically in the league games as some of our best performances this season have come on the Sunday after a European game. So that is not the problem. It is not a mental thing, it's the nature of the game.

"Now the players can recover and I think you will see us at another level in these next two home games. We have to make the most of it. It has been quite an adventure in the Premier League this season and if we count the number of results that have been going for us before the last minutes, we would be in first place now. However, we are still in a good position. Conceding late goals are something we are aware of. We speak about it openly and it is something we have to improve, seeing off games."

There is still a feeling that Villas-Boas is learning on the job he landed so unexpectedly last summer, yet there remains an enticing possibility that he may defy the sceptics and thrive before he runs out of time.

Despite all their missed opportunities this season, Spurs find themselves level on points with fourth-placed Everton and just three behind Chelsea in the race for a top-four finish and in a season notable for its unpredictability, the chance is there for Villas-Boas to take advantage.

"The league is very tight at the moment and if we got the result we wanted at Everton, it would have put us in a very good position," he said. "Two home games before the Christmas fixtures [against Swansea and Stoke] is good for us and we have to continue our performance and bounce back. We've showed good signs of ability to bounce back from adversity and I think we'll do it one more time."

Failure in his latest posting will almost certainly mean Villas-Boas' moment in the brightest of sporting spotlights will have passed for good and while there are flickers of hope that he will come good in the end, this Portuguese tactician knows the consequences of failing to make the most of his second glorious opportunity in the Premier League.