In "Back to the Future," that classic '80s flick, our protagonist Marty McFly had to find a way to change the past or he'd cease to exist in the future. We knew this because poor Marty, who had time-travelled back to the 1950s, had a picture of himself and his family that did something extraordinary odd. With each passing moment, the subjects in the photo slowly faded away and would eventually disappear.

Erased from memory.

Something similar has been happening at Manchester United, albeit minus the DeLorean. Sir Alex Ferguson has been removing any trace of his once-promising but now out-of-favor winger, Nani. The player once considered Cristiano Ronaldo's heir apparent at Old Trafford, Nani was conspicuously absent from the official 2013 Manchester United calendar.

Erased from memory.

It's been a dreary and drawn out ending to Nani's time at Old Trafford. The beginning of the end came in the Capital One Cup, a competition that a team such as United regards more as an annoyance than an opportunity. Ferguson's side was set to see the game out against Chelsea on Halloween when Nani went all diva and, instead of trying to maintain possession, he took the opposition on and turned the ball over. This blunder ultimately led to Chelsea winning a penalty (scored by Eden Hazard) and forcing extra time. The Blues won, 5-4, and that was that for Nani. Ferguson is quoted in a Harvard study saying that when he talks to the media, "I certainly never discuss an individual player ... it stays indoors." It didn't that day, however, as the Master called out the pupil on Sky Sports.

Nani has played twice since, once as a sub (on in the 81st minute) against Arsenal in the league and once as a starter against Braga, his last match, on Nov. 7. To be fair, he has since been dealing with a hamstring injury, though when you factor in the rumors that Nani has refused to apologize for a training-ground bust-up with teammate Davide Petrucci and his ultimately unsuccessful attempt to get a transfer to Zenit in the summer, the player is all but history at OT. And the latest rumor? Arsenal is interested in the Portugal international.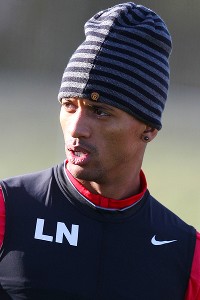 Matthew Peters/Man Utd/Getty ImagesDespite some strong seasons at Old Trafford, Nani is now on the outside looking in.
There have been some suggestions, including from Braga coach Jose Peseiro, that Nani hasn't received enough pats on the back and emotional support from Ferguson. But who's to say? Player-manager relationships are complicated affairs. "You think you are a better player than they are, and they think they are a better manager than you are," Ferguson said in that Harvard study.

But Nani will be missed, let's get that straight. Sure, he could turn a match into his own personal show, "So You Think You Can Dribble." His shots at distance are more likely to become wayward Exocet missiles requiring fans to take cover than they are to be on target. Last season in the league, he was third in shots on the United squad with 65, but only 19 hit their mark.

Nani is the talented kid on the playground who entertains and brings that bit of anarchy to the side. Will he shoot from distance, dribble into the box, or make the smart pass? Will he stay on his feet or contrive to act like the guy who could get "hurt" walking through the pillow department of Macy's?

Ferguson tolerated the erratic play last season because Nani delivered: He led the team in chances created (69), was second in assists (10) and finished fourth in goals (8) in the Prem. Two seasons ago, he had the joint-highest combined goals and assists record in the league – 9 and 18 – and throughout that run he terrorized defenses. He would frustrate the hell out of Rooney by delaying crosses into the box (in that regard, he is the anti-Valencia), yet in the past three Prem seasons, Rooney received a team-high 276 of Nani's 2,101 completed passes.

And who can forget how, last season, Nani opened the scoring against Chelsea with a 31-yard blast. It was his longest goal in the past three seasons.



There are more highlights. This compilation offers a dazzling array of shots, a highlight reel only undone by the soundtrack – the (atrociously awful) Offspring. Come on, surely Nani deserved something better – perhaps the New Bomb Turks' "Jeers of a Clown"?



Bloopers are easy to find, too, including this one: Not from his time at United, but on the Portugal national team between former United teammates. If ever you needed proof that sometimes the mouse running on the wheel in Nani's head needs to take a time-out, this was it. The man who loves his post-goal cartwheels stole Ronaldo's glory by inexplicably heading a ball that was clearly headed for the back of the net. Ronaldo's reaction? Priceless.



These days, Ferguson is relying on Ashley Young on the left-hand side, a player – like Nani – who frustrates in his fickle ways, yet still turns the game with a brilliant pass or two as well as with his ability to make runs inside. He won't dominate a game, but for those few moments of brilliance, Young is often worth inclusion. So it's a rather like-for-like trade, all the more so, cynics would scoff, for both players' penchant for putting on the flipper and goggles at the slightest hint of contact in the box.

But Young's goals will never match the razzle-dazzle of Nani's. As one Nani song goes, "Nani, Nani, I'd walk a million miles for one of your goals." After the January transfer window closes, that may literally be the case.