Big questions for Scottish soccer to answer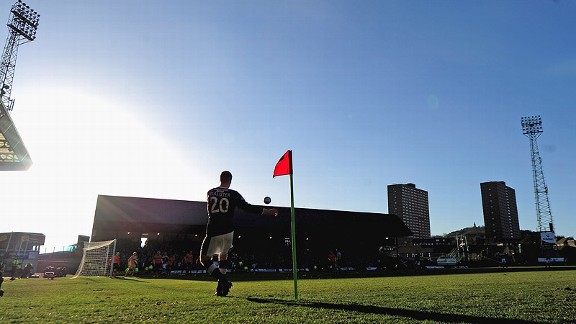 Jamie McDonald/Getty ImagesThe SPL -- and Scottish soccer in general -- is at a crossroads. What's next is anyone's guess.
Scotland might be debating the pros and cons of independence from the rest of the United Kingdom, but its football scene remains the most politically charged forum in the land.

Over the past two seasons the sport in Scotland has become something of a battleground. It has endured conspiracy theories, referee strikes, accusations of institutionalized bigotry, and the demise of one of its biggest clubs, yet all that could serve as a mere prelude for the turf war about to be fought.

Representatives of the Scottish Premier League's 12 member clubs met at Hampden Park last week to approve proposals that would dramatically change the structure of Scottish league football. The plans would see the creation of two top tiers of 12 teams that would split into three divisions of eight after two rounds of games, plus a bottom tier of 18 teams.

It speaks volumes of the Scottish game that while its English counterpart, the Premier League, continues its mission toward world domination with multibillion-pound television deals seemingly announced on a weekly basis, the SPL is less than 15 years old and in desperate need of an overhaul.

However, can a formula be found for the revitalization of Scottish football, or has society left it behind?

An annual financial review of the SPL (warning: it's a PDF file), published this week by PricewaterhouseCoopers, revealed Scotland's top flight has gone from recording a profit of 2 million pounds in 2010 to a loss of 11.9 million pounds this year.

In short, it seems as though the SPL has failed to adapt and evolve to the demands of the modern football supporter; although Scottish football chiefs are attempting to make amends for lost time by proposing a comprehensive league revamp, disagreement and dispute over the way forward has hindered progress.

But perhaps Scottish football's biggest mistake has been a failure to recognize how the sport has changed over the past two decades.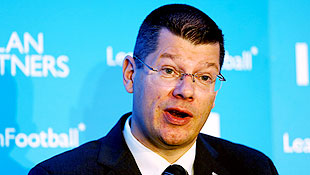 Tom Shaw/Getty ImagesScottish Premier League CEO Neil Doncaster has been struggling at the helm of reconstruction in Scottish soccer as not everyone sees eye to eye on what's needed.
It's not a mistake that cannot be attributed to those in charge of the game now, or even those who preceded them. Instead it's a fundamental flaw in the way the sport in Scotland operates -- rather than eradicating it, the proposals put forward by the SPL would actually exacerbate it.

Scotland's senior league structure, split between the SPL and the Scottish Football League, consists of both full-time and part-time teams. The natural line between the two sits between the First Division and the Second Division. But under the SPL's plans, that line would become blurred.

Ideologically, the concept of abolishing the glass ceiling sounds laudable, but would that really best serve Scottish football? If the two "premier" tiers were drawn up on the basis of league positions, as they stand, four semiprofessional clubs would be included.

If these proposed top two tiers are to consist of professional teams -- as many believe they should -- then perhaps a line should be drawn between professional and semiprofessional and amateur.

Even this simple delineating raises a bigger question: Should the SPL be duty-bound to include nonprofessional teams in its professional league structure?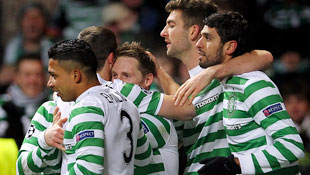 Ian MacNicol/AFP/Getty ImagesDespite the turmoil in Scottish soccer of late, Celtic has been superb.
Of course, the point will be made that the current model allows for long-term ambition and mobility between divisions. But since the creation of the SPL in 1998, only two teams have made the progression from part-time to full-time, and one of those, Gretna, has since vanished altogether (they now play under the name Gretna 2008 in the East of Scotland junior league).

The notion of class mobility might be a romantic (and quintessentially British) one, but it makes it almost impossible for the Scottish Football Association, the SPL and the SFL to devise a plan that takes care of all 42 senior league clubs and their individual needs. Is a professional club looking for the same things from a new league structure as a semiprofessional or amateur club?

A definitive boundary already divides Scottish football, with East of Scotland, Highland and South of Scotland league clubs permanently distanced from the SFL. But is that line too low down the pyramid?

SFA president Campbell Ogilvie has already reiterated the desire to maintain mobility between each tier of the proposed pyramid for all member clubs, insisting: "I believe you play for your place in the top two leagues -- there isn't a definitive line that says this club is professional or not."

Too often Scottish football looks south for a direct comparison that simply can't be made. But in this instance, if we compare the number of senior league teams in England (92 in a nation of 53 million people) with those in Scotland (42 for 5 million people), another flaw becomes apparent: Scottish football has too many clubs.

This problem is illustrated where it is most acute -- in Scotland's central belt, where a 30-mile radius can be outlined that encompasses 13 teams. Competition is the essence of sport, but at what point does it become diluting?

That is not to say these clubs should be blitzed from the Scottish football landscape. Each has its own history, heritage and, most importantly, fans. And nobody, including myself, is suggesting the slate should be wiped clean, blitzing lower-league clubs from existence and replacing them with an American-style model of metropolitan super-clubs, but perhaps a new league code is irrelevant if it still adds up to 42.

Perhaps even more fundamentally, will the product (that is, what supporters watch on the pitch) improve as a result of repackaging? Is the effort being expended in vain to devise a revitalizing code for Scottish football?

When First Division Partick Thistle met Dunfermline in a top-of-the-table clash last month, more than 5,000 fans packed Firhill Stadium. And fourth-placed Aberdeen's average crowd this season is up by 2,200 on last year, when the Dons finished ninth.

These exceptions to the rule support the argument that Scottish football's problem lies far beyond its league structure, and the solution might mean more than just a numeric formula.

The SPL presented its plans to the SFL, which has put together a blueprint of its own, at a meeting on Thursday. Needless to say, there was no consensus, yet the creation of a "working party" of club representatives from both bodies was agreed upon.

It's difficult to see how the formation of such a group will bridge the differences in approach and opinion between the three bodies (including the SFA, which has so far been relatively passive) charged with reviving Scottish football, although it might kick-start the politicking to be expected in such a contentious process.

By the time a solution is finally settled upon, Scotland may well be independent.

Graham Ruthven is a freelance football writer, juggling his work for the New York Times and STV among others while displaying an all-consuming crush for Dimitar Berbatov. He believes all football shirts should have sashes and can be found on Twitter @grahamruthven.