SPL structure needs youthful backbone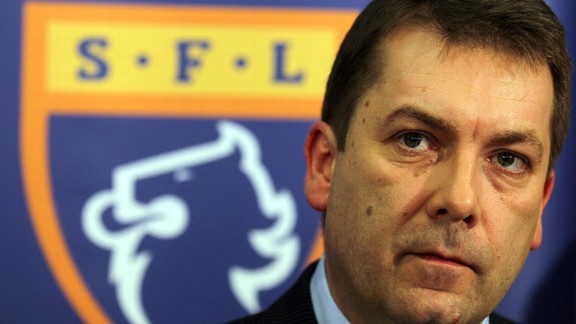 PA PhotosDavid Longmuir has a job to do in Scotland
We're on the road to league reconstruction in Scotland. We don't quite know where that road will ultimately take us but there's a fair chance it won't be a straight route, with plenty of twists and turns expected.

The Scottish Premier League has been around since 1998 with a mixed bag of success as the Scottish game's top league. (Some might say that's being kind.) Designed as a means of ushering in a brave new world for the leading clubs, it has often resembled a fractious and discombobulated coalition government made up of squabbling parties pulling in different directions.

To be fair to the SPL for a moment, they realise the old model isn't working. But what should they replace it with?

The SPL's proposal calls for the top 12 to be retained, but with a second tier also of 12 clubs to come under its auspices. In other words, it wants to persuade current Scottish Football League clubs to form an SPL2. The two leagues of 12 would then split into threee divisions of eight after 22 games. If you are still following this, that means the remaining 18 teams in the senior set-up would be thrown together in a third tier.

The SFL, whose influence has undoubtedly grown since the addition of Rangers to their membership, views things through a slightly different prism. Its preference is for a 16-10-16 weighting. Quite how a 16-team top flight works in terms of fixtures is not yet clear. Playing each other once at home and once away gives you only 30 games.

SFL chief executive David Longmuir is right to urge us not to get too hung up on the actual plans and numbers. The main thing is, the SPL and SFL are prepared to talk after a summer of bitterness, It still rankles with many in the lower divisions that they were asked by SPL clubs to admit Rangers to the First Division (the actual second tier.) Longmuir insisted at the time that the only way forward for Scottish football was a '42 club solution.'

Meanwhile I'm sure Neil Doncaster, his opposite number at the SPL, realises the top flight must lose its 'Self Preservation League' tag. You get the feeling many clubs, if they had their way, would do away with relegation altogether. It's time to throw off the straitjacket.

Now, I'm not necessarily in favour of a 16-team league. There is a reason why Scottish football went to a smaller, rather than a larger top division in the 1970s. That provided the springboard for Aberdeen and Dundee United to compete with, and at times, outperform Celtic and Rangers.

But here's where I agree with Longmuir. The number of teams in each league is less important than the need for play-offs at the top and bottom of each division. I'm not talking about bloated play-offs which render the actual season somewhat irrelevant. No, it really is quite simple. Let the bottom team in each division go down and promote the champions from the league below. The other four in the relegation fight and promotion race can have a play-off for the right to the other place. It's not nuclear physics.

Last season, I was at Hibernian v Dunfermline, a de facto SPL relegation decider, on a Monday night in May, when, lo and behold, 15,281 turned up. Why? Because it was a game that really mattered.

This aspect, it seems to me, is crucial. The top flight of the future can't be a cosy club offering something approaching life membership. Inverness Caley Thistle and Ross County have climbed all the way up from the Highland League to the SPL within 20 years. They have done it, in spite of, not because of the current self-satisfied set-up.

Here's something else to consider: fans pay money to be entertained. The technical level on the pitch remains the key to the game's future in Scotland. After years of neglect, there have been encouraging signs recently. The emergence of gifted Scottish players like Celtic's James Forrest, Dundee United's Johnny Russell and more recently, Aberdeen's Ryan Fraser is proof positive that youth development need not be confined to Germany and the Netherlands.

It was disappointing to read of Fraser's decision that he wants to move on from Aberdeen after just 1070 minutes of first-team football. The Dons have been particularly unlucky, losing their own Fraser Fyvie and Jack Grimmer to English clubs under similar circumstances.

Bringing through homegrown players is still the way forward though. It's an investment in a club's future and fans will always relate more to the talented local lad who has come through the ranks.

So by all means have radical structural change. But it must go hand-in-hand with a renewed commitment to youth development. Scottish football has work to do.