Struggling Depor not reaping rewards of Mendes connection
While Atletico Madrid striker Radamel Falcao understandably stole the headlines with his five goals at the Estadio Vicente Calderon on Sunday night, the game also highlighted the nightmarish nature of Deportivo La Coruna's season so far. The 6-0 hammering leaves Depor rooted to the bottom in the table, but even worse problems could be coming down the line.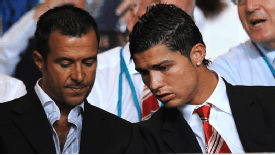 PA PhotosJorge Mendes, agent of Cristiano Ronaldo and Jose Mourinho, has a close relationship with Deportivo president Augusto Cesar Lendoiro
Things seemed very different in La Coruna last May, when Jose Luis Oltra's side sealed a return to the top flight as champions after just one season in La Segunda. Fans were not really expecting a return to the Super-Depor glory days of the 1990s and early 2000s, but there was hope that the year away had served to sort things out both on and off the pitch.

Such positivity has gradually dissipated and Oltra's side turned up at the Calderon with just two Primera Division wins under their belt and a number of key players missing. Among these was winger Pizzi, maybe Depor's best player so far this season, but unable to play due to Atletico, who currently hold his playing rights, invoking a clause in the complex third-party financed loan deal that took him to Riazor last summer.

Pizzi's absence (re-)focused attention on the close links between Depor president Augusto Cesar Lendoiro and 'super-agent' Jorge Mendes, who comes from just across the border in northern Portugal, and whose first deal in football was to negotiate with Lendoiro the sale of goakeeper Nuno to Depor in 1997.

This summer, the two old friends were back in business and by the time August's transfer window shut, Depor had signed seven Portugueezers, six represented by Mendes' Gestifute agency. Defenders Roderick and Evaldo, midfielders Salomao and Andre Santos ,and currently injured young striker Nelson Oliveira are all on loan from Portuguese clubs, while Ze Castro and winger Bruno Gama were signed on permanent deals, with the latter part-financed by third-party investors according to the Spanish media. Meanwhile, three of the club's most important players from last season left - Andres Guardado (now at Valencia), Diego Colotto (Espanyol) and Lassad (Celtic). It is hard to see now how this has benefitted Depor on or off the pitch.

Sunday's teamsheet did include top scorer Riki, keeper Dani Aranzubia or captain Juan Carlos Valeron, who is now 37, but elsewhere there was a pretty unfamiliar look. Pizzi was replaced by Javier Camunas (also on loan - from Villarreal), but most concern was focused on central defence where injury and suspension led Oltra to pair Roderick, 21, and Pablo Insua Blanco, 19 - the latter of whom was making his first start for the senior team.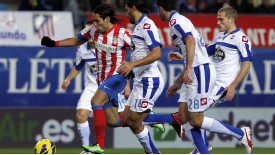 GettyImagesFalcao tore Deportivo a new one with five goals in Atletico Madrid's 6-0 rout
Given that these kids were up against the world's hottest centre-forward, trouble was always likely. Depor did not start the game too badly, with Riki and Valeron looking up for it, but Roderick and Insua were shaky from the off. Once Diego Costa rose unmarked to head in the opener from a corner on 23 minutes, the result was never in doubt.

Five minutes later Falcao took over, racing away from the entire defence to score the first, eluding Roderick's attention to volley in the second and being felled by the former Portugal Under-20 defender for the penalty which brought his third. The fourth came from a close range header, before both young centre-halves were outwitted when the Colombian cut inside before rifling in his fifth.

Depor's best opportunity was a Valeron header which hit a post at 0-1. They kept trying and forced some free kicks in dangerous areas around the Atletico box in the second half, but with usual dead-ball specialist Pizzi absent, home keeper Thibaut Courtois was untroubled. Of the recent arrivals it was right-winger Gama, who looked brightest with a few interesting runs, but little end product.

Atletico, and Falcao, eased off in the last 20 minutes, perhaps not wanting to inflict any more pain on the small number of Depor fans sat glumly in the top corner of the freezing Calderon. Leindoro, who usually travels with the team, had not made the trip.

The veteran president's most notable recent public appearance came in early November when he revealed that Depor would likely be seeking protection from their creditors under Spain's infamous version of administration: the 'Ley Concursal'. With the club about €100 million in debt, the Spanish taxman was planning to embargo all their revenues, including television, ticket and commercial income. Lendoiro, previously a critic of clubs avoiding their financial responsibilities, said he may be left with little option but to take the least terrible route out of it. A fire-sale of players in the January window is not even an option, given you cannot raise money by selling veterans, or players you do not own yourself.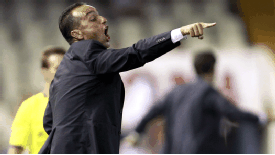 PA PhotosJose Luis Oltra's job at Riazor appears to be hanging on a knife edge
Since that announcement, Depor have picked up one point from five games and the players' union (AFE) has raised concerns about wages. Former Tenerife and Almeria boss Oltra looks incapable of turning things around. There was little he could realistically do about Falcao on Sunday, but the tactical decisions last week at home to Real Betis – including replacing a centre-back with a striker at 2-2 only for the visitors to proceed to dominate the final stages and win 3-2 – were either ambitious or foolish, depending on your point of view.

His optimism when speaking to reporters on Sunday night looked similarly misguided.

"Without doubt it is a painful defeat, all defeats are painful," Oltra said. "The journey home is going to be hard. [But] I am convinced we are going to improve. Today we touched bottom and from here we can start to go up again. The situation is not insurmountable."

Not all Depor watchers share that opinion. On Monday morning, local paper La Voz de Galicia reported that Oltra is "on the precipice" and needs to beat Real Valladolid at Riazor next weekend to save his job. Comments last Friday from the coach's own representatives, which were heavily critical of the close relationship between Mendes, Lendoiro and club sporting director Ernesto Bello, further complicate the situation.

Oltra's exit now would be no surprise, but firing the manager would not go very far towards fixing the club's problems. Lendoiro, now 67, brought glory to his home city of just 250,000 inhabitants during his first 15 years in charge, but also over-reached financially, leading to the gradual decline over the last decade.

With Spain's banks now calling in their debts, he seems to have returned to his old friend Mendes for help. The worry for Depor's fans is that this does not seem to be working too well.