United defeat City in a display of blood and guts
If you didn't know City versus United was a big match, Tom Cruise's presence at Etihad Stadium made sure there was no mistaking the gravitas of the day. This is TOM CRUISE, on hand to shill for his new flick "Jack Reacher," which is about ... oh, who cares? While at one point the camera showed him on his phone in a luxury box, paying no attention to the drama unfolding in front of him, Manchester City and Manchester United battled back and forth in an entertaining match won by the Red Devils 3-2, putting them six points clear atop the table.

Ah, yes, cue the "it's still early" refrain from those who will not want to acknowledge that this was, at the very least, a significant match that saw Sir Alex Ferguson's side do just enough to hold on. Amid some poor calls by referee Martin Atkinson and an explosive, chaotic ending in which Robin van Persie -- playing in his first Manchester derby -- scored the winning goal and Rio Ferdinand was hit by a projectile thrown from the stands, United made sure that losing twice in the league against their crosstown rival was not going to happen again this season.

Where to start? City dominated the opening 15 minutes or so before Wayne Rooney scored against the run of play. On the counter, Ashley Young -- who had a strong game -- played the ball inside to Rooney, whose apparent mishit attempt sent the ball toward the left corner as if the shot was filmed in slow motion. All Joe Hart could do was watch.

From there, United seemingly awoke from their Sunday slumber, especially down the flanks. Young and Rafael's overlapping runs caused havoc. And sure enough, the second goal came from combination play down the right between Antonio Valencia and Rafael, who ultimately sent a pass through Gael Clichy's legs to find Rooney. His first-touch, side-footed finish was significant: It was Rooney's 150th Premier League goal (he's the seventh player to accomplish that feat) and his 10th goal in this fixture, surpassing Sir Bobby Charlton as United's all-time leading scorer against City.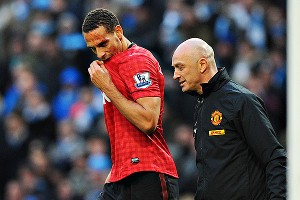 AP PhotoRio Ferdinand took a nasty hit to the eye after something was thrown from the stands.
More talking points will include City's poor luck in seeing Vincent Kompany go off due to injury in the 21st minute, a blow to a back line that didn't appear too confident at times. But it will also highlight a couple of seemingly daft moves by manager Roberto Mancini. First, why bring on Kolo Toure instead of Joleon Lescott? Lescott is surely the better of the two defenders.

Second, why start Mario Balotelli? The mercurial Italian had a poor display in midweek and has hardly lit up the pitch, or been in the manager's favor for much of this season. Perhaps Mancini thought Super Mario would have terrorized David De Gea in the box on set pieces, or conjure a moment of brilliance. Instead, in the 52nd minute, Balotelli did what Balotelli does -- he attempted a flair move, a backheel pass, that resulted in a turnover as his studs grazed Ferdinand's shin. Immediately, Mancini called for Tevez.

"When a player has this quality you can't understand he will throw it out the window," Mancini told the media after the match. "This is incredible. There aren't words I can say. It's a bad feeling. When you lose a derby in the final second, it's hard."

After Tevez came on, however, City started to turn the match around.

Goals from Pablo Zabaleta and Yaya Toure in the 60th and 86th minutes got City back level. Aguero wasn't having a good match by any stretch, but the inclusion of Tevez showed that the two Argentinians link up well -- much better than Aguero and Balotelli -- and forced United onto the back foot toward the end. Supporters, though, will once again think that Mancini got it wrong at the start, and only corrected things with his substitutions. For a game of this magnitude, it all adds up to an epic fail by the dapper Italian.

Atkinson and his officiating crew could have done better, too. Van Persie's shot in the second half off his weaker right foot clattered off the far right post, and Young's follow-up was incorrectly disallowed despite replays showing that Zabaleta was playing him onside. Chris Smalling (on for the injured Jonny Evans) didn't get called for a handball outside the United box, and Kolo Toure appeared to foul Patrice Evra in the box, but no penalty was given. In another instance, in the 73rd minute, Atkinson could have played the advantage when Yaya Toure busted down the line after a tackle by Rooney, but instead chose to bring the play back and give Rooney a yellow card.

All of it was rendered academic in the waning moments. Tevez, who was losing the plot just a bit with his temper out of control, clipped Rafael's heels. RvP's ensuing free kick deflected off Samir Nasri to win the game. During the ensuing chaos in the stands, Ferdinand got his face bloodied by a projectile and police were called into the crowd to restore order. Tweeted Rio after the match: "What a result,3points! Sweet! Whoever threw that coin,what a shot! Can't believe it was a copper 2p ... could have at least been a £1."

In the end, Man City's run of 37 home games unbeaten thus came to an end, with their last loss on Dec. 20, 2010, against Everton. This one, though, has the potential to loom much larger as the Sky Blues fall six points behind United as both teams head into the busy holiday fixtures schedule.

The plot can certainly turn on a dime in the next few weeks, but right now, this was a big match -- and a big win -- for United.