Benitez's understanding of his asset pays dividends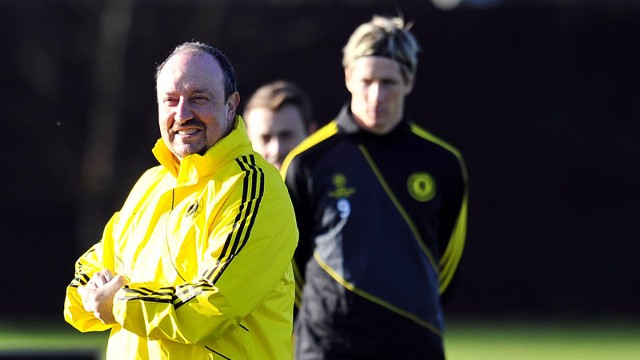 GettyImagesRafa Benitez has shown he is able to bring the best out of Fernando Torres at Chelsea
"It is fair to say that we are now watching Fernando with more confidence and more belief," Rafa Benitez enthused after his side's 3-1 win at Sunderland, clearly pleased to see his striker brimming with confidence and displaying the kind of swagger normally associated with his time at Liverpool under the guidance of his current manager.

If you were in any doubt as to whether his conviction was returning a slick pirouette just before half-time gave the indication that he is basking in his current situation. It also proves how quickly 90 minutes can change the perception of a player. It took just less than a quarter of the game on Wearside for Torres to end a 12-and-a-half-hour barren run in the Premier League with a well-taken finish.

The goal's build up gives an explanation as to why this may be a watershed moment. Behind Chelsea's number nine, are three roaming spirits. In Eden Hazard, Juan Mata, and Victor Moses, Benitez has installed a trio blessed with the kind of pace, trickery, and creativity that makes them simply unstoppable at times, creating pockets of space for Torres to pitch up in.

"Today we showed the team has a clear idea of what they want to do, and I felt they did really well," Benitez said. Just over a minute in, and that clear idea was profoundly evident and involved Torres centrally. Hazard's delicately chipped ball through for Mata squared back to a stretching Torres.

By the time of their next attack, success was achieved. This time it was the turn of Moses and Hazard to combine in the build up with the former slipping in the latter down the left, before his pinpoint cross was stabbed home by Torres. The formation was clearly tailored towards one man.

Benitez understands that the Torres he now has is not the same player that joined him at Liverpool from Atletico Madrid. His pace has waned slightly, perhaps due to playing so many games at a young age much like Michael Owen. The male body does not stop growing until 21, at which point Torres already had five years as a professional footballer behind him.

Consequently, Benitez does not ask him to try and beat his man in a one-on-one as he did so often at Liverpool - including against Chelsea on his Anfield debut. Instead he allows his supporting cast to do the dribbling and give him the ball in the penalty box. A theory borne out by the stat that Torres only attempted one dribble against Sunderland.

Far from one dimensional, the manager still expects Torres to run the channels and create space, but he is not required to be as self-sufficient. Benitez recognises his ability to poach and be potent in the box. Of his four chances yesterday, three resulted in goals (his shot hitting the crossbar before falling to Juan Mata for Chelsea's third).

As Benitez astutely noted after the game, the playmaking triumvirate's dynamism and narrow style is already proving to aid the team and Torres immensely: "We know that we have players that are very dynamic up front," the Chelsea boss said. "I feel the team is working more compact as a unit and still playing high up."

The Spanish striker's opening goal also represented the result of some individual work between coach and player on the training field, something Torres has previously commended Benitez for - and further highlighting the 52-year old's passion for studying the game and giving coaching advice unique to each individual.

"I was analysing his movement before and we were adjusting little things, so that he can be early and score goals like this," he said in reference to Torres' opener. The personal touch the kind of special attention Torres has not previously been afforded at Stamford Bridge.

Ergo, it should come as little surprise that Torres cites Benitez as such a huge influence on his career. In November last year he told Esquire: "Rafa Benitez has been the most important coach in my career. It wasn't easy for me to leave Atletico, come to England and play in a much faster game that is more dynamic and physical than La Liga. Rafa has been the only one who knew how to help me improve. His priority is the team but he adapts the conditions to make everyone fit in the team."

It would be disingenuous to suggest that Benitez was installed solely to maximise Torres' output for the club. Getting Chelsea as a team to play well rather than just Torres the individual, he still has some work to do if he is to convince those on the terraces. Their 16th minute ode to Roberto Di Matteo was supplemented by their desire to voice the notion that they only care for the football club with the song "All we care about is Chelsea FC". They would partake in this for much of the second half, making it difficult to decide whether to admire their determination or scorn their negativity.

The assembled press chose not to discuss that with Benitez after the game. Enjoying his first league victory with the club, the impish grin was back as he shared a joke or two about why Torres was never the penalty taker at Liverpool, "We had Gerrard, who is pretty good." he said, before smiling.

Given his reputation for tactical intricacy, Benitez chose to explain the Torres paradigm in an altogether more simplified way. "If the team creates chances, Torres will score goals," he concluded. Given the attacking wealth on display, and the Torres-friendly style he has implemented, Benitez's theory is likely to be well tested over the course of the season.