Rafa travelling in relaxed style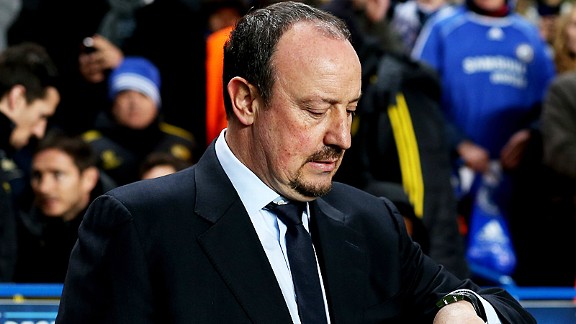 GettyImagesRafael Benitez: Hoping for a trophy before season's end
Rafa Benitez may have recently insisted that it's always a good time to win a trophy, but it's probably fair to argue the Club World Cup could have come at a more convenient date; particularly if Chelsea fail to beat Sunderland on Saturday.

Not only would it mean the new Stamford Bridge boss has to wait even longer to finally secure that first league win, it could well leave Chelsea 13 points behind the leaders as they land in Japan.

Worse, by the time they return, it could be 16 - a distance much more complicated than the 6,000 miles the squad will fly after their trip to the Stadium of Light.

Much like his attitude to Chelsea's travel plans, though, Benitez is surprisingly philosophical about it all. In fact, the jokey figure he still cuts at the moment is a far cry from the tetchy character many will remember from his final days at Liverpool. He was at it again on Friday, complaining that his singing is so bad that he makes it rain and that the canteen staff at Cobham don't understand his jokes in Spanish. He even threw in another line at his own expense as he attempted to explain away the potential trouble caused by so much travel.

Perhaps, though, that's the only way to deal with a job as pressurised as this.

"Can we change the situation? No. So you take the positives. I'll spend the time with them. Maybe it'll be negative and they'll be bored," Benitez laughed.

"No, we will work with it. It's not ideal. You'd like to train for a week and train with intensity but this is what we have."

He applies the same attitude to the domestic campaign.

"I'm not worried about the distance [to the leaders]. It's important we win so we are close, but all we can do is think about one game at a time. We have to improve the team and be mentally strong enough to compete in the second part of the league."

To be fair, when attention turns to the actual football, Benitez's old - almost intense - focus immediately returns. And, although he didn't directly answer Alex Ferguson's claim that it's now a two-horse race for the title, he did provide a pointed example from his victorious 2001-02 Spanish season.

"At Valencia, we were eight points behind in January. If we have to do the same here, we will do it. But we have to show the same character we have. The main thing is about the evolution of our team. If we're stronger, we'll be able to win two games in a row. We have to find form."

Benitez, however, insists that the confidence gleaned from such a comprehensive win over Nordsjaelland might finally facilitate that.

"We were disappointed after the game because we were out of the Champions League, but we were pleased with the performance today. The players are talking about the things we've been doing well, and that has taken a lot of time because there were lots of positives. It has improved our mentality, and the message we want to put out about how we want to do things.

"The last game was really good. We can talk about the level of the other team, but it was the Champions League. The intensity was fantastic and I was really pleased with the performance of the players. At 75 minutes we were still pushing and pushing. It was the same at 86 minutes, so I think they showed the character they have."

The question, of course, is whether this sufficiently kills the anxiety from one of the worst runs of form in the Roman Abramovich era - not to mention Benitez's own failure to win - for the team to finally kick on.

Can they, for example, recover the assurance that seemed to evaporate after that controversial defeat to Manchester United at the end of October? Whatever happens, Benitez is insistent that Fernando Torres will be at ease.

"Fernando was working very hard and the team was better attacking. He scored two more goals and hopefully there will be more.

He needed to score, but also to play well... It's fantastic for his confidence that he scored, but it will help everyone's confidence to score and see chances created.

"We need more goals from him, from [Juan] Mata, [Eden] Hazard, Oscar, Victor [Moses], all the offensive players. We have to create more chances as a team."

That very attack, however, is one of the areas that encapsulates the questions around Benitez at Chelsea; over how many problems he has unfairly inherited and how many are actually of his own making.

To illustrate, although the likes of Hazard had already started to drop off in terms of form and Oscar and Mata began to struggle as regards fitness under Roberto Di Matteo, Benitez did seem to only exacerbate the issues by recalibrating the front of the team and reshuffling the pack.

For his part, he explains that is necessary rotation in order to keep a surprisingly thin enough squad fresh for the end of the season, as well as to allow the new recruits a bit of a breather in terms of adjusting to England. The only problem is that, like with the trip to Tokyo, he could have done with delaying it all a little. Not that Benitez sees it that way.

"Some of these players are quite young and it's their first year in the Premier League. They may need more time to settle down in some games. It's easier if you're controlling the possession but, against a team like West Ham United [last Saturday], very physical, it was harder for them."

And that is one of the reasons, of course, why Benitez could do with the steel and leadership of Frank Lampard back in the side.

"At the moment we have a good team and a good squad, but we need players with more experience. He could make a difference coming into the squad where something has been wrong.

"Lampard can find players between the lines, get into the box, score goals, so he's a different kind of midfielder to those we have at the moment. The ones we have can do a bit of everything, working, but he adds something. He'll give me a bit of a headache."

That last comment is itself telling. In short, due to his changes in his game as a result of age, his exact role in Benitez's Chelsea isn't immediately evident. One of the Spaniard's most notable changes, after all, has been solidifying the midfield and trying to improve the link between defence and attack - something that became a major issue for Di Matteo.

"He cannot be box to box like 10 years ago," Benitez conceded, "but he'll be important in possession to understand the game. That's key with the players we have up front, with good movement and ability. If you have someone to link with them, that'll be fine. He can play higher up the pitch because he can get into the box."

Does all that mean, then, that Chelsea can also get back into the title race?

"My thoughts are clear: we have to win against Sunderland and we can be closer to at least one of [the Manchester clubs]. That's what I have to do, concentrate on my team, my job. If we can be closer sooner rather than later, much better."

Clearly, Benitez is in this for the long haul.