Ending third-party ownership a tricky deal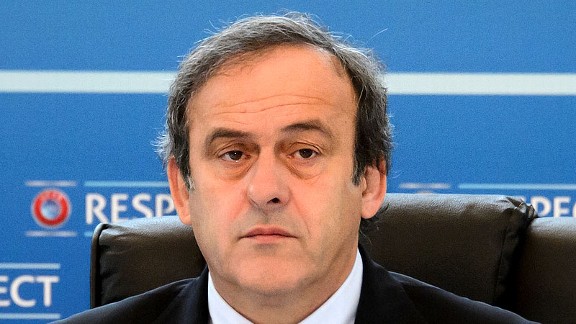 Fabrice Coffrini/Getty ImagesUEFA's bid to end third-party ownership makes sense but it will only serve to widen the gulf between super-rich teams and the rest.
As UEFA met this week to clink some glasses and generally do whatever it is that one does on the gravy train these days, there were several important things on the agenda.

The headline out of Michel Platini's shiny and secretive Nyon lair was undoubtedly the decision to hold the 2020 European Championships spread across the continent in what Gianni Infantino -- UEFA spokesman-in-chief -- described as "a party all over Europe."

Ignoring the thought of all those delegates at an actual party, leering from the corner, eating all the caviar before 8.30 p.m. and singing along loudly to anodyne modern rock, there was also an interesting buried storyline about a different kind of party.

Third-party ownership is a footy phenomenon that has increased in popularity over the past few years in Europe; despite that it's been a fixture in South American football for far longer, UEFA has now announced that it wishes to outlaw the practice as 'a matter of principle.'

Now, ignoring the dubious claim that these people have some sort of principles, could it be that this is actually quite a good idea in terms of making European competition fair?

The premise itself is a simple one and makes sense on many levels. Super-agent, middleman and general football impresario Kia Joorabchian is the man probably credited with first bringing the concept into the Anglophone mainstream as the man who 'owned' Carlos Tevez and Javier Mascherano.

Joorabchian parked the Argentines in West Ham at the end of the summer in 2006 -- a move that would eventually land the Hammers in legal hot water -- and he explains the practise in probably the most simple terms:

"It is the South American model and a model that appears all over Europe... We'll invest in a player and loan him to the club. Then if the club thinks that that player is amazing they can buy him from us."

"If the club wants to buy the player prior to us buying him, that's OK, too, but a lot of clubs don't want to take the risk. So we invest the money and let the club borrow the player. Of course the club pay only a loan fee but we get the upside if the player is successful. And if the player is unsuccessful we get the downside. We still have a business in South America and across Europe, and the business is very profitable."

So why is UEFA looking to ban this? Surely it is just business?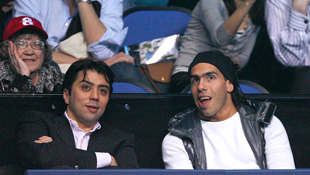 Glyn Kirk/Getty ImagesAgent/go-between Kia Joorabchian and Carlos Tevez were the first to bring the third-party concept into the EPL's consciousness. The legal rancor led it to be outlawed in England by 2008.
Simply put, it gives these teams an unfair advantage. In European competition, Manchester United, Chelsea and other English teams must own the entirety of the players that represent them, or at least have their registration through a loan deal from another club (and not a business). But in the continental sphere, they are pitted against sides that are allowed to use a whole host of players that they can't afford and don't own.

In the Benfica side that reached last season's Champions League quarter-finals there were a host of players that were only part-owned by the club, with defender Emerson -- who started both legs -- only having as little as 20% of his economic rights on the ledger of the Lisbon outfit.

One of the most coveted stars on the planet right now is Neymar. He wouldn't have been able to stay in Brazil had it not been for third-party deals and for this reason it seems difficult to see how FIFA could ever put an all-encompassing and worldwide ban on such arrangements. Not only is it an accepted practice in Latin America, but it is something that is entirely necessary to keep clubs competitive and the strategy of doing it to minimise risk actually makes a lot more business sense than the 'European model.'

Joorabchian's last sentence above refers to the English FA's decision to ban third-party ownership in 2008, but questionable instances have remained. Queens Park Rangers faced the possibility of having their Premier League promotion taken away but escaped with just a fine following irregularities over the purchase of midfielder Alejandro Faurlin from Argentine club Instituto de Cordoba.

The supposed fee that QPR had agreed to pay was a club record 3.5 million pounds but Instituto never saw a penny of that, with the player's rights being entirely owned by TYP Sports Agency. Rangers paid a number of instalments to this agency despite the player having been registered as having joined the club on a Bosman deal -- prompting the ensuing investigation by the Football Association.

FC Porto has been a major player in European football over the last five to ten years, not just winning the Europa League (twice) and the Champions League but introducing two of the most high-profile managers -- Andre Villas-Boas and Jose Mourinho -- to the world along with a raft of top players.

Simply put, Porto's success would have been impossible without the assistance of third-party ownership to subsidize player transfers, but it is not just them. Portuguese rivals Benfica and Sporting Lisbon have also profited from such methods to varying extents, as well as leading Spanish clubs like Sevilla and Deportivo La Coruna to name but two.

The Dragoes have been cited as one of the examples for successful player trading in this last decade, but despite talk of huge profits made on the sales of Paulo Ferreira, Ricardo Carvalho, Deco, Quaresma, Diego, Pepe, Jose Bosingwa, Falcao and Lucho Gonzalez Moutinho among many others, the club never owned the entirety of any of the above players' economic rights.

Falcao is arguably the most typical example of a third-party ownership deal. At 15 years of age, Argentine giants River Plate signed him for U.S. $500,000 and he would go on to impress at the Monumental. The inevitable move to Europe followed. But while he had been showing promise at River, club president Jose Maria Aguilar had sold half of his economic rights to a third party.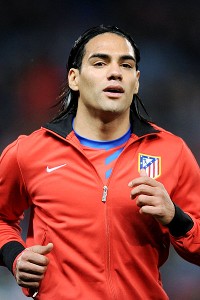 Denis Doyle/Getty ImagesFalcao is a high-profile example of third-party ownership. The situation allowed cash-strapped Atletico to pick him up -- and will enable it to profit some when he's eventually sold.
This meant that when River sold him to Porto for around U.S. $6 million in 2009, they only got 50% of the money -- yet this does not make it a mistake by the Buenos Aires club. At the same time as Falcao arrived at the Estadio Dragao, another Argentine player was signed by the name of Sebastian Prediger. Prediger had excelled at Colon de Santa Fe (in the lush area to the west of the Parana River) and could just as easily have gone onto succeed like the Colombian forward, but circumstance and a lack of technical ability ended up counting against him and he is now back with Colon.

The point is that Prediger and Falcao arrived in Portugal for similar(ish) fees, but the buying club -- in this instance, FC Porto -- had not purchased their entire playing rights. This meant that when their box-to-box midfielder failed to make the grade, the investment group owning the other half of his deal would share the hit, just as they would enjoy splitting the profits when they sold their forward for 40 million euros to Atletico Madrid.

Atleti, like many Spanish clubs, is seriously in debt. Despite having just sold Sergio Aguero to Manchester City, the Colchoneros were in no shape to be spending such large sums of money on a player so quite simply, they didn't. Exact percentages aren't known, but it is estimated that the club from the Calderon own 50% of Falcao's rights, with the other half owned by notorious agent Jorge Mendes and his company Gestifute.

If you remember that list of Porto players we discussed earlier, Mendes was involved with nearly every transfer either as a representative or an investor. As a result, the upshot of his involvement with Atleti and the talismanic striker is twofold: not only does the club not have the entire say in when the player leaves, but Mendes stands to make a tidy profit when he eventually pushes through a deal to take el tigre to a Premier League club.

However, while there is no uniform regulation across Europe it is unfair that only some sides can take advantage of this approach, and although it may have desperate consequences for some well-known Spanish and Portuguese sides, this is a system that is on the way out.

Nonetheless, with the big and powerful clubs having successfully lobbied for Financial Fair Play rules that will cement their financial dominance, any restrictions on third-party ownership could further limit the capacity of the plucky pauper to eat at Europe's top table.

Some party, hey?

Ed Malyon is a freelance sports writer who has written for The Daily Mirror, The Guardian and FourFourTwo among others. He can be contacted on @eaamalyon or by whistling in F sharp on the night of a full moon.