Paul Gascoigne, England's flawed genius
Gooolaaazzo.

If ever there were a goal to fit the opening titles of Gazzetta Football Italia, a pioneering English TV show of the early 90s covering Serie A, it was the one scored on Dec. 6, 1992, by English football's clown prince, Paul Gascoigne.

The previous week he had notched his first goal for Lazio in no less a fixture than the Eternal City's derby, rising in the 87th minute to head an equalizer against Roma that seared him eternally into the hearts of the club's notorious ultras. A week later, he followed up with a slalom through the Pescara defence that took six players out of the game with seven touches, a goal that etched him forever into the consciousness of tifosi of all stripes, maybe even the more magnanimous giallorossi -- although perhaps not the one who, insistent that Gazza take him up on his hospitality after he'd stumbled unwittingly into a bar full of Roma fans, spiked his drink with LSD and confined him to "two days hallucinating in bed."

In a sense, such a tale is emblematic of Gascoigne's career – so outlandish (for a top-level footballer) as to be barely credible, yet somehow obvious when put in the context of the wall-to-wall craziness of his life. In among the drama and trauma of that life was an equally erratic career, one that delivered fewer highs than his inordinate talent had promised but that still almost unfailingly brings a glassy-eyed smile to success-starved and glass-half-full England supporters.

Here was a maestro in the grand tradition, a fantasista who in his pomp would have walked into any team in the world -- and, despite what the tabloids say about the likes of David Beckham, Steven Gerrard, Alan Shearer and others, there have been very few of those. It is perhaps therefore no coincidence that both of England's semifinal appearances at major tournaments came with a relatively fit Gascoigne pulling the midfield strings, all imagination, power and balance, a balletic bouncer either ghosting past an opponent or strong-arming them out of his path.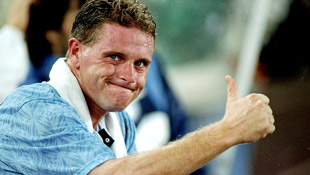 Mike Hewitt/Getty ImagesPaul Gascoigne should have dominated Serie A, which at the time was the dominant league in Europe. Yet his injuries and struggles meant his time at the top was all too brief.
It's a pity that he pulled on an England shirt just 57 times and that his skills never adorned one of Europe's elite clubs. But the great tragedy of Gascoigne's football career is not his. It's ours, the football-loving public's, given only one World Cup and a single European championships of this sublime, instinctive footballer. His three years in Italy ought to have been the zenith of his career, the period when unquestionably the greatest English player since the World Cup-winning team of 1966 lorded it over the world's pre-eminent league at the time. And to a certain extent he did -- to the eyes of Fabio Capello and Michel Platini, anyway -- albeit lamentably briefly.

The obvious parallel would be with George Best, although with Gascoigne there's no pithy Best-like throwaway line to explain it all away -- no "I spent some on burgers, some on practical jokes, the rest I frittered away" -- perhaps because there was no real hedonism or glamour; just the venting of various rumbling compulsions and destructive manias.

This was a man who literally didn't know what to do with himself; a man tossed about the sea of his impulses, which on a football field could be devastating. Take the 1990 World Cup semifinal in Turin. The night before, restless and insomniac, Gazza heard a couple of drunk Americans playing tennis in the hotel grounds, so, being Gazza, he decided to venture down and have a game with them, two versus one, for over an hour -- as you do -- until manager Bobby Robson was alerted and he scurried back to his room.

The game itself would become famous for his tears -- of course, the catalyst for English football's eventual gentrification -- but his display was punctuated by moments of magisterial prompting, thrusting extemporization and rare football intelligence. Above all, Gascoigne was a master dribbler, the secret of which is knowing when to move the ball; shifted at the right time, one can glide past a defender as close as the bull to a matador performing a veronica.

The performance marked him out, along with Roberto Baggio, as the greatest attacking talent from Italy's largely dull and negative World Cup. Little wonder there was near-hysteria in Rome when he arrived two years later after recovering from the cruciate injury sustained in his final game for Spurs and then, on the cusp of recovery, a fractured kneecap outside a Newcastle nightclub.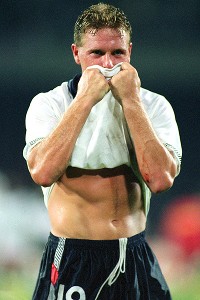 David Cannon/Getty ImagesEveryone remembers Gascoigne's tears at the 1990 World Cup, but there was so much more to the enigmatic midfielder than his pain.
Finally, on Sept. 27, some 17 months after signing, Gazza pulled on the biancoceleste shirt for his debut, already a cult figure. That first season would prove his most productive, featuring further goals against Milan and Atalanta -- whose fearsome ultras carried a banner in the shape of a beer bottle bearing the message "This is for you, Gazza" -- as Lazio finished a creditable fifth, its best mark for 17 years.

But there were always the injuries. A Jan Wouters elbow against Holland (in the "Do I not like Orange" match from the fabled football documentary An Impossible Job) fractured his cheekbone, leading to his Phantom of the Opera mask. A year later, an impetuous challenge on a young apprentice defender by the name of Alessandro Nesta broke his leg in training.

And when the problem wasn't the injuries, it was that Gascoigne's low boredom threshold and lack of professionalism -- things his genius afforded him -- frequently derailed his periods of strength. This indiscipline would later catch up with him, so much that the barnstorming performances are probably outnumbered by the tragicomic anecdotes: commandeering a coach and driving it down Oxford Street; putting a dead snake in Roberto di Matteo's pocket; mimicking an Orange Order piper after scoring in the Old Firm derby; replying to a Norwegian reporter who'd asked him for a message to his countrymen, "Aye, f--- off Norway"; diving in a lobster tank in a restaurant to fish out his desired meal; belching into the microphone of an Italian TV reporter and offending the country to such an extent that they debated his expulsion in Parliament. There are several others.

His Lazio coach, Dino Zoff, frequently despaired of his mischief-making, maverick man-child: "He ate ice cream for breakfast, drank beer for lunch and when injured he blew up like a whale. But as a player? Oh, beautiful, beautiful. I loved that boy," he reflected. "He was a genius, an artist, but he made me tear my hair out."

It is not only for his buffoonery and genius that the Laziales adore him, as was demonstrated by his visit to the Stadio Olimpico last month. It was his transparency -- almost stupidly vulnerable -- and his spontaneity, a man whose unpredictability on-field and off became almost predictable (a paradox to complement his famous assertion: "I don't make predictions and I never will").

The trite or puritanical thing is to lament a flawed character, a loveable idiot, a psychiatrists' dream who transcended their taxonomies with his ADHD, OCD, personality disorders and the addictions (alcohol, gambling, food, prescription drugs) that eventually sundered him.

And yet, as he struggles to deal with these subterranean forces without football's succour -- the constructive way for him to get out of his mind -- here's another way to think of Gazza: He increased our perception of what it is to be human, bringing pleasure not only through his football -- at times so magnificent the only response was to laugh -- but also through his great warmth and incessant merry pranksterism, even if he himself did not always feel that joy, or could only feel it through the intoxicating prisms of drink or daftness.

He remains, in an age of plastic "stars" and vacuous pre-fab celebrity, a beacon of heart-on-sleeve authenticity. And he could play a bit. Gazza: human, all too human.

Scott Oliver writes about cricket for the Guardian and ESPNcricnfo, and football for The Blizzard, among others. He is currently turning a doctoral thesis on Peronist Argentina into a book and can be found on Twitter @reverse_sweeper.