What might have been with technology
If the line between success and failure is a thin one, FIFA at last looks set to thicken it, or at least be a lot more precise about where it begins and ends. With goal-line technology finally set to be used at the Club World Cup this month, the football world may be spared countless future arguments about what would have happened in certain games had literal borderline decisions gone the other way. The game certainly has enough of them.

Of course, the entire issue goes a lot deeper than a thin white line. For one thing, the new technology will not legislate for incidents in or around the box such as dubious penalty calls or handballs like those committed by Thierry Henry on the way to the 2010 World Cup or Luis Suarez at it. Secondly there's the effect of such incidents, and the momentum altered by them, in individual matches and seasons. It's telling that we only really hear about them in turnovers. Because, ultimately, mentally strong teams use them as motivation; mentally weak teams buckle under them. A few of these famous examples certainly prove that.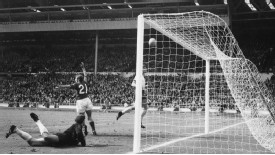 GettyImagesGeoff Hurst's goal was given, but should it have been?
England v West Germany, World Cup final, July 30, 1966

The story is now well-known. The exact sequence that led to it, however, is often forgotten. England had been 2-1 up and just a minute away from their first ever World Cup, only for Wolfgang Weber to score the kind of emotional late equaliser that might have definitively swung the game. To their credit, though, England persevered, pressed and created a series of chances. One, in the 101st minute, became one of the most famous moments in football history. After Geoff Hurst swivelled and shot at goal, the ball hit the crossbar, bounced off the ground and out. It remains controversial that the Russian linesman flagged a goal. It remains remarkable, however, that an unmarked Roger Hunt didn't just nod it in.

What might have happened with goal-line technology: Although England admirably illustrated their mettle after Weber's equaliser, it is possible that a second such big incident - like a 'disallowed goal' - might have finally undermined their conviction while giving the Germans a sense that this was one game they were 'fated' to win. We've seen the effect of such beliefs before, not least in the 2012 Champions League final. Had goal-line technology been around, England might still be waiting for that first World Cup and '1966 and all that' might mean something entirely different.

Chesterfield v Middlesbrough, FA Cup semi-final, April 13, 1997

Chesterfield may have been two divisions below Middlesbrough at the time but, already a man ahead after the dismissal of Vladimir Kinder, they looked set to go two goals ahead. With just 21 minutes left, Thomas Howard thundered the ball off the bar to land what looked a significant distance behind the line. Referee David Elleray waved play-on, however, which is exactly what Middlesbrough did as they went up the other end and won the penalty that would bring the equaliser. The game eventually finished 3-3, with Middlesbrough easily winning the replay.

What might have happened with goal-line technology: Chesterfield goalkeeper Andy Morris summed up the effect of the incident - and such moments in general - when he explained that, after the decision, "they got their tails up and suddenly were on top". Had Chesterfield hung on, it is unlikely they would have been capable of repeating such a feat against high-flying Chelsea in the showpiece. Still, we would have seen a team from outside England's top two divisions in the FA Cup final for the first time in over a century.

Liverpool v Chelsea, Champions League semi-final, May 3, 2005

The game that gave rise to the 'ghost goal', as Jose Mourinho described Luis Garcia's fifth-minute strike, and it haunted him for a good while afterwards; not least when the Portuguese brought it up again ahead of their 2007 rematch. Back in 2005, with the second leg precariously poised and Anfield in incredible voice, Milan Baros suddenly broke through; Petr Cech brought him down but that left Luis Garcia. He struck, but William Gallas stopped it. From where, exactly, remains open to question.

What might have happened with goal-line technology: Given the fact Cech would have been sent off and Rafa Benitez's side were so well organised that season against 11 men in Europe, it's difficult to argue history would changed, especially if Liverpool then went and scored the penalty to go 1-0 ahead anyway. A percentage-playing pragmatist like Mourinho would have fancied a 30% chance of seeing a spot-kick missed, though, and would certainly have backed the mentality of his side thereafter.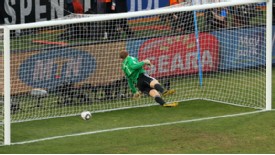 GettyImagesManuel Neuer watches as Frank Lampard's shot crosses the line.
Germany v England, World Cup second round, June 27, 2010

Although a vibrant young German team had already started to rip England apart, a rally late in the first half started to ask a few questions of them. And, certainly, a lot of questions were being asked of the officials. Just moments after Matthew Upson had brought England back into the game to make it just 2-1 to Germany, Frank Lampard saw a shot crash off the bar and out in a poetic inversion of 1966. This time, however, the ball was definitely over the line but decisively not given.

What might have happened with goal-line technology: England had a multitude of their own problems in South Africa, but this incident did point to a deeper one for Germany too. Because, as impressive as Jogi Loew's team are in open play, the comprehensive defeat to Spain in the semi-finals, the surrender to Italy in Euro 2012 and, most relevantly, the 4-4 collapse to Sweden in a recent World Cup qualifier illustrate a surprising mental fragility. At an earlier point in their development, being pulled back to 2-2 in such a high-stakes match may have caused a bit of trauma. From here, and how that tournament eventually panned out, an English quarter-final or semi-final may seem fanciful, but such runs have been built on smaller swings of fate.

Milan v Juventus, Serie A, February 25, 2012

Juventus may have been unbeaten after 26 games but Milan were undaunted. A point ahead in the title race and a goal ahead in the game, Sulley Muntari was presented with the opportunity to seal it when he headed back a Gigi Buffon parry. The keeper managed to get his hands to it but replays showed the ball was behind the line. Juventus came back, drew the game and eventually won the title. Unbeaten.

What might have happened with goal-line technology: Inter ended Juventus's unbeaten run just a few weeks ago but the dip the Turin side suffered after that may well have had a much more pronounced effect at that point in last season's title race. For one, Milan would have opened up a gap. And Juventus may not have maintained the momentum of that unbeaten run to see them overcome it.