Sneijder situation shows Inter's self-destructive side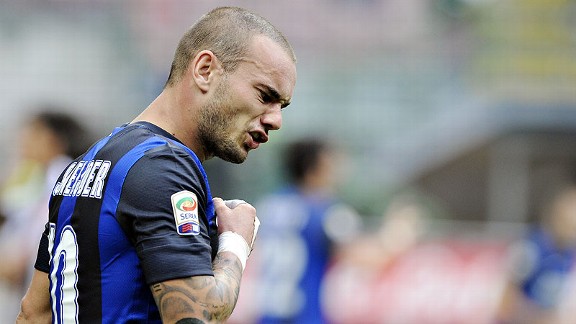 Claudio Villa/Getty ImagesOnly Inter knows why it chose to handle the Wesley Sneijder negotiations so poorly.
Inter's capacity for self-harm seemingly knows no bounds, judging by the Wesley Sneijder situation.

In a nutshell, Sneijder makes a lot of money, just over $13 million a season. He is scheduled to make that through 2015 by virtue of the contract he signed in October 2010. Inter has asked him to sign a one-year contract extension while taking a pay cut to just under $9 million a year. Why? Because Inter makes huge losses every season and is in the midst of a giant cost-cutting exercise -- why folks like Samuel Eto'o, Lucio, Julio Cesar and Maicon have all left the club -- so it can one day comply with Financial Fair Play.

So far, so good. You have a business and the financial outlook isn't great so you ask your employees to take a pay cut. Fine. But they don't have to accept. And you can't bully them into doing so.

Yet that sounds a lot like what Inter is doing. The club said it would like Sneijder to consider the offer and -- because it must be unsettling to be told that you need to cut your wages -- that he won't play for the foreseeable future. Don't take my word for it; just ask Marco Branca, Inter's director of football. He said as much in a televised interview, and to make sure everyone got the message, it was even put on Inter's official website.

That was last week. This is now, and after Monday's meeting between Sneijder, his agent Soren Lerby and the club, things have evolved. It's now not the "coach and the club" that have decided Sneijder won't play until "things are clearer." It's now purely, as club president Massimo Moratti says, down to the manager whether Sneijder plays. Moratti said Andrea Stramaccioni received no instructions from the club, and the president said he's "the first to want to see him on the pitch because he helps Inter win games." Besides, "when he doesn't play, we've got all this controversy to deal with."

Way to dump everything on the head of your 36-year-old manager who already has enough on his plate. So now Stramaccioni can either leave Sneijder out -- and thereby either look like a fool or a lackey doing his master's bidding -- or play him knowing that it probably annoys the front office since it weakens its negotiating position.

You can see why the club is dumping this on Stramaccioni, though. Moratti & Co. know full well that if they go out and give Sneijder a public "take a pay cut or you're never playing again" ultimatum, they'll end up in court and get whacked upside the head by any judge.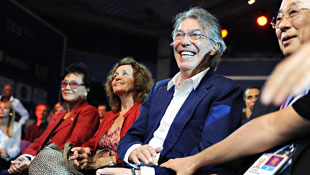 Dino Panato/Getty ImagesInter owner Massimo Moratti has loaded the Sneijder strain onto coach Andrea Stramaccioni -- not the wisest move. Smarter yet would be to resolve this mess swiftly.

The bottom line is that there is enough of an implied threat to land the club in trouble as it is, especially since, as Damiano Tommasi, head of the Italian players' union, points out: "When Inter offered him the contract, they knew Financial Fair Play was coming and they knew what the regulations would be."

Inter's handling of the situation has been unfair toward Sneijder. There was no need to go public in this way as if it was trying to shame him into taking the pay cut. More importantly, though, it has been counterproductive.

The time to do this was in the summer. Sit Sneijder and Lerby down. Say "Look, we can't afford your wages, but we really want to keep you. We need you to take a pay cut. If not, we're going to try to sell you for X million, and we hope you cooperate because we can't guarantee you'll be part of our plans this coming season."

After all, it's what they did with Cesar. The club evidently tried with Sneijder as well but clearly didn't do a good job of it. And you can see why. It bought a replacement for Cesar in Samir Handanovic, which sent a loud and clear message to the Brazilian goalkeeper. Sneijder only needed to look at the team and think, "I just had a decent Euro, and I'm better than all these guys. Of course they'll build the team around me." There was no credible threat, and in any negotiation, that's not a good thing.

Admittedly, Inter did well when Sneijder was out earlier this season. But you can see it's all smoke and mirrors. Without Sneijder, who can Inter count on to provide the creativity needed to unlock opposing defences that park the bus?

Antonio Cassano? He's 30 with the body of a 40-year-old and hasn't started more than 16 league games since 2010. He had a stroke last year and, at the best of times, is a volatile tinderbox of a player. And he's currently suspended.

Philippe Coutinho? He's just 20 with half a season as a starter under his belt, and that was at Espanyol.

Ricky "Maravilla" Alvarez? Come on, be serious.

If Inter doesn't reach a deal -- and, right now, it's hard to see how it can - it'll have to do one of two things. The club must either suck it up and keep paying full whack for Sneijder, which sends a message to every agent out there that when it comes to contracts Inter's a soft touch, or sell him for likely a lot less than the $20 million Inter believes he's worth.

Sneijder should have a fair few suitors beyond the usual suspects; Anzhi Makhachkala and Fenerbahce are the first two names to have come out. He's 28, and while he does have his injury issues, when he's fit -- and he usually is for big games -- he's a genuine difference-maker.

Yes, he's on big money, but you can see how at the right club he might even be willing to take a pay cut of the kind he wouldn't take from Inter.

If you're an Inter fan, you hope Sneijder wakes up feeling charitable tomorrow. Or the next day. And that he won't carry some kind of grudge for the public way in which he's been asked to play for less money.