L.A. Galaxy win MLS Cup over Houston Dynamo
So another year, another shot of the Los Angeles Galaxy clutching the MLS Cup, as they defeated Houston Dynamo 3-1 at the Home Depot Center to win their second consecutive title.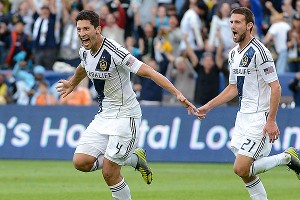 Harry How/Getty ImagesOmar Gonzalez's goal started the Galaxy's turn-around to win MLS Cup.
Hard to begrudge L.A., either. Although many look upon the star-laden Galaxy with envy and rancor due to their Landon Donovan-Robbie Keane-David Beckham triumvirate, few could dispute the dominance of their second-half effort Saturday. Of the trio -- a band on the verge of a breakup given Beckham's departure and Donovan's mysterious next move -- only Keane was truly inspired, backed by MLS Cup MVP Omar Gonzalez to a degree that the valiant Houston Dynamo simply couldn't match.

Although the 3-1 result appears unfair and cruel at face value, the victor can hardly be disputed.

There's more to winning than simply turning up.
Much was made of Houston's gutsy core that missed last season's heartbreaking defeat: Brad Davis was injured, Will Bruin was too evergreen to feature as a rookie and Oscar Boniek Garcia wasn't with the team. Yet all three fused, along with returning Rico Clark, to propel this bombastic team through the playoffs.

On Saturday in front of a boisterous, sold-out Home Depot Center crowd, none of them could influence as they had all season. Bruin's wide runs had little support in the box, Davis had little freedom to play through the midfield and Boniek Garcia met stiff resistance wherever he shifted in search of possession. Even Clark, who was expected to man-mark Beckham into oblivion, couldn't locate the exiting superstar enough to shackle.

For all of soccer's abundant (and self-imposed) complexity, the 2012 MLS Cup showed that it's also a hilariously simple game at its core: show up, stand up and execute. Failure to perform such fundamentals, for whatever reason, is as damning and damaging to a team's chances of winning as any lapse in zonal marking or flaw in formation.

Turning point
The removal of Houston's Calen Carr in the 59th minute for Macoumba Kandji changed the game in L.A.'s favor. With the helmeted Dynamo in the game, Houston was able to play against type. The team that was expected to soak up pressure and wreak havoc on the break looked calmest in possession and taking the initiative. But after Carr left the field, Houston lost its thrust and the Galaxy took advantage, scoring twice off set pieces against a suddenly disorganized Houston back line.

Return of Omar Gonzalez
Omar Gonzalez proved to be a prime example of how fortunes for both player and team can change over 90 minutes. In the first half, it was the L.A. Galaxy defender who kept Houston Dynamo forward Calen Carr on side as he raced into the clear, and the striker put the visitors ahead just one moment before halftime.

Given the way Houston was defending, there was a feeling around the Home Depot Center that the goal would stand up. And in light of how commanding Gonzalez was for much of the match, especially in the air, it would have been a cruel blow indeed.

But then the Galaxy defender helped turn the match around. A corner kick was reset to the right wing thanks to David Beckham, and Gonzalez met Juninho's cross with a wonderful looping header past a despairing Tally Hall. It proved to be a catalyst for the Galaxy, who took the lead five minutes later on a Landon Donovan penalty, and Robbie Keane sealed the match with another penalty in stoppage time to complete a 3-1 victory.

It also allowed Gonzalez to finish an up-and-down year on a considerable high. He started the year tearing the ACL in his left knee while on trial with Bundesliga side Nuremburg. And who knows, if the trial had been successful, Gonzalez might not have even been a Galaxy player this season. But stick around he did, and thanks to him, L.A. is celebrating a second consecutive championship.

Additional reporting from Jeff Carlisle and Roger Bennett from the Home Depot Center.