Redknapp effect all about belief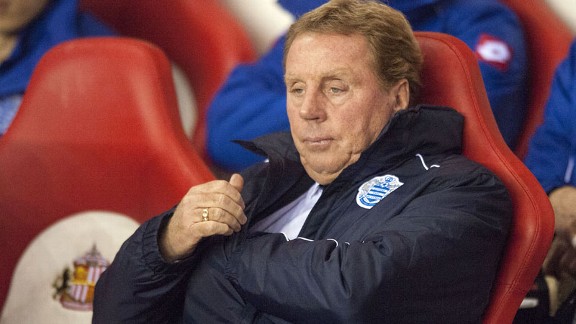 PA PhotosHarry Redknapp has seen it all before and knows how to get a side out of danger
With Harry Redknapp these days, it can often be difficult to separate the caricature from the actual manager. Occasionally, though, he really doesn't help himself. Take his first proper Friday morning press conference with QPR.

The opening question, of course, was about the transfer window. And, although Redknapp tried to maintain that he isn't even thinking about January yet, he couldn't stop himself giving a few statements on mooted targets. The descriptions, meanwhile, were all too typical:

David Beckham? "A top bloke and a fantastic player." Joe Cole? "He's been a top player and I still think there's a top player in him."

In a football world where the pressing game has brought the biggest prizes, Redknapp is a manager who infamously instructed one of his players to "f**king run around a bit".

That difference of description, though, is key when it comes to the new QPR manager. He could almost serve as a case study in the whole debate surrounding the types of coach in the modern game. Very often, for example, you will see Redknapp attempt the same move as so-called 'textbook managers' like Andre Villas-Boas or Rafa Benitez only to describe it in a completely different way with very different words afterwards. One will have come to his conclusion through learning and education, the other through living and intuition.

And, while Redknapp's own unique approach may not exactly lend itself to long-term team construction - it's difficult to deny that his Tottenham team blew their big chance at an actual title challenge last season - it's that very intuition that is particularly relevant to the QPR situation; as well as that key first victory.

The current Loftus Road side are quite idiosyncratic themselves. From one perspective, there seems to simply be a bloated, expensive squad put together with no actual planning beyond vague notions of 'Premier League quality'. From another, there is the core of a good side there, not least in the middle of the pitch. As Redknapp said himself: "I think we've got the players... if I didn't, I wouldn't have come here."

Even more notably, there is the nature of their performances. So far this season, QPR have often been at their best in games they've not been expected to win - such as away to Arsenal, Tottenham and Manchester United - but caved in contests where they should be cleaning up: Reading and Southampton at home.

In truth, that suggests something mainly psychological with the squad. As adequate a manager as Mark Hughes is, it is possible he just couldn't break through the mental barrier of getting that first win, with the millstone then only serving to further weigh the team down and perpetuate the unwanted record. But, whatever you think about Redknapp, it is with this kind of intuitive influence that he generally shows his main qualities.

On Friday, he told two interesting stories about his second period at Portsmouth, which had a lot of parallels with QPR, right down to when he took the job and the position they were in.

The first actually came from the later game, when he found himself in charge of a side that had reached March without winning in 2006 and, in short, looked doomed; not least when Manchester City equalised at Fratton Park with just seven minutes to go.

"It looked like we were going to draw at home when we were well cut adrift. But, in injury time, we scored the winning goal," he said. "We came in after the game, it was like we'd won the league, won the cup. And then we went on a run the next nine or 10 games and picked up enough points to get us out of trouble. That one last-minute goal from Pedro Mendes kicked that off. That's what we need now, we need a win quickly and to get ourselves a bit of belief and up and running. You just need that one result to click you into gear."

To a certain degree, though, the simple anticipation of that kind of effect may also work against Redknapp this weekend against Aston Villa. Because, now, the pressure of that winless streak has suddenly shifted from the players to the coach.

Everything about this game, after all, would appear set up for a first win: the effect of a new manager; the effect of this particular new manager's motivational abilities; the fact it's his first home game; the fact it's a first home game against fellow strugglers.

Redknapp himself concedes the outright importance of this individual match: "It's a big game, big game. The atmosphere will be massive for us tomorrow, really push us on. We've got to get the three points."

So, what happens if they don't? Does it negate much of the Redknapp effect? Well, this where his second Portsmouth tale is telling. Even more relevantly, it was one of his first games back at Fratton Park after his return that December, and just two months before that momentum-shifting Mendes-fired Manchester City result.

"I remember going to Birmingham and getting beat by five," he recalls. "There were four teams cut adrift at the bottom and Birmingham were one of them. They beat us by five at St Andrew's and it could have been 10. You looked at their team and they had a fantastic team, a really strong side. We finished above them. After that night, you'd have said it was impossible, and I drove away thinking 'how will we finish above them'? But we did, and it can turn."

In essence, it's all about that long-term view. Because, ultimately, Redknapp doesn't seem to see a QPR team currently struggling at the bottom of the table. He sees one filled with enough talent to be in the middle of it or even challenging for Europe.

"We're talking about [producing] top six or seven form, that's what we have to show now," he adds. "It will be hard, no-one kids themselves - it will be a difficult task but not impossible."

Part of it is making the team know their quality; that intuition, that ability to influence people.

"Yes, I think that's the key," he concludes. "If I can do that with them and give them a bit of confidence. The confidence is key, that's what it's about in anything in life. I have to get them believing they are very good players and we can win games. That first win will make a difference and kick us off. Yesterday on the training ground I thought they were fantastic. I couldn't have asked for more. They are the ones that are here, they're the ones that got us in this mess, they're the ones that are going to get us out of it. And they can do it. I feel there is enough here for us to do it."

And that's not just a cliche.