Friday Four: Rafa-ball vs. Big Sam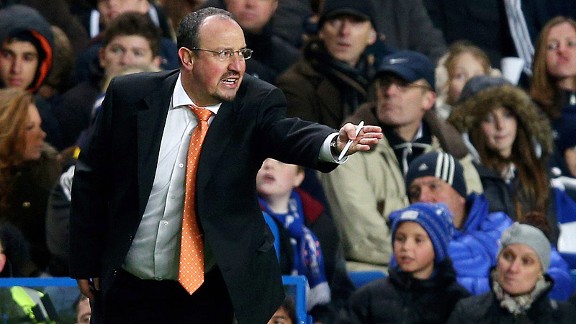 Clive Rose/Getty ImagesRafa Benitez knows where the goal is. He just hasn't managed to inspire any since joining Chelsea.
Even soccer fans take a moment to count their blessings at Thanksgiving, and this year brought each of us a bumper crop. Led by Lionel Messi's assault on Gerd Muller's record of 85 goals in a single calendar year, 2012 has brought us delights galore. Now that Rafa Benitez is driving Chelsea fans mad from within and tabloid fave 'Arry Redknapp has returned to the managerial fold, we are fired up to lay our opinions about this week's foursome on the line.

West Ham vs. Chelsea

Normally this would be about the meeting of two of London's most ornery fan bases. But not this time. Not with Rafa bringing his noxious blend of dull and insipid safety-first football to Roman Abramovich's carefully constructed stable of thoroughbreds. You actually have to give the new Chelsea manager a perverse form of credit for becoming the first tactician in quite some time to figure out exactly how to neutralize the Chelsea attack.

Chelsea's "system" relies heavily on the outside fullbacks to provide the width that stretches any back four, but Ashley Cole and Cesar Azpilicueta now venture beyond the halfway line as frequently as QPR wins matches.

With seven of the team's starting XI generally in Petr Cech's end, the Blues' increasingly sporadic offensive forays consist mainly of passing the ball to Fernando Torres so he can fall down, or belting long-range shots over the bar in an homage to space travel. Against Fulham, a team that had won two out of 40 at Stamford Bridge, the Blues managed a Liverpudlian three of 17 shots on target and would have lost if the assistant referee had correctly applied the offside rule.

Both the Blues and the Hammers have fond memories of Oct. 20 -- the last time either side won a game -- and this has the added weight of being a local derby. Expect some serious physical play from the Hammers -- ex-roommates Kevin Nolan and Andy Carroll love to throw their bodies around -- and with John Terry still recovering from his latest bout of decrepitude, you can't really expect David Luiz to have the slightest idea how to combat a player with Carroll's aerial skills. With Big Sam Allardyce's strategy clear to all -- get ball wide to Matt Jarvis, cross, repeat -- things couldn't be more finely balanced.

Chelsea has better players, a stronger pedigree, loftier expectations and Benitez, a man who can singlehandedly nullify the first three items on the list. Allardyce always has his team up for the big boys (West Ham gave Manchester United all it could handle in midweek), and if this game sparks, it could be an extremely enjoyable encounter.

We're going to go out on a huge limb here and predict that Chelsea will finally score a goal -- under Rafa, the Blues have drawn two consecutive games 0-0 for the first time since September 2004 -- although there's no chance that it will be slotted by Fernando Torres. This will instantly create such a sense of bewilderment that Rafa will sub out all three of his attacking midfielders for two center backs and the reserve goalkeeper, cueing a Carroll equalizer in the 93rd minute. All of which will confuse and delight Liverpool fans in equal measure.

West Ham 1, Chelsea 1

Manchester City vs. Everton

On the surface, this doesn't appear to be much of a contest. Manchester City's Qatari paymasters have splashed enough lucre on player purchases to have bought and sold Everton five times over. City is enjoying an unbeaten league start to the campaign; is practically invincible at the Etihad, last tasting a home Prem defeat 36 matches ago; and has yielded a total of three goals to visiting teams since Sept. 1.

Furthermore, Roberto Mancini has the finest striking foursome in the land and will be sending out two or three of them to face an Everton squad (minus the superb Leighton Baines) whose last clean sheet came when stegosaurus roamed the globe (or nine games ago, whichever came first).

But David Moyes' Evertonians have proven to be quite the bogey team for their hosts, having won an astonishing eight of the last 10 head-to-heads. Last year, after former Manchester United player Darron Gibson struck to give Everton a 1-0 win over City, Mancini even went so far in the postgame interview as to tell the assembled reporters that Moyes had outcoached him yet again.

With Everton striving to regain its winning ways and City riding on the back of a lackluster run that has seen it evince four draws out of its past seven matches played, this one has ones written all over it.

Man City 1, Everton 1

West Bromwich Albion vs. Stoke

For the very few among us who've possessed the intestinal fortitude to watch all 90 minutes of a Stoke match, you know that the phrase "it's like pulling teeth" is an apt analogy. Unfortunately for the Potters' front man, Peter Crouch, he took that concept a little too literally in Stoke's midweek 2-1 comeback win against struggling Newcastle, losing three members of his nacho-crunching brigade in a collision with Fabricio "Cavity Fixer" Coloccini. As such, Crouchie will miss Saturday's clash at the Hawthorns, thus quickening the pulse of soccer nerds hoping for a non-ironic Michael Owen sighting.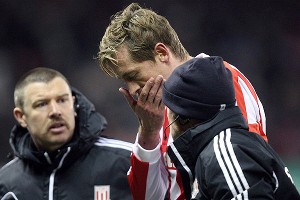 Ian Horrocks/Getty ImagesPeter Crouch was stunned by Newcastle in midweek. Can Stoke sock West Brom in the mouth this Saturday?
As both Roberto Di Matteo and fellow triptych Andres Villas-Boas learned to their professional dismay, the Baggies are no longer anybody's soft touch, especially at home. Only Manchester City boasts a better points haul on home soil. Stoke, on the other hand, has won as many away EPL games as Charlie Sheen has Oscars, managing a measly six goals in the process.

With Shane Long enjoying possibly the most purple patch of his entire Premiership career, Chelsea loaner Romelu Lukaku potent and Peter Odemwingie also finding the score-sheet with metronomic regularity, we expect the league's fourth-place team to rebound from its season-low effort against Swansea and glide to as comfortable a victory as anybody ever manages against a Tony Pulis outfit.

West Brom 2, Stoke 0 (although we fervently hope that Mikey Owen collects his second shot on goal for the season)

Newcastle vs. Wigan

Looking back at our previous dispatches, we realize that we've been terribly kind to the Wigwammers by never writing about them. Like the swallows' annual return to the mission at San Juan Capistrano, Roberto Martinez's little-engines-that-barely-manage find themselves hovering around the relegation zone. Remarkably, the Latics are tied on 14 points with last season's underdog darlings, Newcastle United. We think we can name an owner who might, maybe, possibly, perhaps be regretting giving his manager a contract extension to match the length of Queen Victoria's reign.

So what's wrong at Newcastle? It's one of the few times you can legitimately look at the physio's table to get the answer. Key midfielder Yohan Cabaye is out until at least February and is joined in the hurt locker by Hatem Ben Arfa, Dan Gosling, Gabriel Obertan, Ryan Taylor, Steven Taylor and Shola Ameobi. It's starting to look like Alan Pardew has borrowed a page from the Arsene Wenger Big Book of Excuses. The resulting disconnect between the Magpies midfield and both penalty areas has led to Newcastle being repeatedly exposed on the counter.

The Geordies can score -- 14 so far this season -- but recently they've leaked like a capacious colander. Wigan comes in eager for a result in the North East. After all, this might be the year when Martinez's charges aren't scrambling at the death to avoid the plunge back into the lower division.

We think this one has all the hallmarks of fast-break football, with the Magpies landing the last haymaker.

Newcastle United 3, Wigan 2

Paul Kanarek is a freelance soccer writer living in Los Angeles, the only city in America where MLS teams outnumber NFL teams 2-0. James Tyler is an editor for ESPNFC.