Man City's James of all trades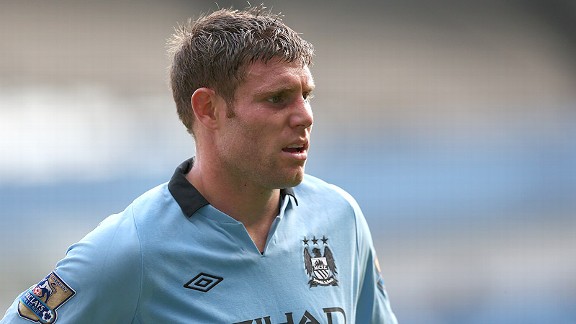 Alex Livesey/Getty ImagesWhat does a manager do with a player like Milner, whose skills don't scream for a particular job or convince you that he's worth it?
"The world needs ditch diggers too."

A fairly throwaway line from the cult classic "Caddyshack," but a concept that can effortlessly be applied to Manchester City. If Judge Smails were Roberto Mancini, he'd note three able-bodied ditch diggers currently in the first-team rotation: Pablo Zabaleta (who's having a great season), Gareth Barry and James Milner. Yet it's the latter pair that most intrigues and frustrates me when watching City play.

Every good team needs its less glamorous components in order to make it work, the same way a cake doesn't just happen by dumping flour, eggs and butter into a tin and lighting the entire thing on fire. There has to be a pinch of baking soda, a few grains of salt. A good paragraph can't consist of prepositions and exclamation points. Sooner or later, something has to gerund.

Enter soccer's ablatives -- Milner and Barry. Both were bought from Aston Villa some 14 months apart, and their use and function in the Man City lineup reveals volumes as to how well the defending champion will defend its crown this season. Since Milner signed in August 2010, the duo have started 33 Premier League games together, winning 17, losing nine and drawing seven. Decent enough, except when you consider that over that same stretch, City has a 58-18-14 record in 90 EPL tilts. That the Milner/Barry Axis Of Near-Intolerable Blandness has played a direct hand in half of City's defeats and half its draws is no coincidence. When Mancini sets out such a negative stall, bad things happen.

Granted, the caliber of opposition plays a part -- for example, the pair started all eight games against Man United, Arsenal, Liverpool and Chelsea in 2010-11 -- but there were also some dreadful, head-scratching failures in the mix. The tepid 2-1 defeat at Wolves amid the Carlos Tevez Golfgate. A 2-2 home draw with Birmingham thanks to Craig Gardner's late equalizer. The one vintage Andy Carroll-at-Liverpool game in which the ponytailed ambler netted twice in a 3-0 thumping and looked, for a fleeting second, like the next Anfield legend-in-waiting that everyone prayed he could be.

It's obvious that when Mancini needs to stultify an opponent, in come the Tepid Twins, but what I'm really drilling at in all of this is James Milner. Gareth Barry's worth to the City team is obvious: a sit-deep traffic controller in midfield. Read the opposition, react accordingly. A mixture of reductive instinct and reactive flair-blanketing around Joe Hart's box. Since Nigel de Jong packed up his kung-fu swagger for a berth in Milan, Javi Garcia has yet to assert himself, and Yaya Toure is routinely loosed upfield, Gaz has a purpose.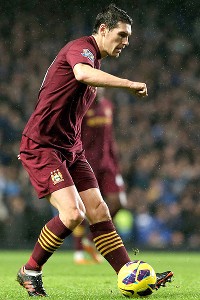 Julian Finney/Getty ImagesWhen Gareth Barry joins Milner in the City side, you know Roberto Mancini is setting up for an ultra-defensive (and ultra-boring) match.
Milner's role, meanwhile, is more nebulous. He falls into the versatility trap with his willingness to play the role of Jack-of-all-trades anywhere on the pitch, caulking the random gaps with his gummy brand of hard work and bluster. There's no fluff to Milner's game. He's an alarm that never goes off, a Newton's cradle clad in light blue polyester. He doesn't anchor the middle. He doesn't particularly astound as a winger or as a bombastic runner from deep. He's just ... there.

While others elevated this workmanlike set of traits into cult-hero calling card -- Dirk Kuyt at Liverpool, Ji-Sung Park at United (not QPR), Craig Bellamy where'er the wind blows him -- James Milner wears it like a noose.

And yet he's capable of things like this, a preposterous strike off the subs' bench that reminds you he's all and none of the above. Teed up by Barry (of all people), Milner's 25-yard, pile-driven Exocet proved that there exists an ounce of fecund brilliance in his right boot from time to time. (These aren't unique either, as he's managed goals that'd make Zlatan get a commemorative tattoo. Check out this breezy long-range lob against Hull.)

What does a manager do with a player like Milner, a player whose skills don't scream for a particular job nor convince you that he's worth it? In Mancini's case -- as opposed to at Aston Villa, where young James was the talismanic, marauding dynamo -- Milner becomes a comforting, homegrown security blanket, a pacifier to quell the acerbic. Where there is tumult, there is James Milner, blandly tidying it up. Hence all his deployments against the best teams in the league; whether un-trusting of his side's naturally attacking verve or simply crippled by the fear of dropping points, Milner has a very obvious use.

But oh, how it numbs. When you see the pair listed on the team sheet, you know that a beige afternoon awaits you. The juxtaposition of Barry/Milner, two teammates for whom a cup of regular coffee is considered a wild night, against City's gaggle of absurd entertainers is curious but perhaps necessary. After all, a team full of twinkle-toed Pucks like Arsenal only succeeds in breaking your heart. A side full of brick-laying hoof-ball artisans like Stoke only triumphs in cracking your will to live.

The right approach is, as Mancini recognizes, probably somewhere in the middle. And it probably involves a lad like James bloody Milner.