Brazil chief desperate for former glory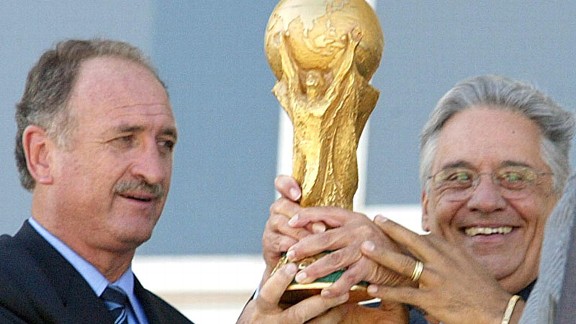 GettyImagesBrazil coach Luiz Scolari holds aloft the World Cup in 2002
As a club coach in the 1990s Luiz Felipe Scolari professed to have no interest in taking charge of the Brazilian national team. Then, in 2001, with a year to go until the World Cup in Japan and South Korea, he changed his mind and stepped into the role, won the tournament and got out while the going was good.

- Video: WC 2014 stadia behind schedule - Valcke
- Luiz Scolari confirmed as Brazil boss
- Menezes firing puts Brazil back at square one

Now history might be repeating itself -- Scolari would certainly hope so -- after accepting the Brazil job for a second time.

Straight after South Africa 2010 the national team job was once again vacant and Scolari was seen as the peoples' choice. But he made sure he was unavailable, signing a contract to coach Sao Paulo club Palmeiras. He did not want the post then, with four years to go to the next World Cup. Now, with just 19 months to go until the circus comes to town, it is a different story. "Big Phil" hopes to become bigger still -- leading Brazil to triumph on home soil would give him soccer immortality.

Scolari's appointment rounds off a whirlwind few days, kicked off on Friday with the surprise sacking of Mano Menezes. Few would have been shocked had the axe fallen in August, after Brazil had lost to Mexico in the final of the Olympic Games. Intolerance of failure is a traditional part of the Brazilian game.

The subsequent months, though, have been undeniably successful. Results and performances have been good. The recall of Kaka, controversial at the time because of his lack of activity at Real Madrid, proved something of a triumph. His experience alongside the youth of Oscar and Neymar was an interesting blend, and his introduction in place of a target-man centre forward left the team's attack looking more fluid and unpredictable.

"For the first time," wrote 1970 great Tostao after October's ruthless 4-0 win over Japan, "I am hopeful that Brazil will have a great team in the World Cup. This is the way forward."

So why was that route brought to an abrupt halt Friday? The simple answer is probably because, as the phrase goes, Brazil is not for beginners. Machiavelli himself might struggle to understand the endless battle of personal interests at the heart of the country's soccer politics.

The president of the CBF (Brazil's soccer association), Jose Maria Marin, has been around a long time -- he is 80 -- and seemingly aims to stay around a while longer. A veteran operator in the formal political process, he stepped into his current role in March on the resignation of Ricardo Teixeira, and some have interpreted the sacking of Menezes as the launching of Marin's campaign to win another mandate in the CBF elections of April 2014.

His main opponent was seen as Andres Sanchez, director of national teams and previously president of Corinthians, where he worked with Menezes. Sanchez, then, was against the sacking of Menezes, which has made his own position untenable. "The fall of Mano," wrote the excellent journalist Andre Kfouri, "was a collateral effect of the identification of Andres Sanchez as an obstacle in the way [of Marin's election hopes]."

In August, Scolari was not available; he was still coaching Palmeiras. Fast forward three and a half months and the situation is different. Scolari is now free. True, he was sacked by Palmeiras after leaving the club deep in relegation trouble and they did, in the end, go down to the second division. But this does not seem to have affected his prestige with the Brazilian people. His charisma and track record make him a popular choice as Brazil coach, though perhaps not the most popular.

Walter de Mattos, publisher of Brazil's sports daily Lance!, has contacts with former Barcelona coach Pep Guardiola. As soon as he became aware that Menezes was on the way out, Mattos worked his contacts and got the answer he was looking for. Guardiola, currently living in New York, would be prepared to interrupt his sabbatical and return to work for one job only: coaching the Brazil national team.

Lance! went into overdrive, pumping out the information that Guardiola was available, making the case in his favour and then watching their man race to the top of the charts in many of the opinion polls.

The newspaper campaign changed the game. Debate raged. Was Brazil ready to have a foreign coach? Could Guardiola restore Brazil to their former glories? Endlessly cited was a comment the Catalan coach made a year ago, after his Barcelona side had brushed aside Santos of Brazil with humiliating ease in the final of the World Club Cup. His team, he said, passed the ball around in the manner that his grandparents told him Brazil used to do.

The CBF moved quickly to head off the Guardiola bandwagon. The original line was that the new coach would not be announced until January. Then it was next Tuesday. Now it has become Thursday morning, 10:30 Rio de Janeiro time. And so the game has changed once more. Guardiola has now become an "if only." Big Phil is a fait accompli.

Guardiola's admirers hoped he would be given the chance to turn Brazil's clock back to 1970, when Brazil had more midfield imagination, more fluidity and joyful expression in their play. Instead with Scolari it is back to 2001, for an odyssey destined to have one of two endings.

Either he is the inspirational figure who wins the World Cup, using his old communication skills to unite his players into a single family, bringing his pragmatic intelligence into play to show that Brazil has no need of foreign coaches.

Or he will be judged as a backward step, an outdated figure who never should have been appointed ahead of the man from across the Atlantic who was willing to restore Brazil to their traditional position as spiritual guardians of the beautiful game. When Brazil host the World Cup, there are no half measures.

Tim Vickery is an English football journalist who has lived in Brazil since 1994 and specializes in South American football.