Dying of the light for Giggs and Scholes
Old Trafford is becoming a place of plinth. In the Stretford End's concourse, a statue of Denis Law greets fans. Outside the East Stand, Law is also part of a 'Holy Trinity' mount alongside George Best and Bobby Charlton. They stand opposite their mentor, Sir Matt Busby.

Friday saw the unveiling of a statue of Sir Alex Ferguson behind the former North Stand that now bears his name. There were attendant legends to help the old man celebrate. Eric Cantona, as ever, was the centre of attention but his company was hardly much less stellar. Ruud Van Nistelrooy, Dwight Yorke, Ole Gunnar Solskjaer and Andy Cole are four of the club's greatest strikers, while Edwin Van Der Saar is still much missed as a goalkeeper.

The following day, with Cantona having taken his regal leave, much of the old boys' gathering attended United's game with Queens Park Rangers. Andy Cole has a season ticket with his son, while Yorke is still a regular at the ground and still trains with the club from time to time. The Dutch pair and their wives took their seats in the directors' box.

A row behind them sat Brian McClair, by the former striker's side was Ryan Giggs. As the only current player with any club to have pre-dated the Premier League, Giggs has played with every one of the aforementioned. His longevity is unrivalled by anyone in United history, and the day a statue is struck for him cannot be far away.

On Saturday, Giggs and his former comrades looked on as one of their own played. Paul Scholes, like Giggs, played with every one of the Ferguson plinth party. He is as much as a United legend as any of them. Bobby Charlton, who passed 60 years with the club this year, has always loved Scholes above all others.

Scholes enjoys a footballing afterlife none of his illustrious forebears ever managed. A year ago, he was an ex-footballer, a quiet and peripheral presence at the Carrington training ground. It was hoped he could pass on his magic to the club's youngsters but he never took to coaching. As the year turned into 2012, Scholes was in Ferguson's office, asking if he could play again. Ferguson, who had often joked that he would decide when Scholes and Giggs could retire, was happy to take up the offer. On New Year's Eve, he had been forced to field a midfield pairing of Rafael and Park Ji-Sung. Blackburn, the worst team in the league, had beaten United.

Scholes' resurrection after being a surprise substitute in the FA Cup Third Round at Manchester City almost took United to their 20th title. He looked rusty against City that day, but was soon dictating play in the manner he always had. A goal and strutting display against QPR in April, a match won before City faltered at Arsenal, took United eight points clear. They had won every game he had started, but the big push was stopped in its tracks by defeat at Wigan, a game that Scholes sat out.

A night where City crushed West Bromwich Albion 4-0 swung a done-and-dusted title race towards a death match at Eastlands. Ferguson started both Scholes and Giggs, and United began the brighter, looking composed before Vincent Kompany's headed winner on half-time. The hardy perennials could not get into the game and United were reduced to long-ball football. City, with greater athleticism and energy, assumed total control of midfield. Forget Sergio Aguero's goal on May 13 if you can; it was here that United truly lost their title.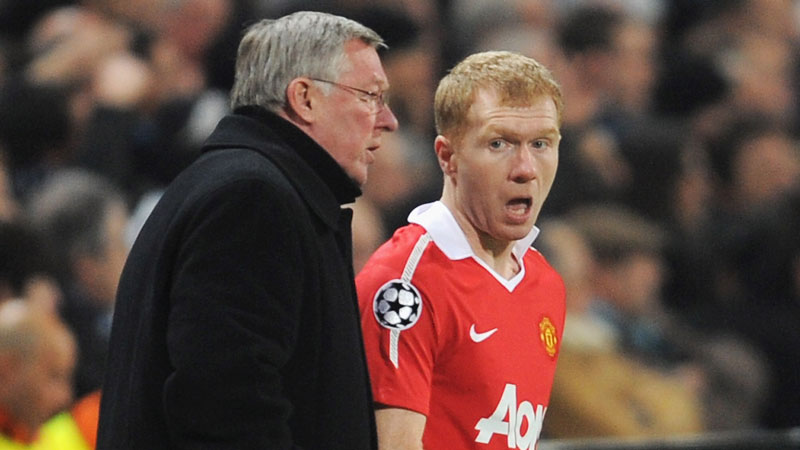 GettyImagesSir Alex Ferguson: Talked Paul Scholes into a return after he hung up his boots

Scholes is said to have taken some persuasion to continue, but Ferguson still needs him, such has been the reluctance or inability to find a replacement. Scholes has played in 10 of United's first 13 matches, though was only a substitute in the bigger games - unused against Chelsea and Arsenal, and from half-time at Liverpool. Rangers - lesser opposition by any measure this season - is the type of game where Scholes still expects to thrive but he could not. Rangers got at him, frustrated him, and the legendary radar was off. He was booked for snapping into the type of tackle that has always provided fuel for detractors. Scholes was once regarded as the heir to Cantona, the 'Ginger Prince' to the 'King' though it is perhaps his tackling that is most similar. Old Trafford would gasp in anxious anticipation when Cantona launched himself into a tackle, and breathe out only when he missed his target. Scholes draws a similar hand-over-eyes reaction.

United's eventual victory came only after Scholes was replaced by Anderson. The tubby Brazilian supplied the clinching goal for Javier Hernandez after a burst of pace that was never Scholes' trademark but which United had lacked all game. Scholes had departed in dejection, barely acknowledging the hand-shake of his manager. He has always had the highest standards of himself, and a keen awareness of when he is not wanted, as England discovered way back in 2004.

The previous week had seen Giggs play in Scholes' position in United's twilight zone of a midfield. In a far more troubling manner than Scholes against Rangers, Giggs was simply overrun by Norwich City's energy. As at Wigan in April, he was paired with Michael Carrick, a combination which has worked in the past, and usually against Chelsea in particular, but has now exceeded its usefulness. Giggs, though he is 39 this week, once provided energy and speed to the pair but could supply neither at Carrow Road. United never once looked like staging a trademark comeback win.

It was a performance to endanger a legacy. Believe it or not, there are those United fans who have never seen the point of Giggs. Many perhaps do not recall a Manchester United team without Giggs, or those early years in which he carried with him the hope of a new United. Others feel he has not fulfilled the potential of those years and call up the frequently seen image of the Welshman with hands on hips, his face in indifferent rejection of responsibility for a failed passing move.

That is an unnecessarily jaundiced view. Together, the pair were part of the best midfield four in the Premier League's history, with only the Arsenal unit of the time their possible rival. But those years were from 1996 to 2003. Their colleagues are long gone. Roy Keane is a reluctant TV pundit; David Beckham an anti-ageing product looking for one last market.

Ryan Giggs and Paul Scholes have survived, but their day is now coming too. The dying of their light should not detract from two careers that have burned brighter and longer than any in the modern game.