The moody Blues tour continues
There's a reason therapy sessions are held in private. No one wants to see the angst, the melodrama, the irrationality and the constant whinging. Yet at Stamford Bridge on Sunday, the home supporters were having their own very public session in which to vent their anger. They were mad at their new manager Rafa Benitez, that much was clear based on the boos, the signs, the songs. But were they also anti-Roman Abramovich? Shouldn't they have been railing against their money-bags owner, the man who brought Benitez on board this week after sacking club legend Roberto Di Matteo? And what were their feelings toward Fernando Torres, who finished the 90 minutes looking as depressed and lost as ever?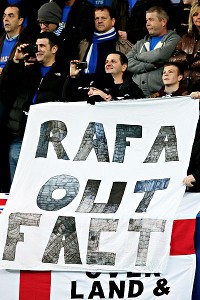 Julian Finney/Getty ImagesChelsea fans vented their frustrations against the ninth manager under the Abramovich era.
Ultimately, Blues fans should probably be most upset at the fact their side ended the match against Manchester City in a flaccid, scoreless draw. It was their fifth league match without a win (L, D, D, L, D).

You couldn't expect that Rafa's Chelsea was going to look any different than Di Matteo's Chelsea. The game was mostly marred by wayward passing and few chances created. With so much money invested on so many world-class players, City right back Pablo Zabaleta -- dependable, hard-working, unspectacular -- was the best player on the pitch in the first half and at the start of the second, showing endeavor down the right.

With Chelsea's first shot coming in the 39th minute, the most "positive" sign -- if you can call it that -- was in the 16th minute, when fans paid homage to their recently sacked manager. Yet all around Stamford Bridge were rather puerile placards, including "In Roberto we trusted and loved. In Rafa we will never trust. Fact."

Another fact: Chelsea didn't exhibit enough of the slick link-up play between Oscar, Juan Mata and Eden Hazard. More typical was what we saw in the 30th minute, when Mata received the ball from Oscar. Finding himself with time and space, Mata could have shot; instead, he tried to slip a pass to Ashley Cole -- who, mind you, had a good day on defense -- and the pass went out for a goal kick. City were no less complicit in the poor passing department. Typical for them was what happened in the 55th minute: David Silva slipped Yaya Toure the ball. His ensuing pass went behind Sergio Aguero, who had already started to make his run inside the box.

Too often, players were not on the same page as the dour, driving rain matching a negative, sometimes nasty mood at the Bridge. Torres did get a shot off, though. In the 61st minute, Hazard back-heeled the ball to El Nino, who took a vigorous lash at the ball. It sailed well above the crossbar, but it was enough for Benitez to give the thumbs up and applaud his striker. Whether Torres saw the positive reinforcement -- his head was well buried in his hands at that point -- is another matter.

Under Benitez at Liverpool, Torres scored 56 goals in 79 games -- numbers that surely dance in the mind of Abramovich, who was on hand to watch the uninspired game. So, too, was Didier Drogba, the Stamford Bridge "legend," as the banner read. He was moved out to make room for Torres, but how many Chelsea fans would go back in time and swap that deal, sending the Spaniard to China instead?

Were there any positive takeaways for Chelsea? A clean sheet, for one, an accomplishment Petr Cech had not achieved in the past 10 games in all competitions. Then again, Manchester City didn't exactly mount much of a challenge, either -- nine shots, with five on goal, and 11 corners.

You remember the Sky Blues, right? In all the hype of Benitez coming to town, Roberto Mancini must be enjoying a few days in which he's not being hammered by the press for tinkering with his formation or getting bounced out of Europe. But he surely must be wondering why he didn't get better performances out of Toure & Co. He might also consider going back to starting Edin "Don't call me a super sub" Dzeko on the bench, because he went missing for long periods in this game.

So City remain in second place, Chelsea fourth. Each side had a chance to overtake the team above them, but uninspired performances conspired to prevent that from happening. There's simply too much quality on the pitch for this to continue. It was just one of those days. As for Chelsea, it can only hope that Blues supporters got all the anger out of their system as the Premier League season heats up. There's nothing worse than dysfunctional melodrama during the holidays.