Menezes firing puts Brazil back at square one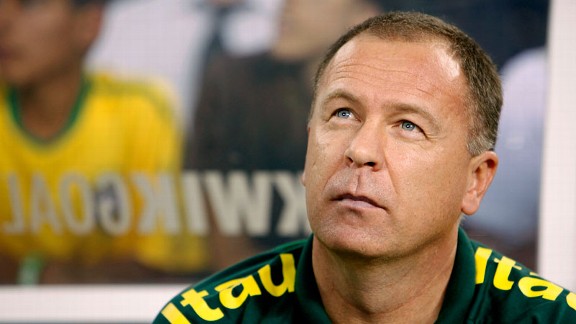 Jeff Zelevansky/Getty ImagesMano Menezes wasn't a perfect manager for Brazil, but his untimely dismissal throws the Selecao's pursuit of a sixth World Cup into doubt.
When Brazil's football organising body, the CBF, hired Mano Menezes as manager on a four-year deal in the wake of the 2010 World Cup, it was done to allow him that time to assemble a team capable of winning win the competition in 2014 -- nay, obliged to win it.

The CBF even kept faith when he struggled at the beginning of his reign and onlookers and pundits began to wonder about his suitability for the role.

Menezes was expected to assemble a World Cup-winning team, and just when it looked like his Selecao had turned a corner after a difficult period, he was sacked Friday by the CBF. Now, the same old uncertainty that Menezes had navigated begins anew, just 18 months before FIFA's big tournament kicks off in Sao Paolo.

Granted, Menezes arguably could have been fired a year ago. It would have made far more sense than this out-of-the-blue severance that has all the hallmarks of a typically political wrangle within the federation. But he wasn't fired then, even though his side won only a single game at the 2011 Copa America in neighbouring Argentina. A quarterfinal elimination was unacceptable, but he did not lose his job.

The CBF's decision to keep their man in the wake of such a campaign was not just brave, but telling of a new and pragmatic mindset. As a continent, South America is regarded by some as a place of lunacy and irrationality when it comes to football. As well as the clichéd (and arguably mythical) joga bonito on the pitch, this rash streak is something that people always seem to associate with football in these countries -- a passion that sometimes overflows into self-sabotage, all played out against a backdrop of alleged corruption.

In South America's showpiece competition, Brazil lacked fluidity and purpose. They were deficient throughout the tournament: a jaundiced, chartreuse yellow rather than the bright and bold canary hue that has historically echoed the vibrancy and dynamism of not just the Selecao's play, but their soul.

Yet there was method behind the madness. Menezes had taken a young squad to Argentina. Realizing there would be few competitive games for his charges to experience before 2014, he put his faith in the youngsters he believed would anchor his World Cup squad, and this was the right idea. But his focus on the future nearly cost him his job after such a poor showing at the Copa America; paradoxically, his obsession with preparing players for the World Cup is ultimately what kept him in his post.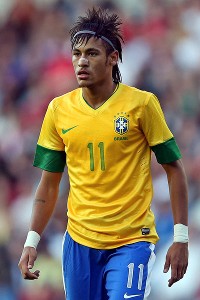 Julian Finney/Getty ImagesYoung star Neymar had become the focal point of Menezes' Brazil side, yet just as the Selecao were rounding into form, a new manager might start from scratch.

By persisting with Menezes and his long-term plan, the Brazilian federation was stepping out from the shadow of stereotype and instead began to mirror the proliferating global view of Brazil as a whole. It was a case of shrugging off the image as some sort of backward, carnival country that needs only football to bring a smile to its face, replacing it instead with the appearance of a modern, emerging nation. Brazil's football had always been respected, but the country itself had not necessarily been appreciated.

Neymar emerged early on as the figurehead for Menezes' young Selecao side principally on talent, yet this youthful, Rufio-esque footballing genius was to become not just symbolic of this team or the poster boy of the World Cup, but the ludicrously coiffured face of what booming Brazil could do. For the first time ever, there was a South American prodigy who turned his back on the traditional premature European move in favour of honing his game at Santos. While this was something that would never have previously been financially viable, Neymar was convinced to turn his back on the old continent's elite and thus buoy the domestic game -- thanks to a string of endorsements, some third-party assistance and friends in high places.

Having provoked a feel-good factor around the country, many older stars also began returning "early" from their European clubs to play for some of Brazil's most iconic teams. Most notably, Luis Fabiano turned down a Premier League move to go back to Sao Paulo, while Vagner Love left Europe for Flamengo.

As the Copa America faded from memory and friendly performances began to improve, there was a gradual alignment between the modernisation of a country and the CBF hauling itself into the 21st century. Longtime CBF President Ricardo Teixeira was finally ousted from power after allegations of corruption stretching back nearly two decades came home to roost, and there were optimistic whispers of change.

Jose Maria Marin replaced Ricardo Teixeira and made the call to relieve Menezes of his duties. Overall, the decision reeks of politics. The precise motives are not yet clear, but it doubtlessly appears now that Menezes was not Marin's man. Such a bizarre and potentially damaging decision only serves to dredge up memories of the incompetence that all believed to be on its way out.

The early stages of organizing the World Cup were undoubtedly an absolute farce, with Teixeira eschewing common sense in favour of electioneering while jeopardizing the tournament's successful and punctual delivery. In an unprecedented step, FIFA had to step in to choose the host cities, but valuable time had already been lost, leaving Brazil to play catch-up in a bid to provide world-class venues and the infrastructure to accompany it.

Now, the Selecao are under similar strain thanks to Menezes' dismissal, with no obvious and outstanding replacement and just when his four-year plan was starting to come together.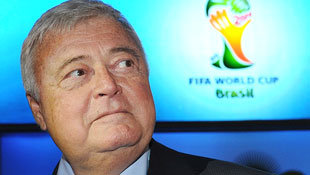 Michael Regan/Getty ImagesWhen Ricardo Teixeira was ousted as CBF President, many thought the ineptitude and poor leadership went with him. Yet Menezes' firing proves this is not necessarily the case.

While he may have stumbled upon it by accident, Menezes seemed to have struck gold with his formation in recent friendlies, using Neymar as more of a false 9 than his conventional left-sided position and pushing Oscar higher up the pitch. Menezes' critics will say that he deserves little credit for finding this new fluid system -- and that only injury to Leandro Damiao had allowed him to do so -- but however it came about, there was little doubt that Brazil began to look like a cohesive and exciting unit.

Now that Menezes is gone, there is the obvious question of who will replace him and whether he will continue with what seemed to be a working formula. The front-runners for the job will no doubt be Tite, Muricy Ramalho and Luiz Felipe Scolari, but none of them appear exceptional enough to have justified Menezes' surprise departure.

Tite did brilliantly with Corinthians to win the Brasileirao and then the Copa Libertadores in 2011 and 2012, but he is far from universally popular in Brazil and doesn't play the sort of game the public likes to see from the national team. His system at the Timao was a very European 4-2-3-1 that pressed -- in big games, it appeared akin to a striker-less 4-2-4-0 -- leading to criticism from local press for being too defensive even in the face of victory.

Muricy Ramalho is a decent candidate but has already turned down the job once, in 2010. Though he has managed the team's poster boy Neymar at Santos and guided them to a Copa Libertadores win, there are questions over his tactical nous compared to Tite.

Then there is Big Phil, whose spectre is impossible to ignore, though his high-profile failure at Palmeiras this season -- one of the country's biggest clubs was relegated to the second tier -- will surely count too strongly against him.

The fact that the appointment will not be announced until January lends more weight to the theory that it could be the Corinthians boss. The opportunity to test CONMEBOL's top sides against its European counterparts is a big deal in South America, and with the World Club Cup complete in December, Tite would have little left to achieve in his current role.

Whoever assumes the role of Brazil manager, the fact is that Mano Menezes' axing has come at a time that will do more harm than good for Brazil's chances of winning the World Cup in its own backyard. While relieving him of his duties last summer would have been within reason, the CBF's timing shows that it has regressed from an improving and competent governing body to a politically motivated shambles once again.

All of which could cost the Selecao its ultimate prize: a sixth World Cup title.

Ed Malyon is a freelance sports writer who has written for The Daily Mirror, The Guardian and FourFourTwo among others. He can be contacted on @eaamalyon or by whistling in F sharp on the night of a full moon.