Teams could learn from West Brom's good sense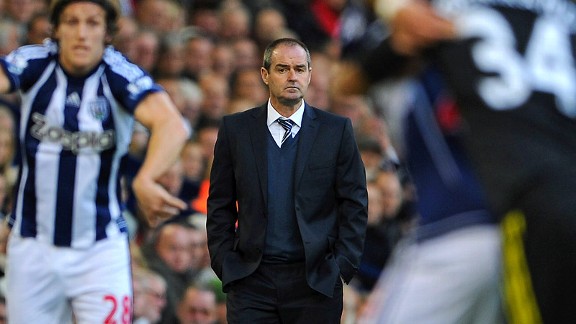 Michael Regan/Getty ImagesSteve Clarke isn't reinventing the wheel at West Brom; as such, the Baggies' strong start should serve as a guide to Prem teams in flux.
It would be great if everyone could stop missing easy answers. Apparently there is a question of what will happen at Chelsea now that the World Club Cup-winning manager Rafael Benitez has been anointed -- I mean appointed -- as the new manager there.

What nonsense. The next step is entirely obvious: try and build a post-Roberto Di Matteo era half as good as the one West Bromwich Albion has constructed, and the club will do fine. Admittedly, that's an extremely high standard.

Some explanation is needed here. Cast your mind back almost two years and West Brom was doing what Chelsea has just done: Asking Di Matteo to pack up his sweater-vests for good. Unlike Chelsea though, West Brom seemed even then to have a plan and, somewhat conveniently, a permanent man.

Roy Hodgson, fresh from his hasty exit as Liverpool manager, was already halfway in the door at the Hawthorns as Di Matteo made his way out. And whilst that seemed a little harsh on Robbie Dee at the time, it told us a lot about the kind of people in charge at West Brom. First and foremost, they have a clear sense of direction, something Chelsea seems to have written off as a childish affectation (permanent managerial appointments are, after all, the work of toddlers).

And that clarity has been huge. With Hodgson in at West Brom, a relegation scrap was curtailed and the club was safe in the Premier League that season with a few games to spare. What happens, it turns out, if you add defensive solidarity -- Hodgson and his obsession with "shape" -- to a strong set of individuals up front is that you score more goals than the other teams and win football games. But as simple as that seems, the key isn't really what happened when Hodgson took over, it's what happened beforehand: West Brom identified the right manager to come in, made sure it could get him and then had him watching from the stands the game after Di Matteo was sacked, six days later. Idea becomes plan, plan becomes delivery; all told, it saves a lot of hassle.

Both the lack of messing around and the suitability of the fit were what worked for the club. It knew what it wanted and it got it, quickly, which is a continuing theme there. Under Hodgson, West Brom finished 10th in the league last season by keeping it simple again: The work done in his first half-season in charge was maintained and extended in his first and only full term: the Baggies played with the same formation every week replete with two holding midfielders; in came the excellent Ben Foster as goalkeeper and up front, Hodgson managed to keep hold of Peter Odemwingie alongside new signing Shane Long.

When Hodgson left to become England manager, the response was more of the same. West Brom played it cool, man. Ignoring the usual list of criteria when appointing a manager -- sentimentality (the ex-player); who's in vogue (Andre Villas-Boas ... OK, he might not have been realistic) and who's left over that we've heard of (Alan Curbishley, Harry Redknapp or an amalgamation of the two) -- it brought in Steve Clarke. He'd never been a manager before; instead he'd worked at Liverpool and also at Chelsea under Jose Mourinho as a No. 2, but that didn't stop the word "inexperienced" being thrown around.

Essentially, the club backed itself to know who was a good manager better than the people on the outside who thought it was making the wrong choice. And again, it was proven right, because the team is currently in fourth place in the league.

Clarke, like Hodgson, has kept it simple. Notice the trend? Being a big enough man to know that he doesn't have to make his mark on the team for the sake of making a mark, he's carried on almost exactly where Hodgson left off, keeping most of the same personnel except with the cut-price Claudio Yacob added to his midfield and Romelu Lukaku brought on loan from Chelsea -- the kind of super-sub that a certain underperforming Champions League team could have done with.

It's a list of decisions that is almost boring to type out in its simplicity (I am bored of my own words in typing this), but I'm here to tell you that this is where success comes from. Reasonable decision after reasonable decision has given West Brom an edge in a footballing world where being reasonable is hilariously rare. Chelsea spent 50 million pounds on Fernando Torres -- never forget that.

Listen to Clarke saying every week that the team is remaining calm: He's telling the truth. West Brom doesn't panic; it stays calm and makes the correct decision over and over again. Repeat until ... forever. Chelsea isn't the only club that could learn from that approach, but it could do with harnessing it more quickly than most. The men at the top there have got Benitez in quickly, but if you're running in circles, going fast doesn't necessarily help much.

So the challenge for the Chelsea owner in moving on from Di Matteo is this: Prove that you can do it half as well as West Bromwich Albion did, and you'll be on to something.

Ethan Dean-Richards is an editor of Surreal Football. Find him on Twitter @surrealfootball.