An overdue sacking at Loftus Road
So for the second time in a week, we have been left dazed and confused by the timing of a managerial sacking, with Mark Hughes' exit from QPR coming days after it appeared to be inevitable.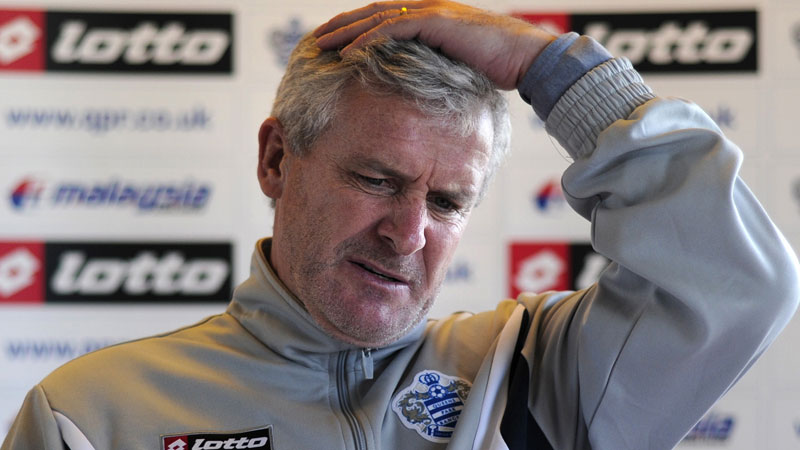 GettyImagesMark Hughes replaced Neil Warnock at the QPR helm

If Chelsea's ruthless decapitation of Champions League-winning boss Roberto Di Matteo in the early hours of Wednesday morning at their Cobham training base was an unnecessarily savage demise for a man who gave so much to his club, the slow and painful exit of Hughes has been as laborious as it has been damaging for QPR.

Hughes was the first to admit Saturday's fixture against fellow strugglers Southampton was a game he dare not lose and yet not only did Nigel Adkins' men win 3-1 at Loftus Road, QPR's beleaguered manager was forced to admit his side had "failed to perform" as they were jeered off by supporters once again.

Blatantly, that result and performance should have been the signal for QPR chairman Tony Fernandes to abandon his admirable determination to give his manager time to turn his side's fortunes around, yet nearly a whole week has been allowed to drift by without any decisive action from the club's hierarchy.

Agent Kia Joorabchian denied rumours that his client had been sacked after a meeting with Philip Beard on Monday and once QPR's media staff confirmed a news conference featuring Hughes would take place with the manager to preview their next game at Manchester United this weekend, it seemed as if changes were not imminent.

Suggestions that the QPR hierarchy were split over whether to stick with Hughes and that there was uncertainty over a possible approach to Harry Redknapp have been circulating in the London media all week, yet this decision should have been so simple.

Mark Hughes has been given a free rein in the transfer market and almost a full season of Premier League fixtures to find a winning formula at QPR and he has failed desperately in that task -- so while many managerial sackings are premature, this one is long overdue.

Don't be fooled by the theory that Hughes has had just 12 games at the start of this season to get QPR moving forward, as he also had 18 games in the second half of the last campaign and only managed to avoid relegation on the final day of the season after Bolton failed to beat Stoke.

Hughes declared in May that QPR "would not be in a relegation fight again so long as I am manager" and yet he has not seen through on that promise, with the imbalanced squad he has built floundering with increasing agony as they have cemented the bottom spot in the Premier League.

Six wins from 30 Premier League games (and at least three of those of the fortunate variety) is an unacceptable return for any manager, and when you throw in the transfer investment Hughes has been handed during his tenure in charge, it makes his failure all the more complete.

When betting was suspended on Redknapp replacing Hughes at QPR late on Thursday night, the wheels began to turn on a story that should have been written many days or weeks ago, and only time will tell whether the patience of chairman Fernandes will eventually cost his side their Premier League lives.

If it is to be Redknapp rolling into QPR's generally windswept training ground near Heathrow Airport in the next few days, he will inherit a squad of players that will soon be broken up and sent back to where they came from, and this is one manager who does not stand for players living a comfortable life on big wages.

Redknapp's second spell as Portsmouth boss was notable for his eagerness to rid the club of high-earning foreign "stars" and replacing them with home-grown, proven Premier League performers, and that is likely to be the route taken by the former Tottenham manager when the January transfer window opens.

Such is the wage bill they have sanctioned, financial meltdown beckons for QPR if they are relegated this season, with the horror story Redknapp left behind at Portsmouth liable to be repeated at Loftus Road unless they get out of the hole Hughes has put them in. But at least they have finally made a move that gives their supporters some hope at last.

As for Hughes, history suggests that he has something to offer as a manager, yet he was destined to fail at QPR and his paymasters should have appreciated as much long ago.