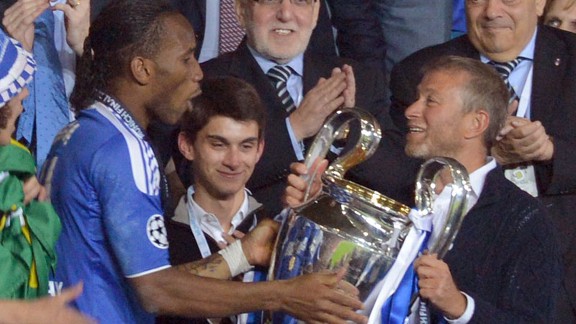 PA PhotosBringing the Holy Grail to Stamford Bridge didn't save Roberto di Matteo from Roman Abramovich's axe
It was the Munich midnight hour after Chelsea had won the Champions League.

"I just want to go on my holidays," said Roberto Di Matteo eventually. His face was flushed with success but the answers about his future were uncertain. There were no promises of forging a dynasty. It was highly possible that Di Matteo might not even be in charge of another Blues match, despite winning the prize that eight previous managers and approaching a billion pounds had previously failed to deliver. Six months later, he can start planning holidays once more and may already be feeling relieved.

The Chelsea wringer has done for better managers than him. Less than two years ago, he was sacked by West Bromwich Albion. He now has a decorated portfolio to offer to clubs across the continent and beyond. The problem is Rafael Benitez's now, for a highly foreseeable future, unless another Spaniard fails to be tempted.

Only at Chelsea? Not quite. Jupp Heynckes, the Bayern manager who Di Matteo's team had vanquished that night was once sacked after leading Real Madrid to their first European Cup in 32 years. Real's unmatched success of the last 60 years has happened in spite of, and perhaps because of, a disposable attitude to managers.

Permanence is also a stranger to Chelsea, where Roman Abramovich presides over a regime of similar cut-throat aristocracy. Loyalists can point to success in continued times of turbulence. John Terry and Frank Lampard will soon be working with their eleventh manager together at Stamford Bridge, and Terry's twelfth in all. Even as Benitez familiarises himself with Chelsea, plans for another manager are being laid.

Pep Guardiola is taking a 'year out', currently in New York before presumably backpacking across India, inter-railing and then working on a kibbutz. Until that is finished, many a manager's future lies on shifting sands. Roberto Mancini plugs gamely on, while Guardiola's former Barcelona henchmen push paper around their expensive desks at Manchester City, waiting for the call to come.

Abramovich has been desperate to push the issue back in his favour. The summer saw a collection of Pep-esque players wash up at Chelsea's Cobham training ground. Di Matteo's brief was to fit them all in, and make sure his boss was entertained. It worked for a while too but the repeated presence of Andriy Shevchenko in Abramovich's heavily-secured private box at Stamford Bridge reminded of another task, one the Swiss-Italian could not fulfil.

Just as Sheva once was, Fernando Torres is the Russian's precious plaything, rumoured as singular among his colleagues for having his boss' private mobile number.

The cracks in Abramovich's relationship with Jose Mourinho began at the presenting of a £30 million 29-year-old to a manager whose faith was always with Didier Drogba. The pattern repeated itself when Carlo Ancelotti was given the 'gift' of Torres. Andre Villas-Boas's employment ended in a series of sleepless nights in his Japanese-style pod at Cobham, not long after publicly comparing Torres' goalshy failings to Shevchenko's loss of confidence as a Chelsea player.

The Torres malaise continued under a third manager. Di Matteo made an understandable footballing decision when dropping Torres in Turin, and may have thought that squeezing in three of Roman's other favourites in Juan Mata, Oscar and Eden Hazard might placate an oligarch's whims. The manner of defeat to Juventus, and Chelsea's destiny of an unhappy first - being the only champions to exit in the group stage - did for Di Matteo.

Abramovich, already unsettled by poor league form, an unsatisfactory conclusion to the John Terry affair, and the potential shame that the Mark Clattenburg ruling may bring, gave the word for a 4am firing.

A question of status lay at the heart of Abramovich's unease with Di Matteo. It mattered not that 'Robby' was a Chelsea playing hero from a previous era; he is simply not the blue ribbon name Abramovich likes to associate with. Avram Grant may have been the width of a post from the Champions League but a World Cup winner in Luiz Felipe Scolari was soon given his job.

Di Matteo had already presided over his paymaster's social embarrassment in the Super Cup final when Chelsea were thrashed in Monaco, the residence of many a comparable Russian oligarch, and the regular mooring spot for Abramovich's enormous yacht. Atletico's Radamel Falcao punished an ill-prepared Chelsea while Torres tottered aimlessly. For Abramovich, the idea of the same happening in Yokohama against Corinthians at the FIFA Club World Cup would have been unpalatable. Missing out on owning the club confirmed officially as the world's best would be a blight on his standing.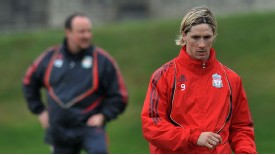 GettyImagesFernando Torres produced the form of his life under Rafa Benitez at Liverpool
The Japan trip can begin the damage limitation. Benitez has prior experience there. In 2005, he missed out with Liverpool. In 2010, he was victorious with Internazionale. Considering his undoubted hierarchy of affections for his former clubs, he might perhaps prefer to swap the two, but the latter achievement may well have franked his appointment. Another attraction, his excellence in the Champions League, will probably not be called on during his time at Chelsea, though Abramovich might fancy a Europa League glory night in Amsterdam.

Benitez, a man of intense personal pride, may have been an owner-baiting rebel at all three major clubs he has managed, but he has had notable success with other coaches' players. At Valencia, he converted Hector Cuper's team into double champions and UEFA Cup winners. The majesty of Istanbul was achieved with the rump of a team that had failed under Gerard Houllier. Inter was a different story, though Mourinho had bequeathed him a squad tired by age and made complacent by success. And there is the special relationship that Benitez once had with Torres.

Even Benitez might stop short of taking on Abramovich, especially after being given a chance to end two years of Wirral exile. He can perform a rescue job, maybe challenge for the Premier League title and perhaps settle some old scores but his Chelsea future is already entwined with both Guardiola and Torres. They hold the key to success, length of employment and when he takes his holidays.