Chelsea's European dreams hang by a thread
The bitter coincidence couldn't have been overlooked by Chelsea. The beleaguered Blues were in Turin for a critical Champions League clash against Juventus. Win, and Roberto Di Matteo's side would have been in a strong position in Group E. Lose, and Chelsea would be looking at the bleak prospect of heading into the final matchday in December with little hope of reaching the knockout stage and, instead, finishing in third place -- a position that would see them demoted to the Europa League, which will be held in Turin for the 2013-14 season.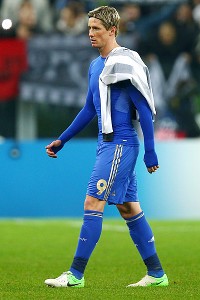 Clive Rose/Getty ImagesFernando Torres put in another depressing shift after coming on as a substitute in Turin.
But given the way Chelsea have been playing of late, reaching even the current edition of Europe's much-maligned JV competition is way, way off. In Turin, Di Matteo's side was beaten handily 3-0 by Juventus. The Blues defended well and had their chances in the first half, especially on the counter, yet the Bianconeri showed their class on both sides of the ball on a night when they also were less than clinical in front of goal.

Although Juventus deservedly walked into halftime with the lead, and ended the match with a commanding victory, Chelsea will be left with recriminations.

Before the match, Twitter was alight with speculation about Fernando Torres. Would he start? El Nino was taken off in the 62nd minute in a losing effort against West Brom at the weekend, the latest warning sign that the 50-million-pound man was out of sorts. At one point in that match, Torres raised his hand to signal handball against the opposition, a gesture that demonstrated little passion for the proceedings on the pitch. He struck a figure of a man sleepwalking through a nightmare. So it was of little surprise that Di Matteo left Torres on the bench at the start against Juventus.

However, it was a bit of a shock that the manager decided to do it Spain-style, with no strikers up top. Granted, with the magnificent three in Oscar, Juan Mata and Eden Hazard, Chelsea has the talent to tiki-taka their way around the pitch to create chances. And, indeed, they looked decent on the break in the first half. In the 10th minute, Oscar broke free of Andrea Barzagli and laid the ball off to Hazard on the right, but Gianluigi Buffon was up to the challenge.

There would be other opportunities on the break for Chelsea, including Oscar again in the 36th minute, when he received the ball from Ramires, cut back on his favorite right foot and shot. Di Matteo put a lot on the shoulders of Hazard as well. "[Eden] Hazard had the first good chance for us, I thought he played the [lone forward] position well, held the ball up and put some great balls in," the manager told UEFA. "I wanted to give problems to Juventus in different ways, not to give them a point of reference."

But with Petr Cech left to do a lot of defending – he raised his game heroically until a bizarre gaffe at the end – Juve took the lead when the bane of England, Andrea Pirlo, took a shot that was then redirected by Fabio Quagliarella, leaving a wrong-footed Cech with no chance.

Second-half goals by Arturo Vidal and Sebastian Giovinco – the latter happened when Cech flew off his line, leaving Giovinco with a toe-poke finish – iced the game for the defending Serie A champion. But it's the manner in which Chelsea gradually receded that will be a major talking point here. Some sturdy defending in the first half by the likes of Ashley Cole (whose yeoman effort to clear the ball off the line saved another goal), the ever-dependable Branislav Ivanovic and Gary Cahill gave way to an entire side that mirrored its wayward Spanish striker.

Torres came on in the 71st minute, and it took a few more before he even got his first touch. He didn't score. And no one else around him looked up for the match at the point, either, a sea of blue-shirted slouching shoulders and hung heads. El Nino has been given a chance to resurrect himself, including Chelsea re-building the side this past summer with magically gifted midfielders who were supposed to be able to play the ball into Torres' path. That was the game plan, right?

Last season, the company line was that Torres couldn't partner with Didier Drogba. What's the excuse now? There can be none. This isn't to take pleasure in Torres' misery, a bit of schadenfreude from the sidelines, but surely he'd be better off elsewhere if Chelsea can find a buyer with deep pockets.

There can also be no excuses for Di Matteo, no easy way to explain away his lineup choices in Turin. Chelsea's domestic campaign has sputtered, and their Champions League prospects are grim: They must beat Nordsjaelland at Stamford Bridge and hope Juventus lose to Shakhtar Donetsk, or else it'll be the Europa League in the new year for the defending European Cup champion.

By then, will RdM still have a job? "At a big club like this, if you have a few bad results you're going to be under pressure," Di Matteo said. "It's been the same from day one." Or will Roman Abramovich buy him a new striker? For that matter, will Torres be part of the side? More to the point, does he deserve to be? On this night in Turin, when Chelsea could have used him most, even his manager knew better.